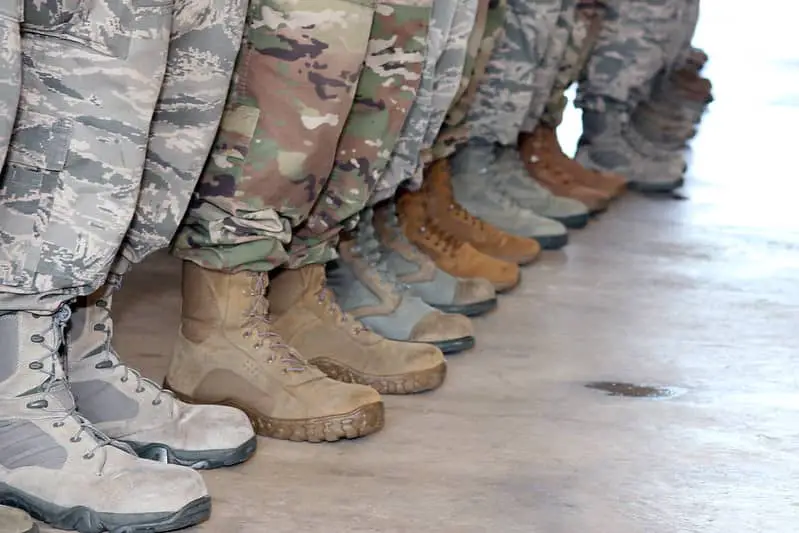 Soldiers wear boots (that conform to army AR670-1 regulations) for the following reasons:
One important distinction we would like to clarify before jumping into why soldiers wear boots is that soldiers typically wear boots that are AR 670-1 compliant. This means that soldiers are not allowed to bring any boots they'd like, the boots they choose to bring with them must comply with AR 670-1 uniform regulations.
Learn more about AR670-1 regulations and check out other AR670-1 boots.
1- Boots Protect Soldiers from Injuries
Soldiers are often rucking in unknown terrains and may be exposed to many foot injuries while on the move. Not only that, but military personnel often work around heavy machinery and equipment which may leave their feet at risk of injury should anything go wrong or if some object falls on their foot.
That's why many companies that rpoduce military boot often keep that in mind and have developed different military boots to physically protect soldiers' feet when in combat or when rucking. Here are some examples of features that are designed to protect a soldier from injury.
Non-Metallic ASTM
Similar to steel toe boots, Non-Metallic ASTM is a standard test that ensures a protective toe cap and its an integral part of military footwear. Army boots that are Non-metallic F2413-18 Compliant ensure that the boot is capable of protecting the soldiers' foot for (source):
Impact resistance
Compression resistance
Metatarsal protection
Conductive protection
Electric hazard resistance
Static dissipative properties
Puncture resistance
The Bates Ranger Hot Weather Boot is an examples of army boots with Non-Metallic ASTM protection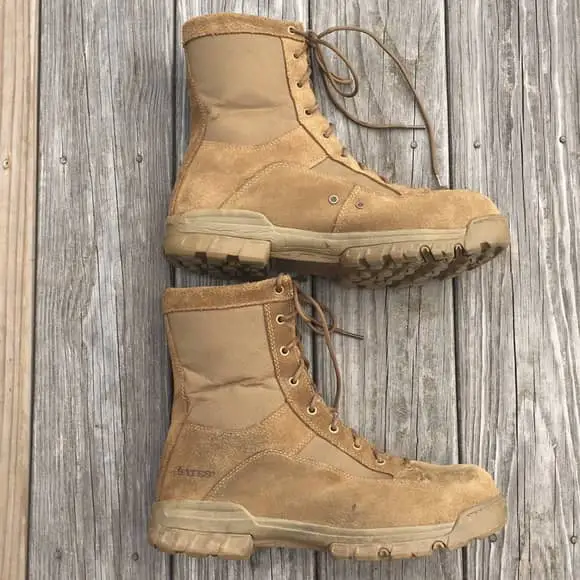 Check out our full review of the Bates Ranger Hot Weather Boots and check it out on Amazon (link to Amazon) if you're interested.
A study conducted by the Army research found that 50% of the 14,000 soldiers surveyed perfer
Steel Toe Protection
Steel toe boots also protect the toes area, similar to boots with Non-Metalic ASTM. Steel toes are usually thinner and have alloy counterparts which makes the toe area of the boot less bulkier (source).
The Belleville 330 DES ST boots are a good example of boots with strong steel toe protection.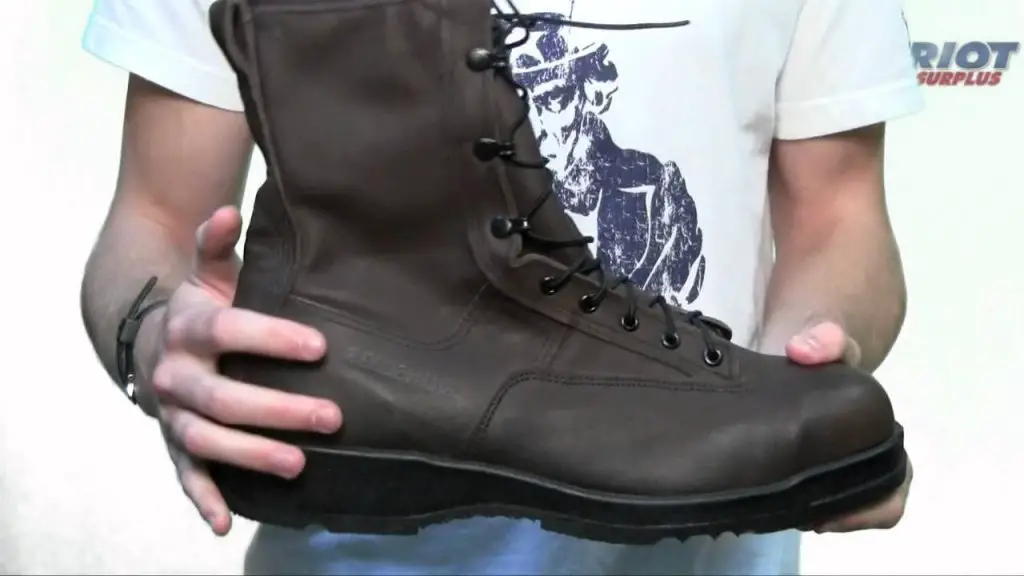 Check out our full review of the Belleville 330 DES ST boots.
2- Comfortable
Soldiers wear boots, military AR 670-1 compliant boots to be specific, because they are packed with comfort features. Remember that soldiers are typically rucking for hours and have tons of gear to carry. Not to mention that tactical operations are intense and require a lot of physical effort.
Therefore, the more comfortable the shoes are, the more tolerable the mission is for the solider.
At RUCKFORMILES, we cover a lot of different rucking boots and there are tons of comfort features to cover. But here are the main ones that stood out to us and help explain why soldiers wear boots.
Ankle pads – This helps provide ankle support, keep it in place, and prevent spraining your ankle
Lightweight
Padded Collar – This helps the soldier by giving him/her more support and comfort
Base and Sole cushioning – This help absorb the natural shock generated with every step a soldier takes
Removable boot insoles – This helps soldiers further customize the fitting of their boot and accommodate any foot shape
Anti-debris mesh lining – Prevents any mud, debris, rocks entering the boot and causing any discomfort
Here are some honourable mentions of boots that encompass the mentioned comfort features.
3- Durable
One of the main reasons why soldiers wear boots is because of their durability. Soldiers are rucking or travelling in various environments and terrains, so their gear needs to be in top shape.
Boots worn by soldiers are durable and have the following features that make them last longer:
Most army boots are made from strong durable leather
Army boots are made from 500D – 1,000D nylon material
Rubber outsole
Strong stitching
Here are some examples of durable boots worn in the army. Check out our full review of each on of these army boots.
4- Breathable
Rucking and operating in boots that are not breathability is an unbearable experience. This can become a major problem for soldiers as prolonged use of fully enclosed boots and sweaty feet is the perfect recipe for the development of blisters and other rucking injuries.
This is one of the main reasons why soldiers wear breathable boots. Army boots manufacturers specifically design their boots so that they are breathable. A great example of breathable rucking boots are the Altama Foxhound SR 8 boots.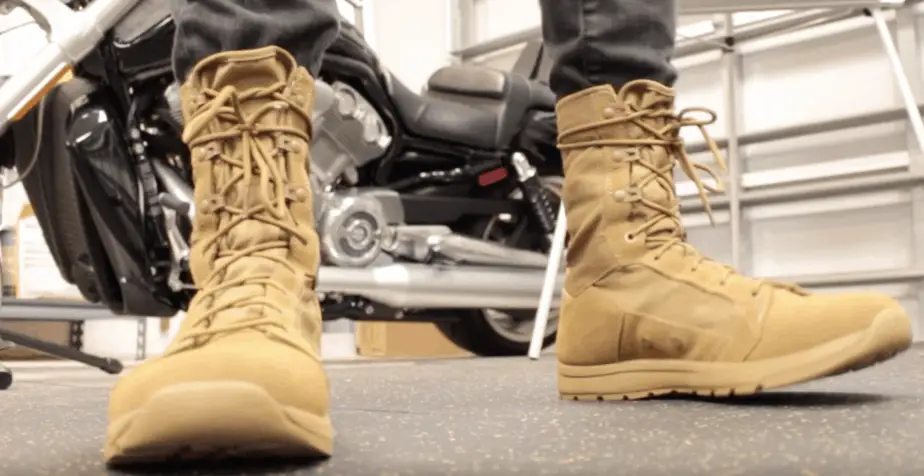 Check out our full review of the Altama Foxhound SR 8 boots.
5 – Specialized for Different Climates
Troops are typically deployed to different countries where the climate is either hot, cold, or wet. Each climate requires a soldier to have a different boots for each climate For example, being deployed to a hot country like Kuwait will require soldiers to wear boots that are focused on breathability, like the Altama Foxhound SR 8 boots.
If a soldier is deployed to a cold country like Canada, they'll most likely require a boots tailored for cold climates like the Garmont T8 Extreme GTX boots The Garmont T8 Extreme GTX boots have a thin insulation layer that helps the soldiers' feet feel warmer in cold climates.
Countries like Brazil are full of jungle, and rucking or operating in these climates with regular boots will not cut it. Jungles are full of mud, water, and debris. Army boots like the Altama Jungle Boots and the Altama Jungle PX 10.5 are built to withstand such climates. They have features that ensures that the boot dries quick, slip resistant, and have a shank to prevent any sharp objects from penetrating into the boots and harm the soldier.
6- Taller Structure
Military boots are high, typically a minimum of 8 inches tall, because it prevent debris, water, mud, or any other foreign objects from entering the boot and causing any discomfort.
7- Provides slip resistance
Another reason why soldiers wear boots is because the outsole of their boots are typicaly slip resistant. This is important because soldiers ruck in wet climates (if need be) and on different terrains. Soldiers need boots that are slip resistant to prevent them from falling or injuring themselves when walking over water, oil, or any other wet terrain.
8 – Anti-odor Technologies
Anti-odor technology is a must for soldiers. Soldiers are rucking for long periods of time and the build up of sweat can eventually cause hygienic problems if left untreated. Anti odor technology keeps a soldiers foot fresh and clean for longer compared to boots without anti-odor technology.