The Bates Ranger is built with military needs in mind. If you are looking for a boot that can survive the toughest odds, here is one.
Let's look into some of the main features in the Bates Ranger Hot Weather Boots that stood out to us.
Table of Contents:
1. AR670-1 Compliant
2. Breathability
3. Comfortable
4. Durable
5. Slip Resistant Rubber Outsole
6. Non-Metallic ASTM
AR 670-1 Compliant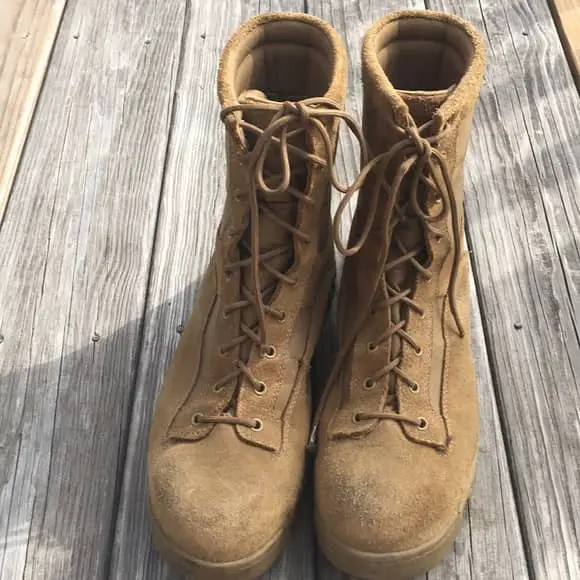 The Bates ranger hot weather boots comply with the US military guidelines for dressing, officially known as the AR 670-1.
This means the boots can be used as a substitute for the military's standard-issue footwear. It has a height of 8.5 inches, and a flesh-out cattle hide leather that makes it resistant to the wear and tear of daily use in the military.
Other requirements that make the Bates ranger hot weather boots fit for use in military missions and patrols include:
Plain toes that have the soles matching the color of the boot.
A diagonal quick lacing method
An outsole that is made out of rubber and polyether polyurethane (PU)
Learn more about military regulations to wearing boots and other AR 670-1 compliant boots.
Breathability
The Bates Ranger Hot Weather combines a rubber outsole with a breathable moisture-wicking mesh lining. As a result, regardless of the intensity of your activities and the kind of terrain you are on, your feet are kept dry at all times.
The wicking mesh lining easily absorbs moisture from the inside of the boots and, due to the breathable nature of the fabric, it quickly evaporates.
With the Bates Ranger Hot Weather, you can say goodbye to damp boots. You will also appreciate the quick-drying and breathable nature of the boots when you are on long missions requiring frequent rucking or repeated patrols.
Since damp environments are often breeding zones for micro-organisms such as rot or fungus, the Bates ranger is designed to keep your feet dry at all times. Dry boots are essential for rucking and military personnel as it helps provide comfort and prevent ruck march blisters.
Learn more about how you can toughen your feet for ruck marching.
Comfortable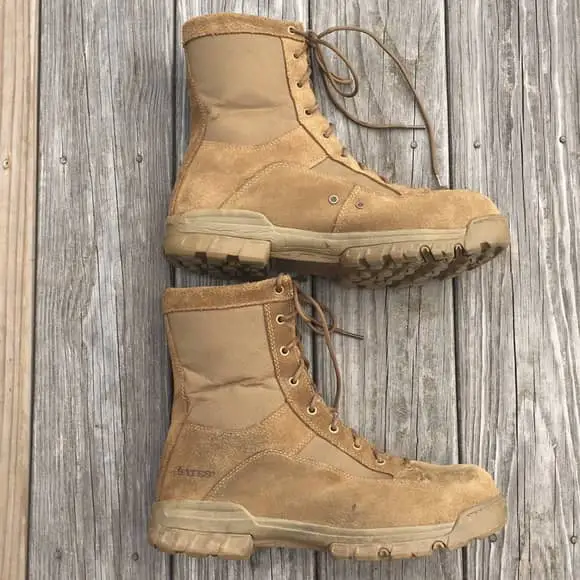 Comfort is another superb feature of the Bates Rangers. The Boots come with several in-built features that make them comfortable for day-in-day-out rucking activities.
The first being a customized padded collar to enhance easy movement. Another is the Eva Midsole.
The Bates Ranger Boot also comes with a high-quality cushioned removable insert. This feature was added to keep the sole comfortably secured.
Cushioned inserts also give your underfoot support, stability, and protection with each step. The inserts offer a shock-absorbing effect as they are built to protect during sudden movements.
And they are also completely removable. 
This means that each can be maintained as a separate component. Cushioned removable inserts also foster easy slipping on and off the boots, making them perfect for emergencies.
Durable
The ability of this boot to withstand pressure, wearing, and tearing is another noteworthy feature. With the Bates Ranger boots, you don't have to worry about long hours of rigorous rucking or unfamiliar landscapes.
The flesh-out cattle hide leather of the boots makes them highly durable. This leather is further coated with abrasion-resistant nylon that makes the shoes waterproof, thereby extending their useful life. There are also medial side vents for additional breathability.
Slip Resistant Rubber Outsole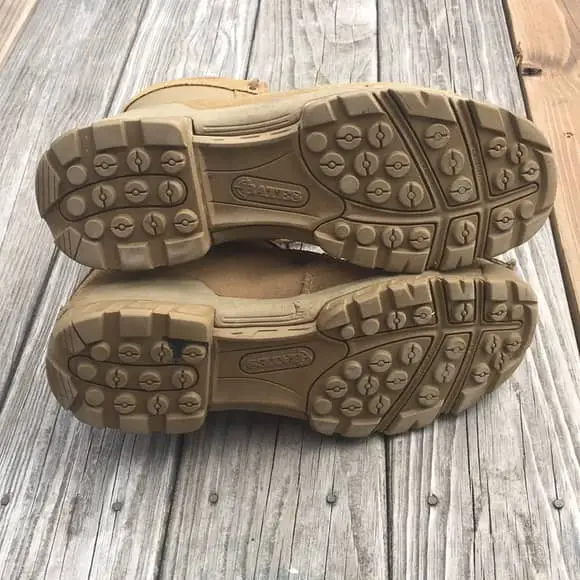 Another high point feature of this boot is its slip-resistant rubber outsoles. This kind of outsoles ensures effective grips on the roughest of terrains.
These powerful outsoles equally achieve good traction as they foster firmness of movement even on the most slippery surfaces.
Rubber outsoles are also known to be durable and powerful as they stand the test of time.
Why is this important? Well if you're rucking in the rain or any wet terrain, a slip resistant outsole will provide the traction you need to stop you from falling which prevents injuries
Learn more about rucking injuries.
Non-Metallic ASTM F2413-11
The ASTM standard specification meets the performance requirements for protective (safety) toe-cap footwear. It ensures that boots sold commercially meet specified quality requirements, which includes:
Impact resistance for the toe area.
Compression resistance for the toe area.
Metatarsal protection, which helps to reduce the chance of injury to the metatarsal bones of the foot.
Static dissipative (SD) properties to reduce hazards caused by exceedingly low footwear resistance that may exist where SD footwear is required.
Puncture resistance of footwear bottoms.
The Bates Ranger also possesses an electrical Hazard Protection to protect against open circuits. The non-metallic nature of the ASTM F2413-11 makes sure of this and also ensures your boots don't create a scene at the airport. They can keep your feet safe regardless of how rugged the terrain is.