Belleville ONE Xero C320 Ultra Light Assault Boot
If you're looking for a pair of boots that are there to support you regardless of the terrain, adventure, or job ahead? Well then the Belleville One Xero 320 Ultra-light Assault Boots (link to Amazon) may be the right boots for you!
The Belleville One Xero 320 Ultra-light Assault Boots will help you in amy terrain as it is built to be highly breathable, light, and comfortable. Furthermore, these boots are ar670-1 compliant. Perfect for those looking for a pair of boots that are multi-purpose and can be worn to many occasions. Go through the list below to know why we're so fund of the Belleville One Xero 320 Ultra-light Assault Boots.
The Brand
Belleville makes well known boots and all their boots are made in the USA. This 108 years old company has so far supplied over 1 million pairs of military boots annually, it is technically the oldest and largest supplier of US military boots (source).
Durable Boots
The Belleville One Xero 320 Ultra-light Assault Boots are made from 100% cattlehide leather & nylon fabric. Paired with Vibram sole, it will definitely last long. Vibram soles are present in most of there boots including the Belleville 340 DES ST boots, Belleville 330 DES ST boots and the Garmont T8 Bifida Boots.
Vibram soles are known to be slip resistant, durable, and waterproof. These features are essential for long lasting boots. Furthermore, if these boots are actually used for the military, these features will be of utmost importance.
AR 670-1 Compliant
As previously mentioned, Belleville exculsively manufactures their boots for the military and have been in the business for 108 years. With that said, the Belleville One Xero 320 are ar670-1 compliant. This means that they comply with the Army's Uniform Standards and regulations.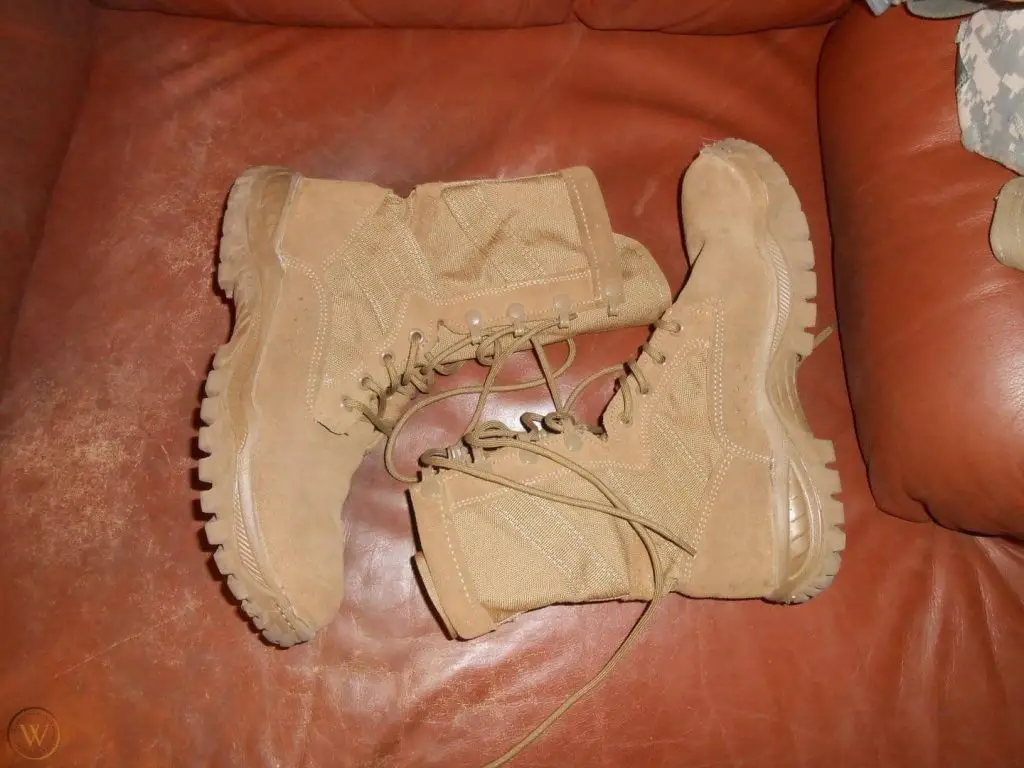 Learn more about AR670-1 regulations and check out other AR670-1 boots.
Comfort
Belleville knows that military boots are not known for being the most comfortable boots, that's why they even harder to make these boots comfortable to be worn for hours and hours on end. These boots have a highly cushioned and shock absorbent midsole.
The shock absorbent midsole is crucial to making these boots comfortable, its ability to absorb the shock from walking or jumping is key to avoiding knee or back pain.
Furthermore, with the 8-inch military standard construction, the Belleville One Xero 320 is very comfortable and lasts longer even when used in a tough terrain environment. This also prevents debris or rocks falling into your shoes.
Furthermore, the insoles can be removed easily and washed after use. This helps to keep the boots clean and odor-free.
Ventilation
The Belleville One Xero 320 boots have medial and lateral dual ventilation zones.
What does this mean? Why should you care?
This means that these boots can let out heat and moisture outside of the boots, it allows frequent air circulation. This is a crucial feature in rucking boots as it prevents sweaty feet, promotes odor-free feat, and prevents blisters caused by wet feet, compression and constant friction.
Here's a full guide on how to avoid ruck march blisters.
Final Thoughts
These boots are lightweight and include features that are great for the military and for other occasions including rucking, hiking, trekking and more.
If you're in the military and looking for new boots because the military issue is just killing your feel, you should definitely consider the Belleville One Xero C320 Ultra-light Assault Boots.