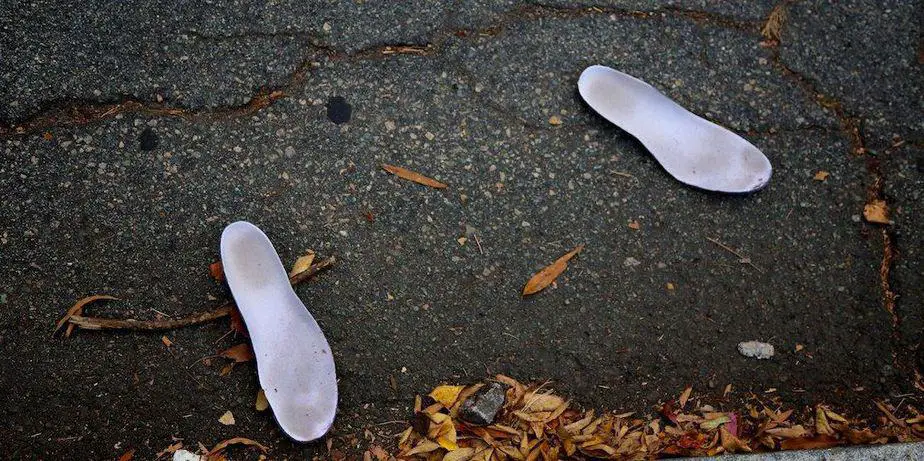 The best boot insoles for ruck marching and rucking are:
When it comes to choosing the right insole for your rucking boots, the options out there are limitless. When we first dug into it, we were bombarded by the amount of information that is out there. Which is fair because foot pain from rucking can be caused by many other health issues.
Whether you have foot pain or not, the purpose of the insole is to absorb the stress we put on our feet with every step when we ruck. People typically ruck for hours at a time and if foot protection is left unattended to, it can lead to serious foot pain.
In this post, we have selected the our top 4 picks for the best insoles based on common foot problems caused by rucking. Remember that everyones foot is different, and that every foot is treated differently. We've accounted for that as well in our list.
These pair of insoles are truly unique, so it the brand. SOLE is a cool company that is not only environmentally conscious, but they're pretty innovative. We have yet to see any other company make insoles from Cork. Here are some advantages of the SOLE Performance Cork Footbed Insoles.
Inexpensive
Fully custom insoles that don't require a doctor visit,

which will save you money.

Customizable
Cork is moldable. Meaning they adjust to the shape of your foot within days.

All you need to do is wear them for a few days to customize them for your feet.

Eco-Friendly
They use recycled wine corks and harvest them from cork trees. Harvesting the Cork Tree can expand its lifetime (source). They also recycle plant more trees per their cause, donate 8,00 pairs, and donate extensively to their cause.
Shock Absorbtion
Cork is naturally very elastic. Meaning that is absorbs shock efficiently and the material returns to its original shape.
Supportive
Cork is like cushion to your feet. Moreover,

the material is very supportive and prevents your feet and ankles from fatiguing

.
Dry
The material is great for moist absorption. Preventing blisters and odors.
Check Price on Amazon (Link to Amazon)
The SuperFlex Adjustable Arch Insoles are a great fit for you whether you have Plantar Fasciitis, Flat Feet, Overpronation, Aching Feet, Low Back Pain or just general foot pain.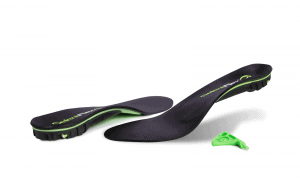 You can customize the arch support of the insoles by inserting a key (included with the insoles) that will increase the height of the arch to fit you.
Who is this Insole Made For?
Ruckers looking for general health support and for preventative foot pain measures.
Main Features
– PowerController  3 custom arch support levels to tailor the insole to the shape of your feet
– PowerBeam  for dynamic arch support
– PowerCup absorbs impact when walking with increased ankle alignment and stability
Check Price on Amazon (Link to Amazon)
Everyone's feet are different, your left foot can have a different arch or can have a different alignment than your right foot (for example, your left foot could turn outwards whereas your right foot can be correctly aligned). This is where unique foot problems, caused by rucking or not, are not solved by generic insoles. Upstep customizes your insole based on your foot impression, lifestyle, and personal information.
These are slightly different than generic over the counter inserts as these are considered to be, according to WebMD "prescription medical devices that you wear inside your shoes to correct biomechanical foot issues such as problems with how you walk, stand, or run".
Here's how it works
Place your order – You will then receive the impression box and a paper form to fill.
Fill out questions by Upstep – Here's where you select all your information

What type of activity you typically engage in
General or specific foot pain on both feet, they also have an additional info section for you to give them specific information about your feet.
Finally you'll choose the color and shoe size and other

Send both the impression box and the filled out form back to them – (mail at this point is pre-paid return, so you wont have to pay when sending it back)
You'll receive the insoles to your address
| | |
| --- | --- |
| Who is this Insole Made For? | A rucker looking for specific orthotics (insoles) based on their specific feet conditions and general preventative foot pain. |
| Why we recommend Upstep? | Feet are complicated, especially when one foot can have a different arch or alignment than the other. Generic insoles don't cater to your specific needs and if left unattended, it may cause further problems to your knees or back down the line. |
Check Price on Amazon (Link to Amazon)
Here's a step-by-step guide on how it works:
The super green insoles are great for people with Plantar Fasciitis. According to mayoclinic Plantar Fasciitis is when the thick band of tissue that runs across the bottom of your foot and connects your heel bone to your toes is inflamed. The pain typically feels like a stabbing sensation every time you take step. You're feet may look fine, but certainly don't feel so. This is common among ruckers since we put a great deal of stress on the heel and its surrounding tissue for long periods of time
These insoles can also be used for preventative foot pain caused by rucking. You don't need to go through the pain before you act on it, save yourself the hassle!
Who is this Insole Made For?
Ruckers looking for general health support and for preventative foot pain measures.
Main Features
– Stabilizer cap for heal support under the foam
– High Density Foam Layer to provide comfort and cushion the foot
Check Price on Amazon (Link to Amazon)