As a frequent rucker, I regularly alternate between my boots to give both pairs a chance to breathe. I do this as I have been told a thousands times that its not good for your boots to be worn everyday and when I looked more into it, it turned out to be true. From what I could gather, wearing them everyday does not give your boots a chance to dry out the sweat (disgusting, I know) and constant use will accelerate the loosening of the boots' shape. Long story short, I had to find a new alternative boot to wear for my rucks.
There has been talk lately about the FoxHound SR 8″ Boots, and I thought I might as well review it since you may be in the process of finding your own boots too! Here are my thoughts and what we're going to cover today.
The Brand
Altama is focused on military wear, more precisely, boots. They've been on the scene since 1969, and have been providing the US department of defence with boots for a while now. According to their site, their company was first to develop a  "technique for molding and attaching a rubber sole to a welted upper". In english, they claim to be the first company to have developed a technique of attaching the sole of a boot to the welt. This is pretty important as it makes the shoe more durable.
Pros and Cons of the Altama Foxhound SR 8″ Boots
| | |
| --- | --- |
| Pros | Cons |
| Durable – Suede Leather & 1,000D | Insoles |
| Slip Resistant | |
| Breathable | |
| Water Resistant | |
| AR 670-1 compliant | |
Pros & Cons Explained

Durability – 1,000D Cordura
We've explained the durability metric in our review of the Garmont t8 Bifida Coyote Boots review, but here's a quick recap. Deneir is the unit of measurement used for the weight of the fabric, which impacts the abrasion resistance of the material. 1,000D Cordura is typically used for outdoor gear,  military gear and other bags that require abrasion resistance. Thus far, I have yet to see a pair of boots that have a Denier of 1,000, as they typically range between 210D – 600D. The SR 8 Boots are designed with military use in mind, so they are certainly built to last for people like us.
Slip Resistant
While most shoes designed for the military are focused on slip resistance, Altama actually went above and beyond to make sure their boots stand up to the test. The SR 8's passed the "Standard Test Method for Using a James Machine" (weird name for a test), but this test measures the slip resistance of all boots. While the company does not indicate the score they had received, i have yet to see any other boot manufacturer go through this test to prove that their boots are legitimately slip resistant.
TIP: Since not all companies state how slip resistant their shoes are, one way to find out is by looking at the outsole of the shoe. Boots that have a better traction to the ground should:
Be made from a soft material like rubber
Should have deep tread grooves
The Foxhound SR 8's have both!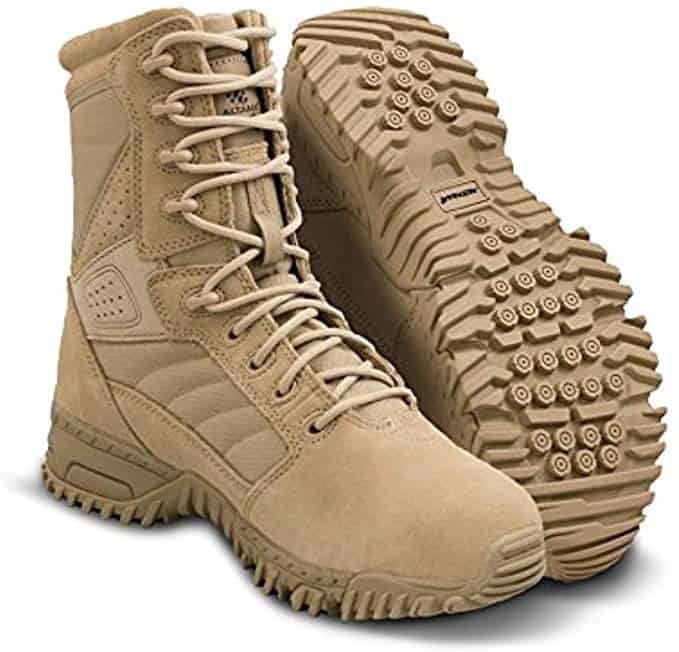 Breathability
Soldiers are bound to sweat during military practice and on the field, I'd be kind of worried if they're not. Altama knows this and actually designed these boots to  release moisture and heat away from the foot. They do this with the screens on the side of the boots, the small dots all around the sides of the boots, and the material. These boots are wrapped in Cordura material and are therefore very breathable.
My feet do typically sweat a lot when I ruck, so I would recommend combining these shoes with socks made from Merino wool. Socks made from merino wool help regulate your foots temperature whether it's cold or hot. Here's our post about what to consider when buying socks for rucking.
Water Resistant
Since these shoes are made from Cordura, which is made from nylon, they are water resistant. Water resistance is key when rucking. These boots are 8 inches high so that should protect your feet from getting soaked in water. Keep in mind that these boots are built for military use, so it would not make sense if they were not built to be resistant to water.
Insoles
The Foxhound SR 8 comes with EVA insole. While it does the job and does help absorb resistance from regular walking or rucking, I personally find that it is too flat for my liking. I'd prefer if the lower end of the insole (the area just under the heel) was thicker. To combat that, i typically just make sure the socks im wearing are thick enough. You could also get your own boot insoles, here's our top picks for the best insoles for rucking.
TIP: Do not add an extra insole if you do not like the one provided as that will change the dynamics of the boot. I would recommend either changing the insole completely or just wearing proper socks.
What Stood Out?
What stood out to me was the military focused design, it's durable yet completely functionable for a everyday rucker like me. Boots wrapped in 1,000D Cordura is not something you see all the time.