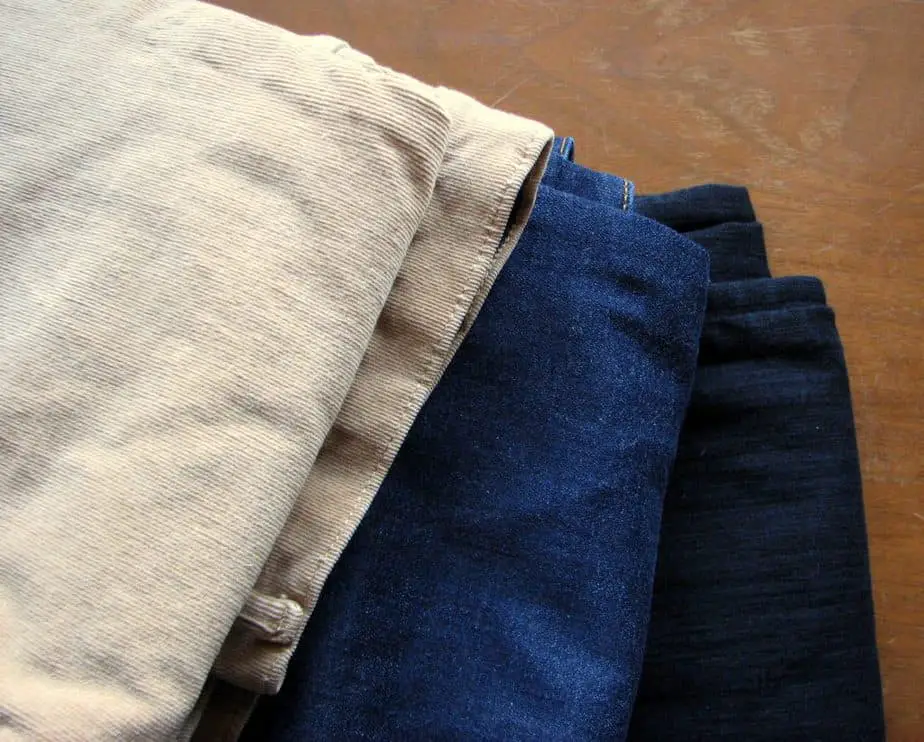 The best pants for rucking are:
prAna, an environmentally conscious California based company, has been in the game since 1992. The prAna Zion pants are made from 97% Nylon and 3% Spandex. Why should you care? Pants made from nylon is regulate temperature, breathability, and moisture managements.
Nylon manages moisture in a way that it helps you cool when it's hot out because it evaporates the sweat quickly. It also helps keep you warm when its cold out because it dries moisture quickly. The spandex gives the pants the flexibility you need when rucking, whether you're walking in flat terrain or not.
Here are some other benefits of the prAna Zion pants:
| | |
| --- | --- |
| Benefit | Benefit Explained |
| Abrasion Resistant (Durability) | The material of the pants are abrasion resistant. Making them more durable and can be used for other outdoor activities. |
| UPF 50+ | Provides sunburn protection. |
| Water Repellant | Helps with temperature regulation. |
| Roll-up Pants | Should you want to alternate to shorts, the Zion pants gives you that option since its able to roll up. |
| Eco-Friendly Company | They use recycled fabrics and polyester for their pants. This is where their brand stands out. |
Check out the prAna Zion Pants (link to Amazon) out if you're interested.
Jessie Kiddens convertible pants have similar specs to the prAna Zion pants. They can convert to shorts should you need that. Comfort and functionality is key here. These water repellant pants also have partial side elastic in the waists. They can be worn as easily as PJ's yet still look appropriate for the outdoors. It's packed with pockets for functionality, and make them usable for other outdoor activities.
Here's a quick summary of their features that make them useful for rucking:
Made from temperature regulated material
Good amount of pockets
Water resistant
UPF 50+ sun protection
Lightweight
If you're interested, check them out on Amazon (link to Amazon).
If abrasion resistants is key for you when rucking, then these pants could be a great fit for you. However on thing to note about these pants is that they're focused more on rucking in colder conditions. This is because its made from 100% cotton rip stop material.
Packed with pockets, these pants are versatile and can be used outside the world of rucking. Check them out on Amazon (link to Amazon) if you're interested.
Made in the USA, the Fjallraven Vidda pants are made from their own G-1000 material (65% polyester and 35% cotton). It's used a lot in outdoor activities and in harsh weather conditions, making them a great fit for rucking, They wax these pants purposely to make them climate proof. They stay dry by wicking off water (keeping you warm) and are breathable to keep you cool.
They are lightweight, which is great when rucking cause the weight in your rucksack is bad enough. It has the right amount of pockets which is perfect for storing your smaller sized rucking gear allowing for easy access. Which also saves you time as opposed to stopping, putting your rucksack down, taking out whatever you need, and then putting it back on.
Check them out if you're interested on Amazon (link to Amazon).
What to Look For In Good Rucking Pants
We recommend wearing pants when rucking recreationally or at a ruck event for the following reasons:
| | |
| --- | --- |
| Protection | Rucking pants protect you when crawling over different terrains at rucking events |
| Can wear them in summer or winter events | Good rucking pants focus on breathability when its hot, while also keeping you warm during the winter. It's a safer choice. Water repellant pants are good at doing that. |
| Rucking pants dry quickly | They are designed for all weather conditions. |
| Sun Protection | Lots of folks are sensitive to the sun, some of the pants mentioned above are UPF 50+ that keep you protected. |