If you are looking for a boot that blends an athletic feel with rock-solid durability, then you should check out the Nike SFB Gen 2. These boots are built to make rucking and outdoor activities easier on your feet.
AR 670-1 and AFI 36-2903 compliant (coyote brown)
The Nike SFB Gen 2 Boots meets the standard guidelines for AR670-1 which is a set of regulations for U.S military footwear.
These include:
An 8-10 inch height requirement.
Plain toes, with the soles matching the color of the boot.
Diagonal lacing method.
A sole made out of rubber and polyether polyurethane (PU).
The coyote brown model of the Nike SFB has an 8-inch shaft height, with matching soles and the color of boots. It also features a lace-up method with outsoles made of Rubber and polyether polyurethane, making it exceptionally resilient against wear and tear.
The boots also adhere to the updated AFI 36-2903 for the military, making it a "go-to" for military and patrol purposes.
Learn more about AR670-1 regulations and our complete list of the best AR670-1 Boots.
Lightweight
The Special Field Boot collection was designed with a goal in mind; athletic performance with military endurance.
This is why the boots come fitted with foam midsoles and nylon uppers, ensuring that fast mobility and easy maneuvering are achievable, regardless of where you are rucking.
Complete with tough suede leather and saw-tooth design at the arch, the tactical boots offer you a reliable, textured grip for fast roping.
Durability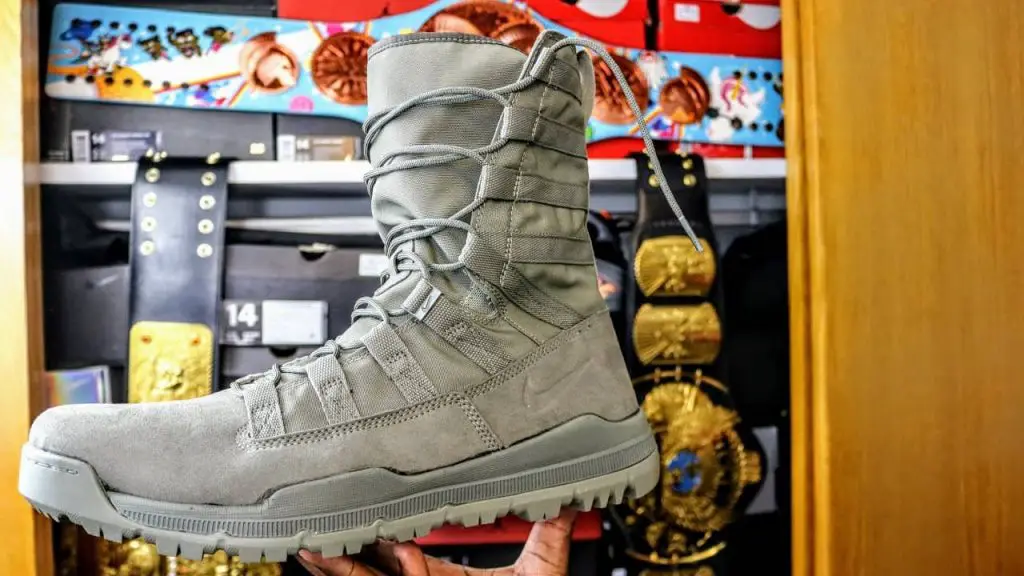 If you are looking for a boot to last you through the demanding rigors of rucking and military activities, the SFB Gen 2 is built to last.
Its sticky rubber outsole at the front and hard rubber at the heel keep you going even when you mistakenly step on pieces of metal or jagged glass when rucking and ruck marching.
It also features an articulated internal rock shield designed to allow nothing to penetrate through the interior of your boots. This shield is further reinforced with a Kevlar layer for enhanced puncture resistance.
Comfortable
The Nike SFB Gen 2 boots have a solid yet gentle grasp that will keep your feet comfortable all day long.
They feature a phylon midsole cushioning made of compressed ethylene-vinyl acetate foam pellets. This, mixed with rubber, gives the Nike SFB boots its signature light-weight, flexibility, and resilient nature. If you are rucking for an extended period, you'll come to appreciate the ease of use and lack of strain on your legs.
But wait, there's more.
The Special field boots come with angled grooves. Not only at the midfoot but through-out the sole. This allows for comfortable foot flexion with still maintaining the optimum stability needed by many first-responders and military personnel.
For extra protection and to keep your ankles safe from injuries while rucking, the SFB boots are fitted with a full 8-inch collar.
There is also a Rubber outsole combination to ensure a hardwearing light-sole while providing 360-degree durability. A cushioned textile bed with a fast-drying mechanism makes the boots highly versatile and comfortable to use in different terrains.
Final Thoughts
The Nike SFB Gen 2 Boots is your best bet when fast mobility, performance, and rugged durability are what you need. Thankfully they didn't sacrifice comfort for all the durability features.
The exterior of the boot has a touch of Nike which adds a lot of style and swag to these boots. Add to that these boots are lightweight, comfortable, durable, dry quickly, and are AR670-1 compliant.