Powerful, Rugged, and Lightweight. The outstanding Danner Tanicus 8 Hot Duty Boot is designed to operate diverse weather conditions and navigate the toughest terrains, head high, and chin straight.
These boots were certainly made for rucking and a lot of other outdoor activities.
Rough Out Leather & 1000 Denier Nylon Upper
The Danner Tanicus 8 is made with Rough Out Leather, making it tough in appearance and use. The Rough-out leather makes the Danner Tanicus 8 able to take in a day-in-day-out beating without slacking or breaking.
The Rough-out leather also cuts down polish use rate as they make it hard for a shoe to get easily dirty. Also, Rough-out leather alone is top quality; however, its combined use with the 1000 DENIER NYLON makes the Danner Tanicus 8. These two components make up the entire upper of the shoe.
The 1000 DENIER NYLON, or the 1000-D for short, is fantastic for water-repelling and protects the foot and the shoe from water infiltration. This makes the Danner Tanicus 8 fit for parading wet and marshy areas with confidence.
So, whether in the dryest or the wettest of terrains, these boots keep you going with full prowess.
Learn more about rucking in the rain and wet terrains.
Lightweight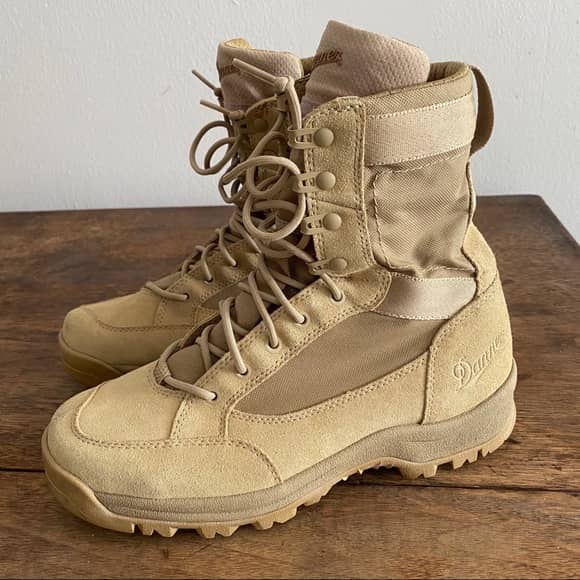 If there's one thing the Tanicus 8 is popularly acclaimed for, it is its incredible lightweight.
This makes it easy and comfortable to ruck in them. The Danner Tanicus 8 weighs in at about 1105 grams per pair, and that's 552.5 grams each per leg. Now that's light.
Whether you're in the military or you are just a free Rucker, the Tanicus 8 Hot Duty Boots lightweight is sure to make you stable and be in control.
AR-670-1 Compliant
These stand-out ruck boots are AR-670-1 Compliant. Glad you asked.
The AR-670-1 is the military's go-to regulation for how to look in uniform. Among the regulations are the requirements on the type of boots allowed.
Even though the army gives boots, soldiers are permitted to purchase and wear theirs so long it meets necessary standards and requirements.
Some of the requirements of which the Danner Tanicus 8 Hot Duty Boots meets are:
Boots are to be 8-10'' in height
The sole and upper of the boot must match in color
Rubber composite outsole
Coyote flesh-side out cattle hide leather and 1000D nylon upper.
Plane toe
Wearing boots that are not in compliance with the above requirements is considered a violation of the army's uniform policy.
Learn more about ar670-1 regulations and check out these AR670-1 compliant boots.
365-Day warranty
A whopping one-year warranty covers the Danner Tanicus 8 Hot Boots. This long warranty period shows the designers have so much confidence in the authenticity of what they put out. 
However, Suppose your expectations of the quality of these ruck boots for you isn't up to standard, or you discovered that they were defective after delivery in even the slightest way. In that case, you have the right to return the boots and demand a refund straight away.

Like all warranty programs, this 365-Day warranty has a policy that applies to its validity. Consider checking it out.
Final Thought
If these boots were to have another name, "rucking made easy" would be just right.
The Danner Tanicus 8 Hot Duty boots have the qualities needed for everyday rucking and occupations that require sturdy boots such as military personnel and police officers.