The best boots for rucking and ruck marching are:
There are lots of opinions out there about the best boots for rucking.  Some say any decent pair of sneakers will do. Others insist on rougher, tougher hiking boots. The problem with hiking boots, particularly those that enclose the whole ankle is they can be a bit too effective. Often, they lack breathability. If the feet begin to sweat, there's a risk of moist toes and painful blisters.
Check out our recent post on rucking injuries to learn about the potential injuries some people endure with rucking.
Generally speaking, you should match your shoes to your environment. If you're planning to scramble up and down rocky terrains, sturdy rucking boots (paired with moisture-wicking socks) may be the best option.
Choosing the best rucking boots is not necessarily the easiest thing. If you're looking to upgrade your rucking gear, a good pair of boots should be on the top of your list! Common problems faced with bad rucking footwear are:
Lack of comfort
Inability to move as freely
Breathability of shoes
Blisters
What to consider before buying rucking boots?
One thing to remember is that if you're expecting to go on a long march or are heading to a rucking event, avoid wearing your brand-new boots. Try breaking into them gradually. For example, go on a ruck for a mile or two if you're used to going on 7 or 8 miles. This will help avoid blisters. This is a big one because you can wear the best boots in the world, but if your feet are not protected, the pain will hold you back.
So, how do you prevent blisters when rucking?
Wear socks made from Merino Wool
Put in supportive insoles (if your shoes don't come with one)
Lubricant – Rub baby powder or foot balm on your foot before putting your boots on
Make sure your foot is dry
Merino Wool socks are made for ruckers, hikers, and athletes who wear their shoes for a long time. This is because the material is made to adapt to both ends of extreme weather. If its hot, it pushes away the heat and keeps your feet from collecting moisture which is the main ingredient for blisters. On the other hand, if its cold, it does a great job of trapping heat and keep your feet warm. Check out our guide to the best socks for rucking.
The insoles help to make your feet more comfortable and injury free since they're designed to reduce the pressure and shock to the feet. As for the shoes, the insoles are meant to prolong the life of the boots as it eases the ground impact on your feet. The insoles basically keeps your foot in place and this helps to maintain the design of the shoe and will therefore extend the lifespan of your boots. Learn more about the best boot insoles for ruck marching.
We all know that one friend who gets blisters by just walking to their front door. Some people are prone to blisters more than others. The baby powder will help prevent friction and help you break into your new boots faster. Also, let's be real here, baby powder smells good!!
Features to Consider before buying your Rucking Boots
Every person will have different priorities prior to buying their rucking boots. For some, it may be waterproof boots because they ruck in different climates and terrains. Some may focus more on durability. Regardless of what your priorities are, here are some features to look out for when picking your rucking boots:
Material
When looking for rucking boots, make sure that the exterior of the boots are made from some sort of leather. If they have some blend of leather and nylon or Cordura, then you;'re on the right tracks. Cordura is a type of fabric that is typically (source):
resistant to damage
abrasion resistant
water repellant
Breathability
Some of the boots on the list are more breathable than others. This is an important feature to consider when picking your boots. Some people tend to ruck in cooler weather conditions and breathability is not as much of a priority as those rucking during the summer heat.
Breathable boots help ensure that your feet stay dry and prevent blisters and discomfort.
For example, the Altama Foxhound SR8″ boots are made for the desert and are designed for rucking in the heat and therefore are very breathable, whereas the Belleville 330 DES ST boots are fully enclosed and make great boots for rucking in the cold
Insole
The boot insoles is the material in the boot that the bottom of your feet lays on. Their purpose is to provide extra cushioning and comfort to your feet. You begin to notice and feel the importance of a high quality well-cushioned insoles when you're tired and your feet are sore (source).
They also provide absorb the shock from every step you take, this is important as it prevents pain in the arch of your foot (depending on its shape), knees and hips.
Arch support is one of the main purposes of the boot insoles. They are and need to be firm enough to hold up against your bofy weight and ground forces (source)
Check out the best boot insoles for rucking and ruck marching if you're looking for our top picks.
Outsole
The outsole of the boots should be made from 100% rubber. The more treads and indents, the better. This is because it creates more friction and therefore more grip preventing you from slipping.
Belleville boots almost all come with vibram outsoles which are well known for being slip resistant, waterproof, and made from 100% rubber.
Military Compliance
This is not applicable to everyone, but some people may be looking for boots that are great for rucking and are allowed to be worn in the military. The term 'ar670-1 compliant' is what you want to be looking for if thats you! With that said, boots are considered as "optional wear" as according to the US Army Guide to the Wear and Appearance of Army Uniforms and Insignia.
However many people choose to bring their own as the government issued boots may not be the right fit for them in terms of features and comfort.
Learn more about how rucking and army boots are made to designed for comfort.
Now that you know how to prepare your feet for your ruck, here a list of our favourite boots:
GORUCK Rucking Boots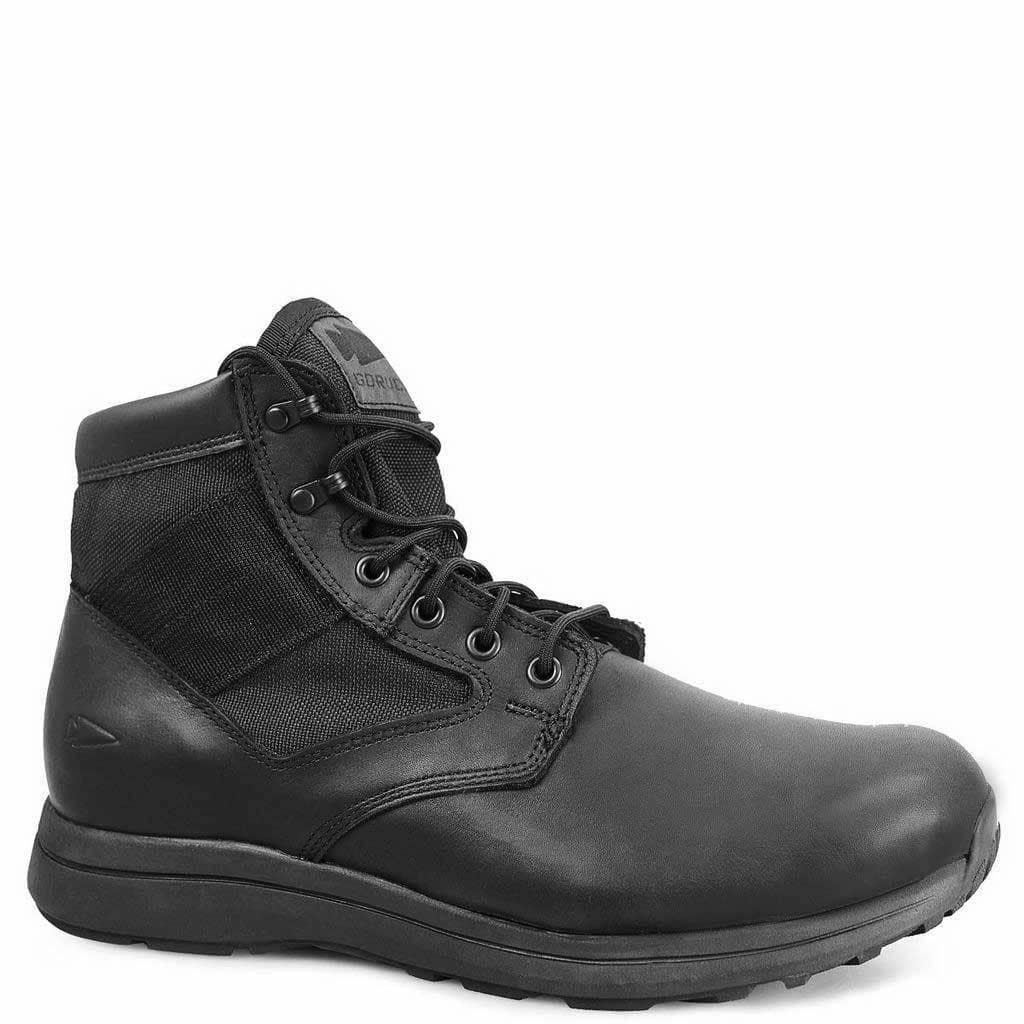 This multi use lightweight rucking boot is made from the biggest rucking company known to man, GORUCK! It's at the top of the list due to the mix of its simplified yet essential features.
The exterior material of the boot is made from black leather that is made from a mixture of 1,000D Cordura and 2″ nylon webbing which provides you with:
These boots provide you with more durability as the rubber on the forefoot rubber makes these boots abrasion resistant.
What to stood out to us the most is that these boots do not require you to break into them! This is really good for preventing ruck march blisters.
Check out the MACV-1 GORUCK Boots on GORUCK (link to goruck.com)
2- GORUCK Ballistic Trainers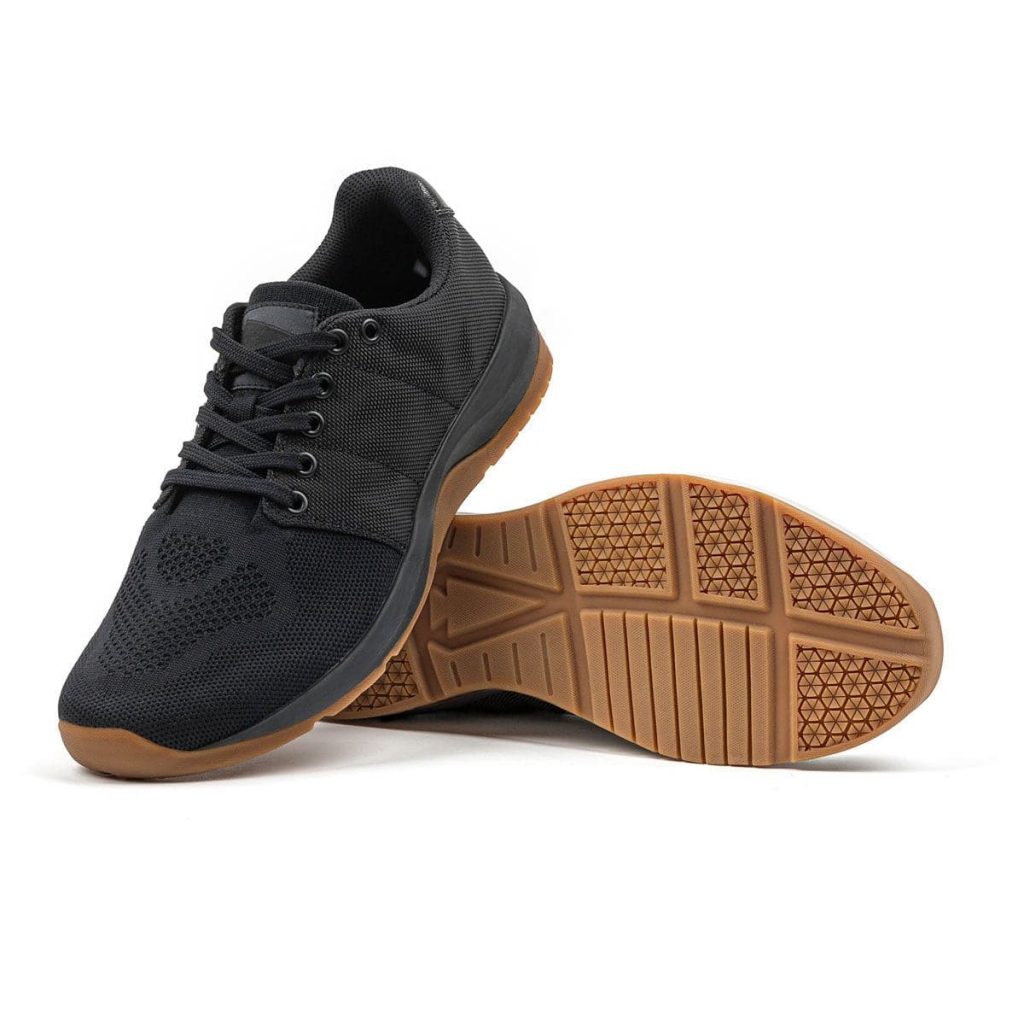 The GORUCK Ballistic Trainers are a cross training shoes made by GORUCK designed for versatility. It is packed with technology to help with breathability and feet stability.
The 1680D CORDURA is blended well with the knit wrapped front area which creates a great blend of durability and breathability.
Adam did a full review of the GORUCK Ballistic trainers that you can check out to get a feel for how it's like to wear these boots for rucking, hiking, and more.
Check out the GORUCK Ballistic Trainers on GORUCK (link to GORUCK)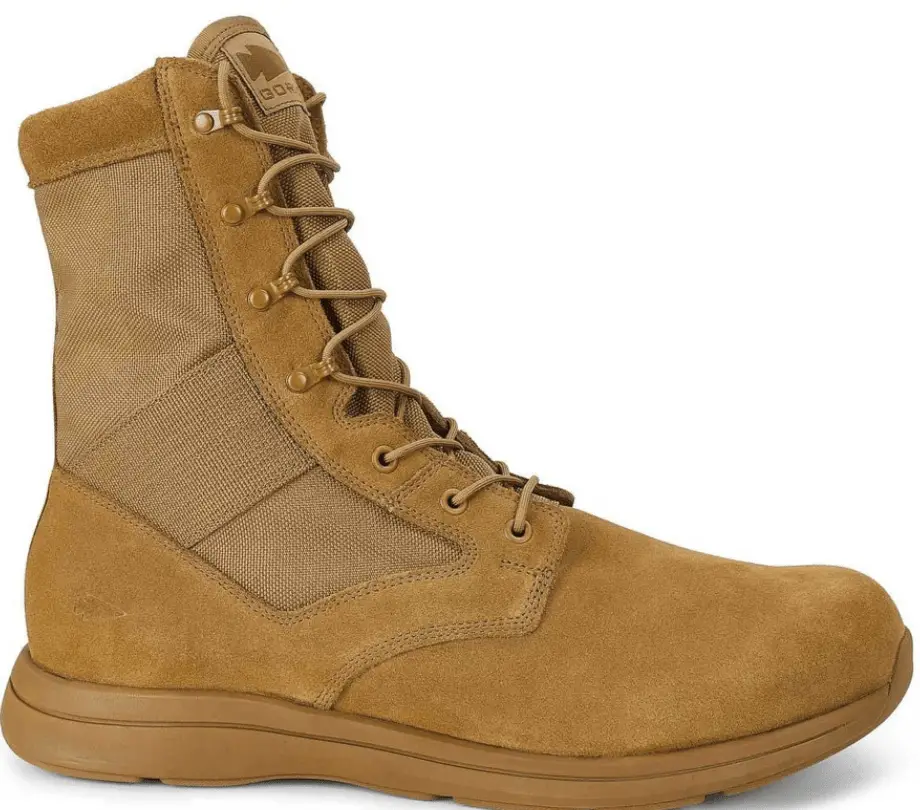 Similar to the MACV-1 Black leather boots, these boots are durable as they are also made from 1,000D Cordura and 2″nylon webbing. The features of these boots are pretty much the same but these boots are currently offered in 6 and 8 inches.
One thing that may come to your mind is, how on earth do i get these cleaned. Well, with both GORUCK boots you can:
Remove the insert
Hose them down
Let them air dry
Do not use washer/dryer
Check out the MACV-1 GORUCK Coyote Boots on GORUCK (link to goruck.com)
Best army boots for rucking
Pros
Durable
Comfortable
Outlets – To help keep the water out
Designed for breathability
Cons
Some folks find having 8 eyelets makes the shoes too tight (Advice: don't tie it too tight if you have this problem)
The Garmont T8 Bifida Tactical Boot are designed for military use. The leather on the back of the shoes go up high to provide extra support and protection. The material is designed to aid in breathability while simultaneously keeping the water out of the boots.  The 8mm laces go all the way up to the top, along with the 8 eyelets to keep your feet locked in and secure. We included this as part of our list as one of our best military rucking shoes because while it's designed for practicality, it also includes comfort climate control insoles for both comfort and temperature control. Last and not least, the bottom of these boots have large lugs, this ensures good traction, especially in muddy and wet conditions. (Link to Amazon)
Check out our full review on the Garmont T8 Bifida Tactical Boot.
Pros
Shaft is approximately 8″ from arch
Leather with flesh side
Boots made for the Military (made for the US Department of Defense)
Eyelets are non-metal (perfect for airports)
Removable insole
Cons
Some folks find the length of the boot strings would be better if it was an inch (personally, I found the boot strings' length more than generous)
Altama has been making shoes for the US military since 1969. Therefore, they've been constantly innovating their boots. The Foxhound SR8 has a perfect balance of aesthetics and functionality.  According to many reviewers online, they've been tested against many substances like water, sand, dirt, and mud yet they still stood strong. The fit EVA insole really helps to keep the heels supported. Keep in mind the proper posture is key to keep your feet as comfortable as possible.
Check out our full review on the Altama Foxhound SR 8″ Boots. If you're interested, click here (link to Amazon) to check its current price.
Pros
Breathable
Lightweight
Stylish – Comes in different colors
Quick Break in
Cons
Not built for extreme cold weather – Consider wearing Merino Wool socks if you wear these
Danners is not new to the business, they started selling their shoes during the great depression in the US. In the 1940's, during the world war, demand grew for military ruck boots and Danners delivered! Ever since, they've been on point with their boots. The Tachyon 8" duty boots don't sacrifice looks for functionality. They're ultralight so it helps give your feet some flexibility which is important if you're going up or down hills. The toe cap is abrasion resistant so it helps with the longevity of the shoes. Also, it comes with "Open cell polyurethane insole" which in English translate to "insoles that help your feet breathe and maximize airflow".
Check out our full review of the Danner Tachyon 8″ Boots here
Pros
Cool Donation program
Available in black and Tan
Breathable
Includes zipper
Cons
Wish they had more colors
The Maelstrom Tactical boots is very focused on functionality and comfort. The cushion insert provides support and less stress on the heels. What grabbed my attention about these shoes are the zippers. Very rugged and super convenient, since I only need to tie the laces a few times and mostly rely on the zipper to take off and put on my boots.
Oh! And they have a pretty cool donation program where they donate a dollar for every boot sold to a non-profit organization that provides life improvement programs for veterans and military families.
If you're interested, click here (link to Amazon) to check its current price.
Pros
Waterproof
Comfortable
Abrasion-resistant toe cap
Insoles made for breathability
Cons
Some folks find the normal width not wide enough, be sure to order the extra wide size if you have wide feet!
Waterproof, waterproof, waterproof… It is made out of leather and ripstop textile so if water is your concern. It's made with comfort as the target, and they got it right. Its got the right amount of snug in the instep and ankles. They also include a zipper to make your life easier, and you don't even feel that is there.
If you're interested, click here (link to Amazon) to check its current price.
Pros
Polyurethane Midsole (Breathability)
Anti-Odor Technology
Durability
Cons
Sizing can be larger that normal (be sure to exchange them if they're too large)
Belleville was founded by 5 guys back in 1904 who didn't have experience in making shoes, but with time were selling their shoes nation-wide. They received their first order for military boots during World War I and they did not disappoint! They got lots of awards through time and actually got a Excellence Award from the US Defence Department. They know what they're doing.
The Belleville 390DES Combat Boot Desert is designed for hot weather climate. The Polyurethane Midsole helps with airflow. The material of the boot is made from leather and nylon, which is what you need to keep your feet cool and well supported. Other people have review these shoes and the testimonials are great, with users posting images of 10+ years of wearing these boots and raving about how it still holds strong. Durability at its finest.
Check out the full Belleville 390 DES Boots Review
What makes the Lookout 800G tactical boots unique is that they have a steel shank. Steel shank boots, unlike steel toe boots, protect your feet from hazardous conditions while maintaining the shape of your boots. More precisely, it protects the under side of your boots from puncturing wounds. Other than that, it comes with a side zipper for easy on and offs. It also has a foam padded collar for better breathability and comfort
| | |
| --- | --- |
| Pros | Cons |
| Durable Material – Made from 1,000D Nylon | Not waterpoof |
| Water Resistant | |
| Temperature regulated | |
| Military uniform compliant | |
| Lightweight | |
The belleville 790 boots are certainly designed to be military focused. How do we know? Well Belleville's line up of boots are almost exclusively ar670-1 compliant. Otherwise, they're built to last thanks to the cattlehide leather. As the name suggests they include GoreTex technology which basically meants that these botts are waterproof and breathable.
Check out our full Belleville 790 Boots review here
The Belleville 340 DES is also an army compliant boot that is built to last. Similar to the Belleville 790 and Bellevile 390 DES boots, they are built from the same material and have the same outsole. With that said, these boots are truly designed for hot weather. If the cold is never an issue for you, id consider these boots as they are primarily focused for the desert heat.
Check out the full Belleville 340 Boots Review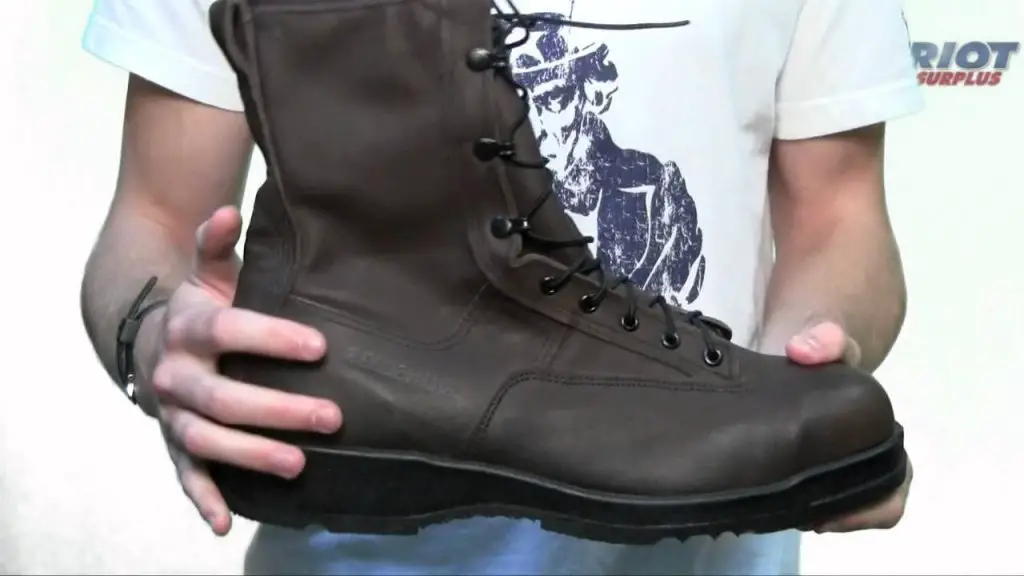 The belleville 330 DES ST boots are similar to the other belleville boots on the list, in that they include a similar outsole, highly cushioned midsole, and are ar670-1 compliant. However they stand out from the rest because they include steel toe protection. The steel toe protection that meets ASTM F2412-18 and F2413-18 standards for impact & compression and EH rated
Depending on what other activities you'll be using these boots for, the steel protection help keep your feet protected, prevent potential foot injuries, and are designed to last long.
Check out our full Belleville 330 DES ST boots review
Unlike the other belleville boots on the list, the Bellevile One Xero C320 boots stand out because of how lightweight these boots truly are. Moreover, the ability to keep these boots while still maintaining important features like being ar670-1 compliant, durable, and very comfortable.
Check out our full Belleville One Xero C320 Boots
The Danner Deser TFX G3 boots have lug soles. Lug soles is the outsole of the boots and they are typically made from rubber and have deep indents which provides more grip. This helps ruckers not slip when the terrain is muddy or wet.
They are made from highly durable as they made from high quality leather yet one of Danners lightest boots in their lineup. The boots feature a cross stich design which adds more durability.
These boots are ar670-1 compliant, meaning that they would be accepted as part of a soldiers uniform.
The Danner Men's Tanicus 8 Inch boots are made from 100% leather and textile and 1000 Denier Nylon . This adds durability and protection. They are 100% waterproof, these boots are breathable as they allow moisture to escape without letting water in. This is key to keeping your boots dry and comfortable.
These boots have a 1 year warranty and are ar 670-1 compliant as well which makes these boots a no brainer choice as a rucking boots for the army.
Check out our full review of the Danner Men's Tanicus 8 boots.
The Danner Women's Prowess Military & Tactical Boots are made from Suede leather and nylon, together they make up a strong durable and abrasion resistant pair of boots. They include an EVA midsole which provide great cushioning.
It's not common that rucking and army boot manufactures make many boots for women so it was great to see Danner taking the initiative. With that said these boots are of course ar670-1 compliant and include a 1 year warranty.
Boots For Everyday Rucking
The adidas gsg 9.7 boots were designed with the military as they are worn by the German Federal Police (source). These soldiers are performing very active movements such as grappling, ground fighting, pulling, and more. With that said, you know that these boots are designed to withstand most terrains and everyday rucking.
The cushioned heels make it comfortable as it absorbs the shock from performing intense exercises. Moreover, it comes with a soft internal arch support to fit your feet. These boots are made from cordura making them very durable.
They also added a unique feature called ADITUFF. It protects the toe area by being extremely shock absorbent. This protects the ruckers' toes while also preserving the boots. A great choice for rucking.
The Bates GX-8 Composite Side Zip boots are made from a mixture of 70% leather and 30% nylon. This is a great blend to make these boots durable and breathable at the same time.
As the name suggests, these boots include a side zip to make it much easier and fast put on and take off. Similar to the Danner Men's Tanicus 8 Inch boots, they are made from 1000 Denier Nylon.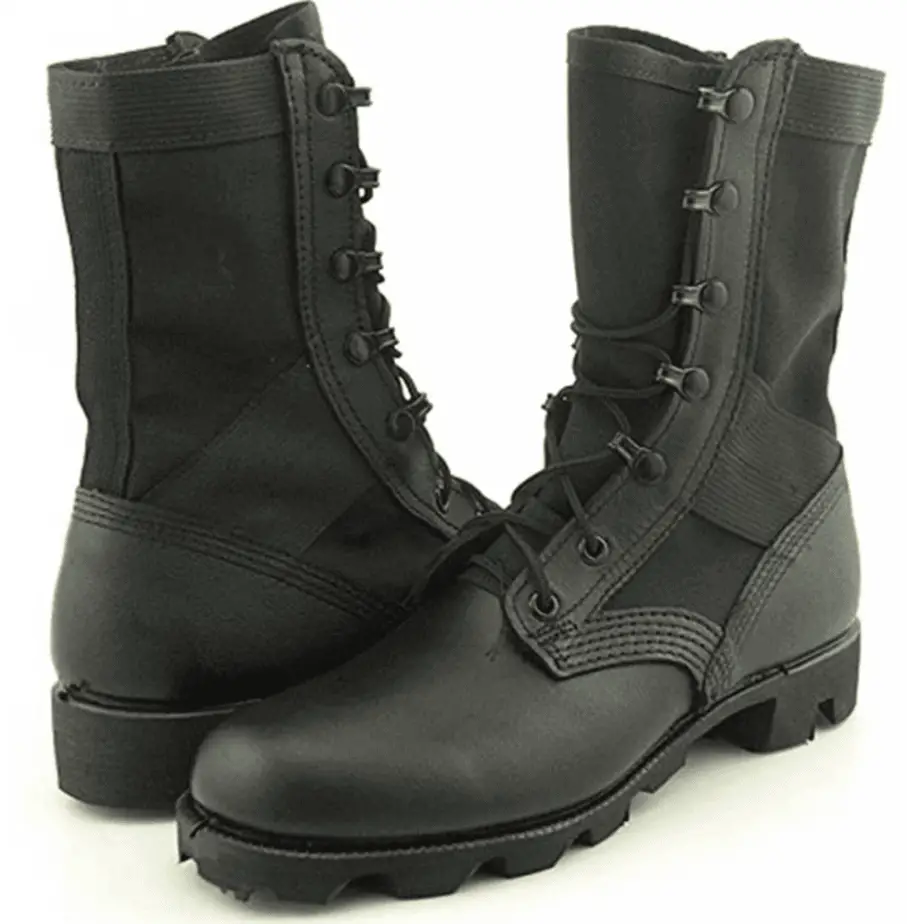 RuckForMiles was unable to confirm whether the Altama Jungle Boots are ar670-1 compliant, but the company has been producing boots for the troops who operate in jungles, deserts, and mountains. Furthermore it has the characteristics of a ar670-1 compliant boots like have a minimum of 3 eyelets etc.
These boots stand out from the rest as they are designed for different weather conditions. It has in-step drainage vents to ensure that the water, that somehow manages to sneak its way into your boots, moves away from your feet. This is important to make sure your feet and socks are always dry.
These boots also have a steel shank at the bottom to keep you protected from unknown sharp objects that may pop up in the jungle.
Check out our full Altama Jungle boots review or our review of the Altama Jungle PX 10.5 boots.
Pros
Anti-odor Technology
Comfortable
Reliable brand
Heel supported
Cons
Water resistant, not water proof.
Cant go wrong with Under Armour, theres a reason why Dwayne Johnson is an endorser of the brand. The Stellar Military and Tactical Boots are tough and made to take a beating. The sole of the shoe is really thick which is fitted with a molded EVA (Ethel Vinyl Acetate) midsole to keep your foot well cushioned and supported. It's 100% leather which helps keep it water resistant.
Pros
Long zipper on the side
Slip resistant
Durable (Made from Leather and Nylon)
Includes EVA midsole
Cons
Doesn't come in EE size.So if you have extra wide feet, be careful!
Smith & Wesson has been in the business since 1852! They specialize in firearms but have branched out and have been selling boots for a while now. The Men's Breach 2.0 tactical is supportive given the long shaft. The steel shank is great for foot support, the bottom of the shoe is made with board lasting, which is a common part of the process of making the shoe that require a stuffer bottom. To top it off, it comes with a long side zipper which is super convenient.
Check out our recent post to learn more about rucking.
The Bates Tactical Boots are made from durable 70% leather with upper top made from Nylon. The mesh of the boot is moisture absorbent keeping your feet dry. It comes with a removable insoles which is added bonus incase you're used to wearing your own boot insoles. It also includes an EVA midsole, which distributes the weight on your feet proportionally and keeps your feet stable. It's also travel friendly since it's non-metallic making it undetectable in airport scanners. Finally, it's slip resistant. It passed the SATRA WTM 144 test for slip resistance.
| | |
| --- | --- |
| Pros | Cons |
| Durable Material – will live long | Made from leather, which may not resonate well with vegans and environmentalists. |
| Slip Resistant | |
| Travel Friendly | |
| Removable Boot Insole | |
| Lightweight | |
This is a military uniform compliant boot that hass all the features you need in and out of the army. It's made from 1,000D Nylon (which is super durable) and it water resistant. These boots are unique in that it is PTFE coated, meaning that is withstands extreme temperatures both cold and hot. In fact, it is the only pair of boots the are flame resistant. It also has drainage vents that help push out the moisture and water out while circulating the air into the boot.
| | |
| --- | --- |
| Pros | Cons |
| Durable Material – Made from 1,000D Nylon | Extreme features (i.e flame resistance) may be too extra for everyday rucking |
| Water Resistant | |
| Temperature regulated | |
| Military uniform compliant | |
| Lightweight | |
Check out our Rocky S2V Rkc050 Boots review.
Abother boots by Danner made the list. The lookout 800G boots are made from strong ripstop material for durability. It's 100% waterproof keeping your feet dry. They also have 800G Thinsulate ultra insulation that keep your feet warm during the snow and colder climates. They also include a 1-year warranty which is definitely an added bonus.
| | |
| --- | --- |
| Pros | Cons |
| Durable – Made from strong Ripstop material | Only comes in black |
| 100% waterproof | |
| Temperature regulated | |
| Includes warranty | |
| Lightweight – 66 oz | |