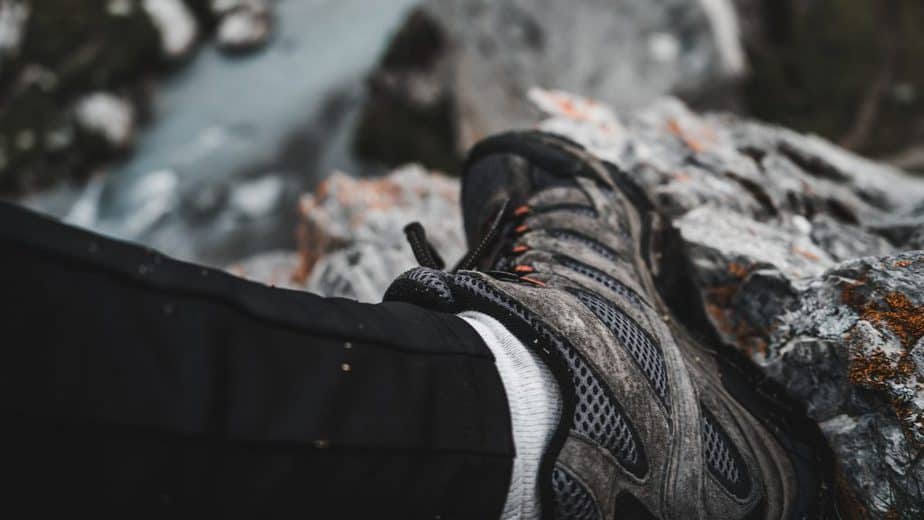 The best socks for rucking and ruck marching are:
If you're looking to buy socks for rucking for your workouts, stick to socks made from Merino wool, have good compression, and are comfortable. If you intend to use socks for army ruck marches, be sure to check out our recommendation for the best army rucking socks as per the US Army Guide to the Wear and Appearance of Army Uniforms and Insignia.
What to Look For in Good Rucking Socks
Rucking is great for both cardio and resistance training. While the benefits of rucking are endless, you want to avoid all the setbacks that may impede your ability to constantly ruck. A common complaint among athletes, when they began rucking, was that their feet were aching after the workout and felt disgusting during the workout (especially when it rained or if they simply sweat a lot that day).
When picking out socks, whether moisture-wicking or otherwise, they should fit as well as possible. There should be no bagginess around the heel as this allows the sock to slip, slide and potentially lead to chafing while walking. While some people who ruck out there recommend putting on double socks or changing them every 3 or 4 miles, it can be really inconvenient, especially if you're in the zone and feeling the burn of the workout. The best rucking socks typically have these 3 qualities:
Merino Wool
Compression
Comfort
Odor Free
Merino wool
Merino wool is derived from Merino sheep, its softer and thinner than your average everyday wool. Merino wool helps to regulate body temperature due to its composition of the fiber. When its cold out, the fiber bends and traps the air which helps to preserve the heat. On the other hand, when its hot out, it helps to move the sweat away from your feet. This material is a necessity for rucking socks
Compression
Socks with good compression help to improve blood circulation. Better circulation will lead to less fatigue and help give you more energy, energy you will definitely need when rucking. Not only that, but according to a study by Kintec, socks with compression aids in recover after your workout and helps to reduce post workout soreness. Plus, do you really want to keep on dragging those socks up in the middle of your workout? Check out Smartwools unisex socks made for rucking.
Comfort
This one speaks for itself. With the intense workouts you'll be going through, you should at least feel comfortable in those socks!
Odor-Free
Good quality merino wool are designed to prevent sweat and bacteria from accumulating around your feet. This is key to avoiding having your feet from smelling bad and keeping them odor-free.
Made in the USA, Darn tough tactical socks are popular among ruckers. Made from merino wool, comfortable, and will definitely protect your feet. Check Price on Amazon (Link to Amazon)
If you're interested, use the promo code RUCK FOR MILES and get a 15% discount! Alternatively you can buy it on Amazon (link to Amazon) but without the promo code.
The MudGear Ruck Socks are designed for Obstacle Course Racing (OCR) but are packed with all the features you would be looking for in rucking socks. It's well padded in the heel and toe area, it's made from merino wool, and has great compression.
Check out our full MudGear Ruck Socks review.
Check Price on Amazon (Link to Amazon)
Check Price on Amazon (Link to Amazon)

Great fit if you're in the army. They are comfortable and Protect your fee. The Fox River Military socks have proper compression, keep your feet dry in cold or hot weather conditions, and are very comfortable (Link to Amazon).
Made of 61% Merino Wool, 37% Nylon, and 2% Lycra Spandex, and more important its made in the USA. Breathability and comfort is key here. (link to amazon)
Dont let the name fool you. While they are great for skiing, they are even better for rucking. They're over the calf and therefore provide even more protection. This USA made socks are made from merino wool, Mesh, Nylon, Wool. (link to Amazon)
They have cushion in the shin area
Cushion for the sole of the foot
ELITE FIT SYSTEM features bi-elastic fit bands which allow for flexibility
Made from 63% merino wool, these socks are made for rucking, hiking and many more outdoor activities. Made in the USA, these socks are lightweight durable, and come in many different colors. Here are some things you can expect with the CloudLine Merino Wool Crew Socks
Blister prevention
Arch Support
Quick Dry
Reinforced Heel & Toe for durability
Check out our full guide on how to avoid ruck march blisters.
Made From 70% merino wool, paired with proper compression and comfort features make these pair a good choice. Its a good bang for the buck as well! it comes in 4 pairs!
Time May Tell Socks are made from 80% merino wool, 14% Nylon, 5% Poly, 1% Spandex. These comfortable socks are not just made for rucking, they're great for other outdoor activities like trekking, hiking, and more. The texture is soft and is completely breathable.
Made from 75% merino wool, the Meriwool socks comes in 3 pairs. These unisex socks are definitely thicker than some of the other socks on the list but since its made from merino wool, you can be assured that your feet will stay dry in the heat and keep you warm in the winter.
Thanks to the high quality material, these socks are very breathable. Meaning that not only will you feel comfortable, your feet will be odor free.
They also have a 90 day free return policy. So even if you dont feel like they live to your expectations, you can easily return them.
Planning to ruck with your kids? why not wear matching socks?! The Meriwool Merino Wool Kids have the same features as the Meriwool Merino Wool socks except for the size of course
And yes, these also come in a set of 3 pairs.
The EnerWear Womens Merino Wool Socks are made from 86% merino wool. Furthermore, they come in a set of 4 pairs. They stand out from the crowd because:
They come in different colors,
Reinforced heel and toe (for durability)
Good cushioning
Ankle Arch (Keeps the socks in place during highly active times)
Frequently Asked Questions
What are the Best Army Rucking socks?
The US Army uniform guidelines, consider socks as " clothing bag issue items or optional purchase items". The required colors are tan, green, or black. The socks should also have a cushion sole. Therefore, we do recommend getting the Fox River Military Mid Calf Boot Sock (link to Amazon). They do come in all three colors.
What Are The Best Ruck March Socks?
As mentioned above, there's no secret formula to it. Just make sure it has the 3 main qualities; Made from Merino Wool, have good compression, and are comfortable. The Fox River Military socks are a great choice (link to Amazon).