The best socks for rucking and ruck marching are:
If you're looking to buy socks for rucking, stick to socks made from Merino wool, that offer good compression and comfort.
If you plan to use socks for army ruck marches, be sure to check out our recommendation for the best army ar670-1 rucking socks as per the US Army Guide to the Wear and Appearance of Army Uniforms and Insignia.
How I Handpicked the Best Rucking Socks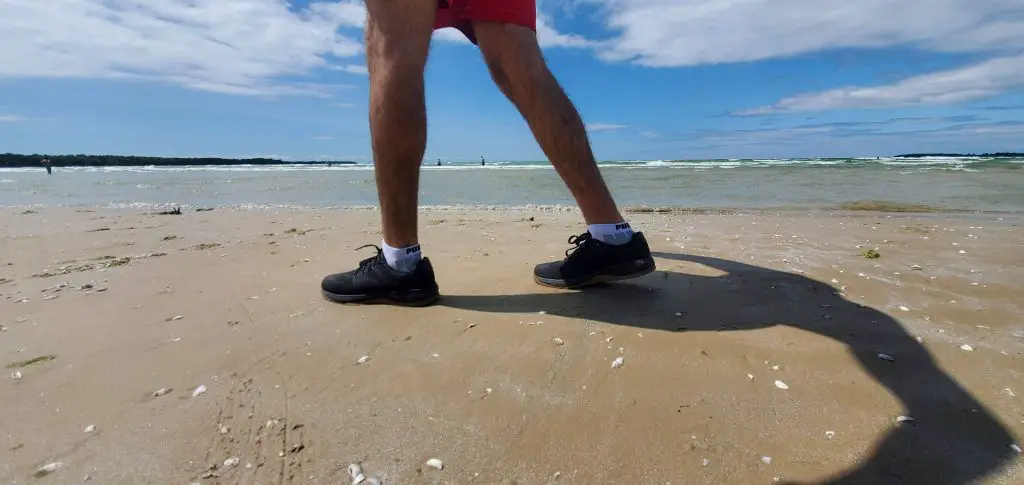 When it came to putting together my list of the best rucking socks, I wanted to make sure I covered all the bases. So, I did a lot of research!
I listened to what other ruckers had to say, and tested out different socks myself. I wanted to find socks that were comfortable, durable, and could handle all the sweat that comes with rucking. I also considered things like how well they fit and if they were made by reliable brands.
But I didn't stop there. I wanted to make sure the socks I recommended were really top-notch. So, I took them with me to different rucking events and put them to the test during my rucks around the neighborhood. I wanted to see how they held up and if they made my rucking experience better.
After all my research and testing, I handpicked the socks that stood out the most. These socks had features like moisture-wicking abilities, fast drying, and strong durability.
What I Look For in Good Rucking Socks
Rucking is an incredible activity that combines cardio and resistance training. As I dive into the world of rucking, I strive to avoid any setbacks that might hinder my consistency.
One common issue I've encountered is the discomfort and foot pain that arises after a rucking session, particularly when it's raining or on days when I sweat a lot.
So, when it comes to selecting the perfect rucking socks, I prioritize finding a pair that fit just right. It's crucial to avoid any bagginess around the heel, as it can cause the socks to slip, slide, and potentially lead to chafing during my walks.
I've come across suggestions from other ruckers recommending that I wear double socks or change my sock changes every 3 or 4 miles, I find these options to be quite inconvenient, especially when I'm in the zone and feeling the intensity of the workout. Instead, I seek out rucking socks that possess four key qualities:
Merino Wool
Compression
Comfort
Odor Free
Breathability
Fast Drying
Merino wool
Merino wool is derived from Merino sheep; it is softer and thinner than your average everyday wool.
Merino wool helps regulate body temperature due to its fiber composition.
When it's cold out, the fiber bends and traps the air, helping to preserve heat. On the other hand, when it's hot out, it helps move sweat away from your feet. This material is essential for rucking socks
Compression
Socks with good compression help improve blood circulation, leading to reduced fatigue and increased energy, which is essential during rucking.
According to a study by Kintec, compression socks aid in post-workout recovery and help reduce soreness.
Also, who wants to constantly adjust their socks in the middle of a workout? the list of socks mentioned in this articles are specifically chosen with compression in mind.
Comfort
This one speaks for itself. With the intense workouts you'll be going through, you should at least feel comfortable in those socks!
Proper cushioning and padding in the socks help absorb impact and reduce the risk of blisters, hot spots, and foot fatigue.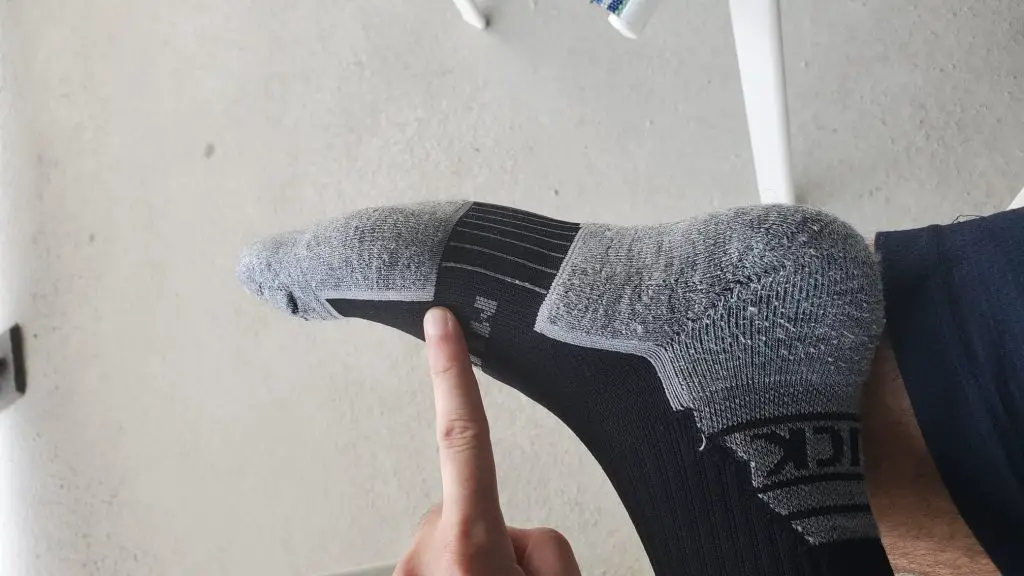 A comfortable pair of rucking socks can enhance overall performance by allowing you to focus on the task at hand without distractions or discomfort.
Odor-Free
Good quality merino wool are designed to prevent sweat and bacteria from accumulating around your feet. This is key to prevent your feet from smelling bad and keeping them odor-free.
Rucking involves intense physical activity, which inevitably leads to sweating and increased foot odor.
Opting for socks with odor-fighting properties can greatly enhance your overall comfort and confidence during rucking sessions.
Odor-free socks eliminate the need for frequent sock changes or washing, allowing you to focus on your ruck
Breathability
When you're rucking, you're typically going for hours and hours on time, especially if you're in the military. A big part of any military ruck march is taking care of your feet.
To prevent your feet from over heating, it is important to make sure that the socks you're wearing a breathable. This ensures that any buildup of sweat or heat moves away from the skin and outwards away from your foot.
Fast Drying
If you're rucking constantly with wet socks, this can cause a lot of different problems other than discomfort:
1- Blisters
Wet feet increases the friction between the foot and sock. This is why the military has soldiers checking on their socks (and pack an extra pair) during their footwear checks. Fast drying socks are very important to prevent ruck march blisters.
2- Rashes or Athletes Foot
Damp environments are breeding ground for bacteria, rashes, or fungus development. The longer you ruck with wet feet, the chances of them developing are much higher (source).
3- Trench Foot
This is an extreme foot condition, yet more common among soldiers. It is named after soldiers who constantly had their feet exposed to cold and wet environments for long periods of time.
It is common in colder climates where the continuous use of wet socks and boots leads to damage to the skin, blood vessels, and nerves in the feet (source).
Wet feet problems associated with rucking are not always caused by heat.
It's a good idea to pack an extra pair in case you come across any wet terrains during your ruck. There are a lot of different reasons why your socks may end up wet. Nonetheless, having fast-drying socks ensures that you can avoid or minimize the consequences that come from rucking with wet socks.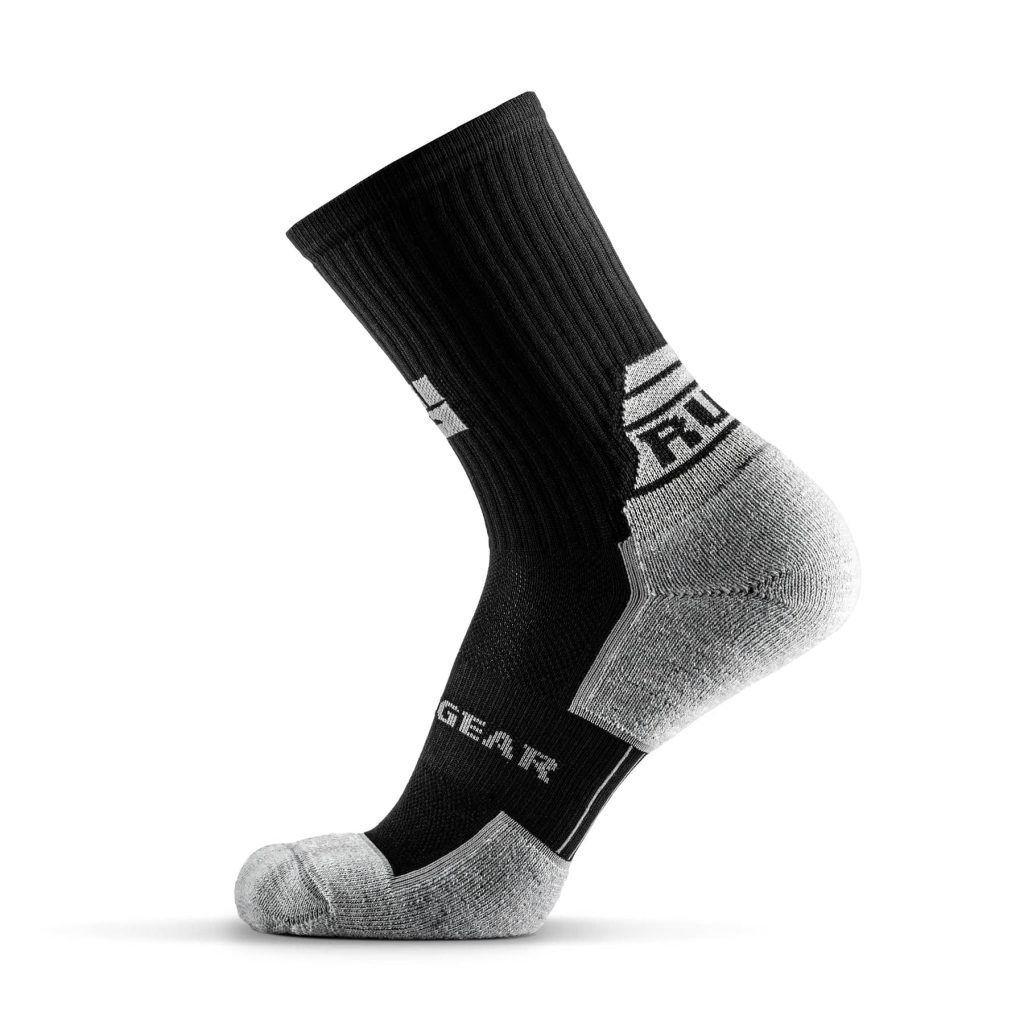 I got my hands on the Mudgear ruck socks not too long ago and would definitely put them on the top of the list. I tested them out so that you don't have to.
First off, I want to mention that I decided to wear regular running shoes instead of rucking boots for this test. I wanted to focus solely on the comfort features of the Mudgear Socks without any confusion from the boots.
One aspect I really appreciated about these socks was their height. They were just the right length, ensuring there was no friction between the collar of the boots (if I had been wearing them) and my leg. It provided a comfortable fit.
The standout feature for me was the padding in these socks. The dedicated padding in the heel area and the upper part of the foot was fantastic.
The comfort was immediately noticeable, and it truly set these socks apart from others I've tried in the past. Even though I was wearing running shoes instead of rucking boots/shoes, I could still feel the difference the padding made.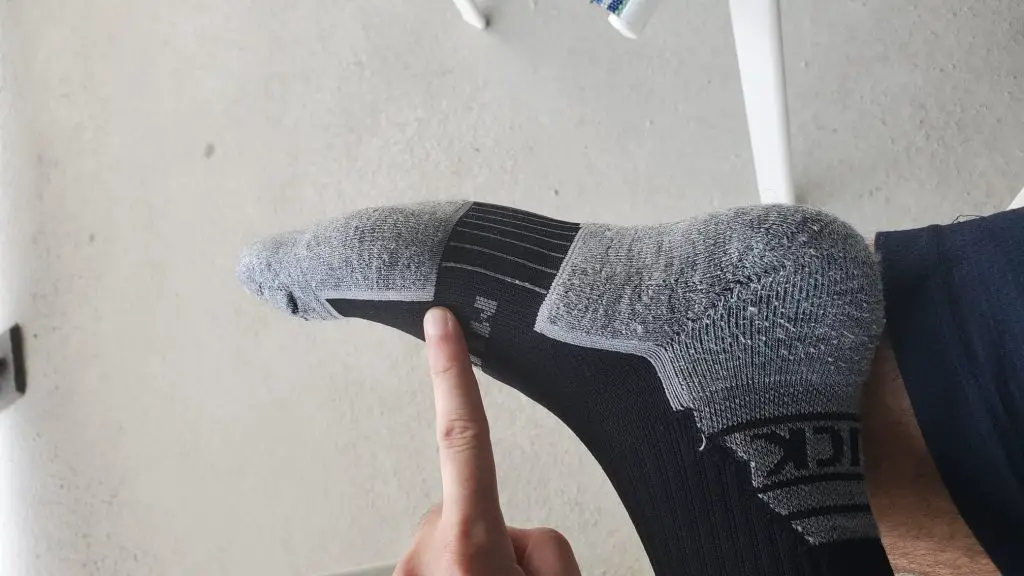 The compression in these socks was notable. They were quite tight, and in hindsight, I might have chosen a slightly bigger size for a more comfortable fit. So, if you decide to get these socks, consider the level of compression and choose accordingly.
In terms of quality, the Mudgear Ruck Socks met my expectations. As I've mentioned before, good rucking socks should include merino wool, and these socks certainly delivered in that regard.
One area where I felt there could be improved slightly was the breathability. I felt as though the moisture-wicking feature forced it to be that way. I did want to feel the air circulation a bit but the shoes I wear currently are not the best for that, so perhaps that's the reason why.
I must admit though, after a long ruck my feet were dry and free from odor.
Overall, I highly recommend these socks. They check all the boxes for what I look for in rucking socks. They're made from merino wool, offer proper compression, and the padding in the heel and toe areas is excellent.
| Pros | Cons |
| --- | --- |
| Made From Merino Wool | While my feet did not sweat because of the moisture-wicking feature, I would have loved it to be slightly more breathable to the point where I can feel the air circulation – but I'm not sure if that's possible. |
| Comfortable | |
| Durable | |
| Includes padding for comfort | |
Check out the Mudgear Rucking Socks here (link to Mudgear)
Use Promo Code 'RFM15' for a 15% discount
A lot of ruckers and hikers swear by the Darn Tough boot cushion socks and gained a good reputation for good reason.
These socks are made in the USA with a combination of Merino Wool, Nylon, and Lycra Spandex, they can withstand the toughest rucking conditions.
The midweight construction and full cushioning provide optimal comfort and support throughout the entire sock. Plus, the true seamless technology means no irritating seams to distract you from your ruck.
What sets these socks apart is their longevity, backed by a lifetime guarantee. If they wear out or develop any issues, Darn Tough will replace them without any hassle.
| Pros | Cons |
| --- | --- |
| Durability and long-lasting performance | Limited color options |
| Midweight construction with full cushioning | May feel a bit thick for those who prefer lighter socks |
| Moisture-wicking Merino Wool keeps feet dry and odor-free | |
| Lifetime guarantee, providing peace of mind | |
Check Price on Amazon (Link to Amazon)
Check out our recent post to learn more about the difference between the Darn Tough and Fox River Socks.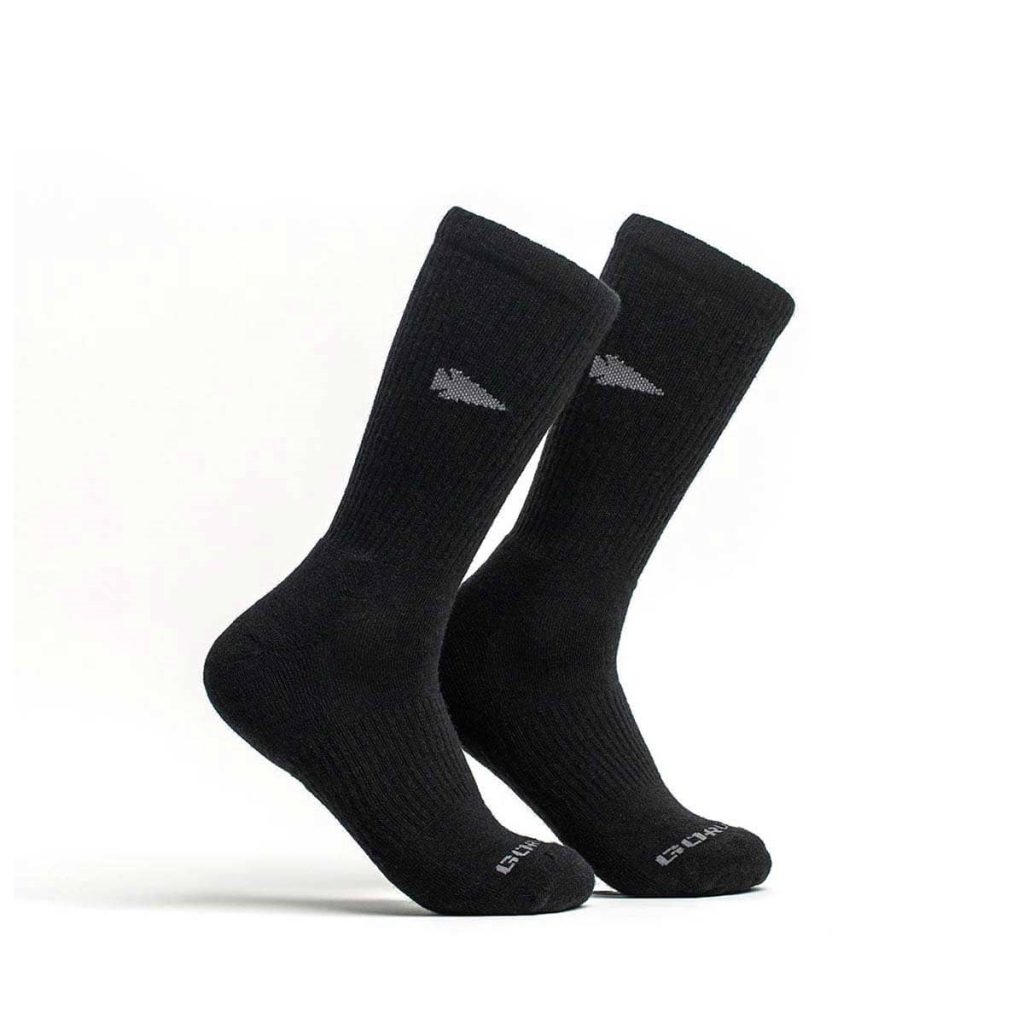 I recently had a chance to learn about the GORUCK Challenge Socks from a good friend of mine who swears by them.
One of the things my friend loves about these socks is the blend of materials they're made from. They contain 54% Merino wool, which makes them breathable and keeps his feet cool and dry.
He also about the cushioning in the high impact areas. This cushioning not only absorbs shock but also helps reduce fatigue during long rucks (although I favor the cushioning on the Mudgear ruck socks)
He did mention one thing that he felt could be improved, which was the compression. He didn't mention why, but it could be because of the design features. However, that's according to his preferences and he continues to wear them during his rucks.
One thing to keep in mind is that GORUCK has a 'Scars Lifetime Guarantee', which is somewhat of a lifetime warranty so that if they get damaged in the future. Here's how they describe it

GORUCK
| Pros | Cons |
| --- | --- |
| Breathable and antimicrobial | Limited color options |
| Durable and reduces friction | |
| Maintains shape and fit over time | |
| Deep heel pocket for secure fit | |
| Contoured to calf shape for comfort | |
| Robust cushioning in high impact areas | |
| Reinforced toe for added durability | |
.
Check out the GORUCK Merino Challenge socks (link to GORUCK)
The Carhartt Merino Wool Stretch Socks are a perfect example of socks designed for extreme weather conditions, both cold and hot. They are made from merino wool, which provides warmth in colder months and breathability in warmer months, keeping your feet comfortable.
The socks are specifically designed to address common rucking issues, aiming to prevent the need to frequent change your socks. They feature sweat-wicking properties, thanks to the powerful Fast Dry technology that effectively moves sweat away from your feet. This helps prevent the discomfort and potential problems that can come up from rucking with wet socks.
These socks are odor-resistant, thanks to Carhartt's proprietary technology, ensuring that they stay fresh-smelling throughout the day. The fibers used in these socks are abrasion-resistant, which helps prevent friction-induced blisters, especially when wearing steel toe shoes.
Another feature that I noticed is their ability to stretch nicely, which ensures a proper fit and prevents the upper part of the boot from causing any discomfort, particularly when wearing typical 8-inch high rucking boots.
Check out the Carhartt Merino Wool Stretch Socks on Amazon (link to Amazon)
I had the chance to check out the Smartwool Classic Cushion Socks, and they're certainly a strong contender.
One standout feature is the extra cushioning throughout the entire sock. It reduces stress on your feet during those long rucks. No need to worry about discomfort or soreness after your ruck.
The design is another advantage that they have going on. They sit over the ankle and go mid-calf, preventing any chafing caused by your boots.
What's unique about the Smartwool Classic Cushion socks is that they have an eco-friendly twist. It's made from recycled nylon and responsibly sourced Merino wool.
| Pros | Cons |
| --- | --- |
| Extra cushioning for added support | Average price point |
| Crew sock design prevents chafing | |
| Made with recycled nylon and responsibly sourced Merino wool | |
| Suitable for all seasons | |
Check out the Smartwool Classic Cushion socks on Amazon (Link to Amazon)
The Danish Endurance Merino Wool Hiking Socks tick all the boxes of a great rucking sock.
With their comfortable design, moisture-wicking capabilities, and reliable support, they meet the requirements of a top-notch rucking sock.
These socks are unique in that they have been designed in collaboration with an experienced mountaineer, ensuring their high quality and durability. This translates well to the world of rucking.
Check out the Danish Endurance Merino Wool Socks on Amazon (Link to Amazon)

These socks truly live up to their name when it comes to the mid-calf length. Unlike many other socks that claim to be mid-calf or boot socks but fall short, these actually hit the mark. It's a small detail, but one that makes a difference in terms of comfort and protection during rucks.
One of the standout qualities of these socks is their durability. I can understand why some people are willing to invest in them. They are built to last.
While they may not be made of wool like some other popular rucking socks, they do offer moisture-wicking properties. This helps to keep your feet dry and comfortable, even in challenging conditions.
| Pros | Cons |
| --- | --- |
| True mid-calf length | Higher than average price for synthetic socks |
| Exceptional durability | Not made of wool |
| Ideal for long periods on your feet | |
| Moisture-wicking properties | |
Check out the Fox River Military Wick Dry Mid Calf Socks (Link to Amazon)
The Darn Tough Hiker 1/4 Cushion Socks have caught my attention because of Darn Toughs reputation.
They stand out when it comes to the fit, which is usually hard, especially when you're buying rucking socks online. I do know some folks who have worn them for years without any complaints (for us dudes who hate to go shopping, that's a real selling point to me at least).
Long story short, they're pretty durable and known for it too.
It does check my criteria for what makes a good rucking sock, especially that it also includes moisture-wicking features which is really needed during those long rucks.
Check out the Darn Tough Hiker 1/4 Cushion Sock on Amazon (link to Amazon)
Despite their name, these socks are not only suitable for skiing but also work well in the world of rucking. The socks are made in the USA and are made from a blend of merino wool, mesh, nylon, and wool which also meets my criteria for a good rucking sock.
The cushioning in the shin area is what makes it unique and stand out from the rest. It also has cushioning for the sole of the foot, which is great to absorb the impact with every step you take.
Check out the Smartwool PHD Ski Light Elite on Amazon (link to Amazon)
These socks are made with 63% merino wool, which means they're super comfy. One of the best things about these socks is that they're designed to prevent blisters. Check out my full guide on how to avoid ruck march blisters if that's been bothering you lately!
They also give great support to your arches, which helps keep your feet stable and less tired.
They dry fast as well. That means even if your feet get a little sweaty or ruck on a rainy day, these socks will dry up quickly.
Check out the CloudLine Merino Wool Crew Socks on Amazon (Link to Amazon)
They're made with 75% merino wool and you get three pairs in a pack. These socks are a bit thicker compared to some others, but that's actually a good thing. The merino wool makes them super reliable in all seasons – they'll keep your feet dry in the heat and nice and warm in the winter.
They've also got a 90-day free return policy. So even if you're not completely happy with them, you can easily return them hassle-free.
Personally, I love it when companies offer their socks in packs cause there's nothing more annoying than liking a pair of socks only to have to go pay for it again and again cause you've found the right socks for you and don't want to keep trying out different brands.
Check out the MERIWOOL Merino Wool Socks on Amazon (link to Amazon)
Frequently Asked Questions
What are the Best Army Rucking socks?
The US Army uniform guidelines, consider socks as " clothing bag issue items or optional purchase items". The required colors are tan, green, or black. The socks should also have a cushion sole.  Therefore, we do recommend getting the Fox River Military Mid Calf Boot Sock (link to Amazon). They do come in all three colors. 
What Are The Best Ruck March Socks?
Mudgear Ruck Socks, Darn Tough socks, and GORUCK Merino Challenge socks are the best rucking socks according to the criteria that make up a good rucking socks.
Remember, the following criteria make up a good rucking sock:
Merino Wool
Compression
Comfort
Odor Free
Breathability
Fast Drying
Are Cotton Socks Good For Rucking?
I would not recommend fully cotton socks for rucking because they are not built to absorb moisture which is a common outcome when rucking. Here are more reasons why cotton socks are not good for rucking:
Cotton socks are not made to absorb moisture: they have the tendency of holding onto the moisture, including sweat. This will lead to wet and damp socks, especially if you're on a long ruck.
Lack of breathability: Cotton fibers are not as breathable as Merino wool, which will trap the heat and build up the moisture in the sock. This is also a common source for bad odor when ruckers choose cotton socks. 
Limited to no cushioning and support: Cotton socks generally provide less cushioning and support compared to specialized rucking sock that are made from merino wool.
Durability: Cotton socks tend to wear out more quickly, especially during high-impact activities like rucking.