If you are looking for hardcore boots that are powerful and durable, the Rocky S2v Boot is a great option to consider.
This boot gives you an edge in when it comes to long-distance rucking.
Table of Contents:
1. S2v Sieve Technology
2. AR 670-1 Compliant
3. Comfortable
4. Great for Hot Weather
S2v Sieve Technology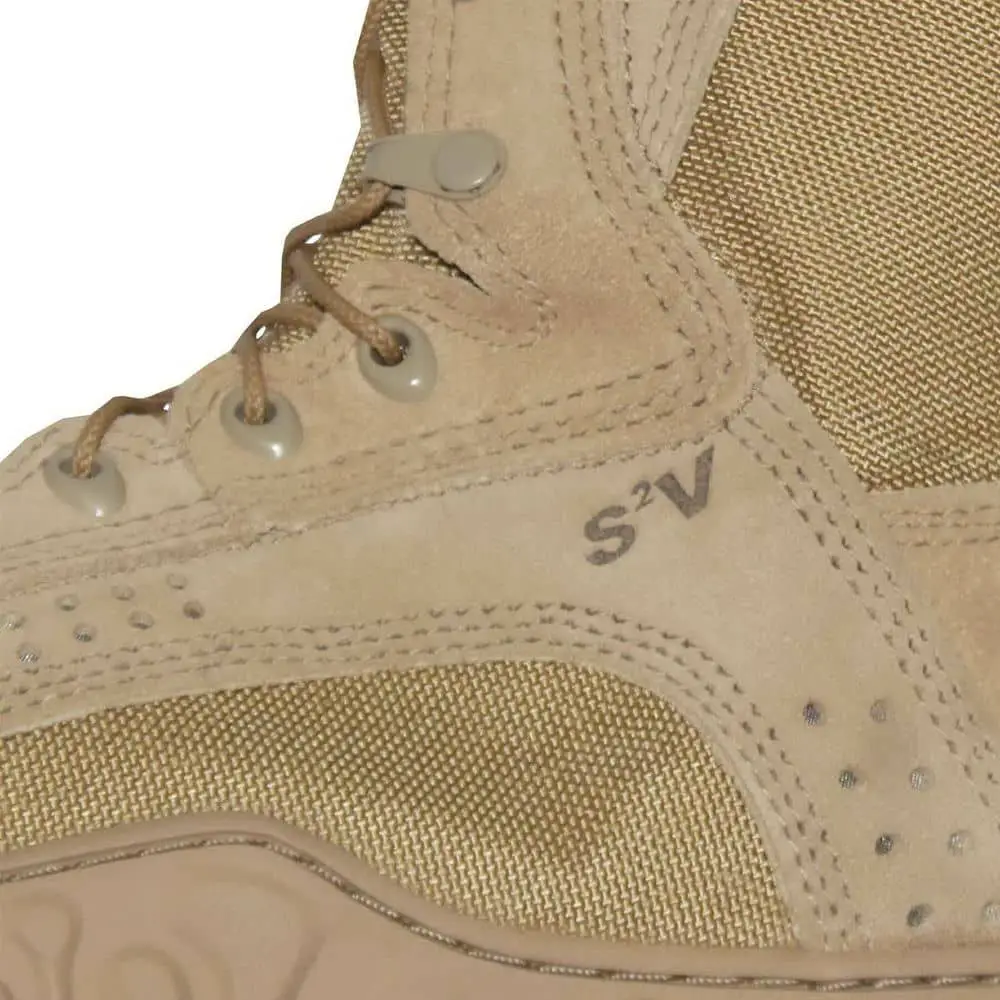 Keeping the foot in proper condition is not negotiable, especially when out on long hours of rucking.
The rocky S2v boots have a sieve technology incorporated into the design. This technology helps to improve the circulation of both moisture and air.
In wet terrains, this technology prevents water accumulation in the boot as it has moisture-draining power. While in hot terrains, this sieve technology helps prevent sweaty and soggy feet keeping the feet dry and comfortable.
Microbes and other potentially harmful water-borne micro-organisms will also have a hard time finding their way into the boots.
Effectiveness in diverse terrains is therefore enhanced with these boots. At the same time, it prevents common foot injuries such as blisters.
Find out how to avoid ruck march blisters and how toughen your feet for ruck marching.
AR 670-1 Compliant
The Rocky S2v boot was designed in tune with the specifics of the AR 670-1.
AR 670-1 is a military compliant code for regulations about uniform and dressing generally. Therefore, any dressing component including boots, caps, or khakis, must comply and conform to this rule.
The army, however, allows the use of externally made boots so far they are designed according to the specifics of the AR 670-1.
Some of these specifications (for boots) include:
The shoe must be 8-10 inches long
Plain toe and matching sole
Only Polyether polyurethane and rubber outsoles are to be used (for now).
For soldiers, this is one less issue to worry about. Also the idea of owning a shoe that conforms to military standards is certainly something to take pride in.
Check out our post on AR670-1 boots for a full list of AR670-1 compliant boots. While you're at it, learn more about AR 670-1 regulations.
Comfortable
Another superb feature of this boot is that it is highly comfortable. Being Comfortable in strenuous activities is gold, and the rocky s2v boots bring its best in this aspect.
The in-built Rocky AIrport Footbed of this boot is a commendable innovation that helps the rocky s2v the comfortable machine it is.
This footbed is a high-performance, cushioning, and comfortable element.
It provides arch support that comes from the arch lift of the insole. What makes the arch lift unique is that it conforms to the shape of the wearer's foot and rebounds back to its original form when not in use.
With its 40 Density polyurethane, the Rocky Airport Footbed gives a shock-absorbing effect that reinforces comfort in challenging terrains. This can help precent many rucking injuries.
This footbed also has a heel cup that provides fantastic support and comfort.
Great for Hot Weather
Rucking in hot weather is simply unavoidable. Thus, the rocky S2v boot is armed with several features that make it great for hot weather.
Its sieve technology helps with adequate ventilation in and out of the boot, keeping the legs fresh and cool in the hottest of weather.
Furthermore, its Rocky Air-port footbed's perforations make the boot great for rucking in hot terrains as there is free airflow.
Final thoughts
This boot is loaded with cutting-edge innovations, and this makes it a high flyer among numerous ruck boots out there.
The comfort and durability it gives are sure to give rucking a whole new level of greatness.
Looking for other options? Check out out full review of the Rocky C7 Ultra lightweight boots or the Rocky SV2 Rkc050 boots.