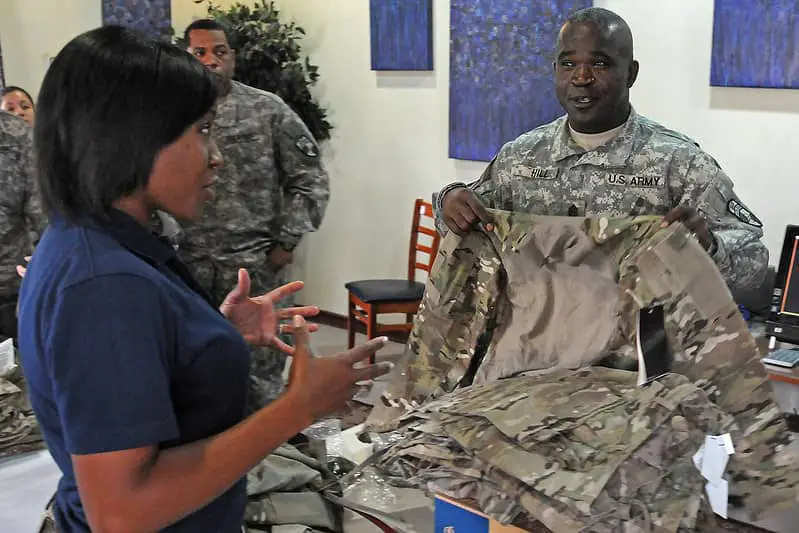 When dressing according to Army rules, your socks are probably the last garment you think about. Yet the Army Regulation 670-1, aka the AR670-1, does prescribe that you wear specific types of socks. What are the rules?
The AR670-1 regulation on socks mandates that socks are black, green, or tan with a cushioned sole. The socks should be stretchable and extend no further than the calves. Wear these socks with military-issued boots.
In this article, we'll further delve into the AR670-1 sock regulations so you can be crystal clear on the rules. We'll also recommend a few pairs of AR670-1 socks courtesy of Amazon. There's lots of great information ahead, so make sure you keep reading!
Table of Contents:

1. What Are the AR670-1 Regulations on Socks?
2. Recommended AR670-1 Socks
3. What Color Socks Can You Wear in the Army?
4. What Color Socks Are Authorized with OCP Army?
5. Can You Wear Your Own Socks in the Army?
What Are the AR670-1 Regulations on Socks?
The Army Regulation sock rules are outlined in the 2021 edition of the AR670-1 guidelines. You can read those guidelines in full here.
According to AR670-1, sections 20-28, socks "are optional purchase items." Depending on your military uniform, the socks you wear should vary. Let's take a closer look.
AR 670-1 Socks To Wear When Wearing Military Combat Boots
The socks you should wear underneath your standard military combat boots as well as "organizationally issued boots" are cushioned stretchy socks that reach the calf. You have color options for the socks according to AR670-1, which we'll talk more about later in this article.
Another option for these socks per the guidelines is to wear them in a two-sock system. You'd add a standard liner sock or dress sock to the cushion-soled socks to protect your feet further. This is optional though.
AR 670-1 Socks To Wear When Wearing Brown Oxford Shoes
If you're wearing brown Oxford shoes as part of your military uniform, only heritage green socks are allowed, says AR670-1. The socks must have "an approved specification or commercial design" and have to be heritage green 564.
The material for the socks is always nylon or polyester and the socks should reach your calves.
You can wear the heritage green socks as a boot liner or as a dress sock.
AR 670-1 Socks To Wear When Wearing Black Oxford Shoes
If your military uniform requires black Oxford shoes rather than brown ones, you have to leave the heritage green socks behind. Instead, you'd pair your footwear with matching black socks that you can wear as a boot liner or more traditionally as socks.  
The sock material is the same, so nylon or polyester, and the length should still be at your calves.
AR 670-1 Socks To Wear When Wearing Mess or Dress Uniforms
The fourth type of sock covered in the AR670-1 guidelines is for "ASU and dress variation, AGSU and dress variation, dress, and mess uniforms." These aren't socks at all, but stockings. The stockings are allowed to be semi-sheer or completely sheer.
The color of the stockings must compliment your uniform as well as your skin tone. That means no pastel colors or patterns. The stockings also cannot have seams.
The military guidelines further state that "the stockings are a one-time cash allowance as part of the initial clothing bag allowance."
Recommended AR670-1 Socks
Although AR670-1 socks are optional, you'd still like to own a pair (or several). As promised, here are some preferred military socks courtesy of Amazon.
1. Fox River Men's Boot Sock
The first set of AR670-1 socks is from FoxRiver. These men's socks feature exclusive wick-dry technology for pulling moisture away from your feet so they don't chafe or blister (learn more about how to avoid ruck march blisters).
With a built-in URfit System, the FoxRiver socks boast stretchy compression zones, contoured top ribbing, and memory knitting. The Scentry system includes embedded micropolymer silane as well as copper or silver fibers to prevent the accumulation of odors.
The Scentry system can also reduce the rate of wear and tear so you have your FoxRiver socks for longer.
On top of all that, the FoxRiver socks are cushioned enough that they should meet AR670-1 specifications. You can select from colors like black or foliage green.
Check out Fox River Men's Boot Socks on Amazon (link to Amazon)
2. Jefferies Men's Military Uniform Rib-Top Boot Socks
The second pair of AR670-1 socks we recommend are from Jefferies. You get six sets of socks to a pack, which is cost-effective. All the socks are made of a comfortable mix of nylon (20 percent) and cotton (80 percent) and are produced in the United States.
The military socks pull right on and stop mid-calf as recommended in the AR670-1 guidelines. You won't have to worry about the socks rolling down even when wearing military boots thanks to the ribbing at the top.
The half-cushioned padding on the feet is for your comfort. When your socks begin to stink, you can clean them in the washing machine. Choose from four colors: olive green, foliage green, coyote brown, or black.
Check out Fox River Men's Boot Socks on Amazon (link to Amazon)
Check out our best rucking socks post if you're just looking for regular rucking socks!
What Color Socks Can You Wear in the Army?
As we said we would, let's talk about the colors that are appropriate for your socks per the AR670-1 rules.
Black
Black socks are always required when wearing black Oxford formal shoes, which we touched on earlier.
When wearing combat or military boots, black socks are appropriate as well, either worn on their own or added to a two-sock system.
Green
The AR670-1 rules aren't clear on what shade of green your socks can be when worn with military-issued boots. Thus, we'd assume it's either foliage green or olive green. Heritage green could be an option as well.
We'd recommend checking in with your commander just so you don't get in trouble.
Heritage green socks are always required with brown Oxford shoes; no other shades of green are appropriate, even if they are usually allowed to be worn with military boots.
Tan
The third sock color you can select for your military combat boots is tan, likely coyote tan.
Since the AR670-1 doesn't mention when to wear which color socks, we'd assume the guidance mentioned in their section on stockings applies to socks worn with combat boots.
To reiterate, your sock color should closely match your uniform.
What Color Socks Are Authorized with OCP Army?
OCP Army apparel refers to the Operational Camouflage Pattern. When wearing army fatigues, the above three AR670-1 sock colors apply, so your options are black, green, or tan.
We would again advise you to select a color for your socks that most closely matches your military uniform. Check in with your commander if you have further questions.
Can You Wear Your Own Socks in the Army?
Is your choice in socks really that big a deal as an Army soldier? After all, if you're wearing combat boots, it's not like anybody can see your socks anyway. Can't you bring your own socks?
Yes and no. The AR670-1 regulations mandate that military socks "are made from an approved specification or commercial design," as we said before. Logos are not allowed, for instance.
If your socks were black and calf-length without any brand logos on them, you might be able to get away with wearing them.
Why risk it though? You don't want to upset your commander over a pair of socks!
AR670-1 socks are not uncomfortable, nor are they unstylish. The socks are designed to protect your feet whether wearing Oxfords or military boots.
You can buy your own military-approved socks such as those we shared with you before, so why not pick up a few pairs?  
Conclusion
The AR670-1 is a series of guidelines on appropriate insignia and clothing for active Army members. Socks are part of the guidelines. Although a garment as simple as socks might seem innocuous, the AR670-1 has a series of rules you should follow to ensure your socks are comfortable and that they match your Army uniform.