The Rocky C7 Lightweight Commercial Military Boot gives you superior light-weight performance. Whether you are on military missions or simply rucking, you'll immediately notice the powerful yet athletic feel.
These boots are packed with helpful features made to provide ultimate comfort yet provide the needed functionality and durability. Let's look into the features that stood out the most to us.
Table of Contents
1. Breathability
2. AR 670-1 Compliant
3. Ultra-Lightweight
4. Comfortable
5. Durability
6. Nylon Shank
Breathability
One of the downsides of rucking for an extended period is your feet' tendency to start getting all sweaty and uncomfortable. However, with the Rocky C7, that's not a problem. This footwear has an Ortholite® memory foam footbed made from recycled rubber and polyurethane material that will keep you comfortable in-out.
The footbed retains up to 95% of its cushioning even after a year of active use. Thanks to the PU foam being completely 100% breathable, it allows for steady air circulation into your feet. Thus, this reduces strain and discomfort owing to long hours of use.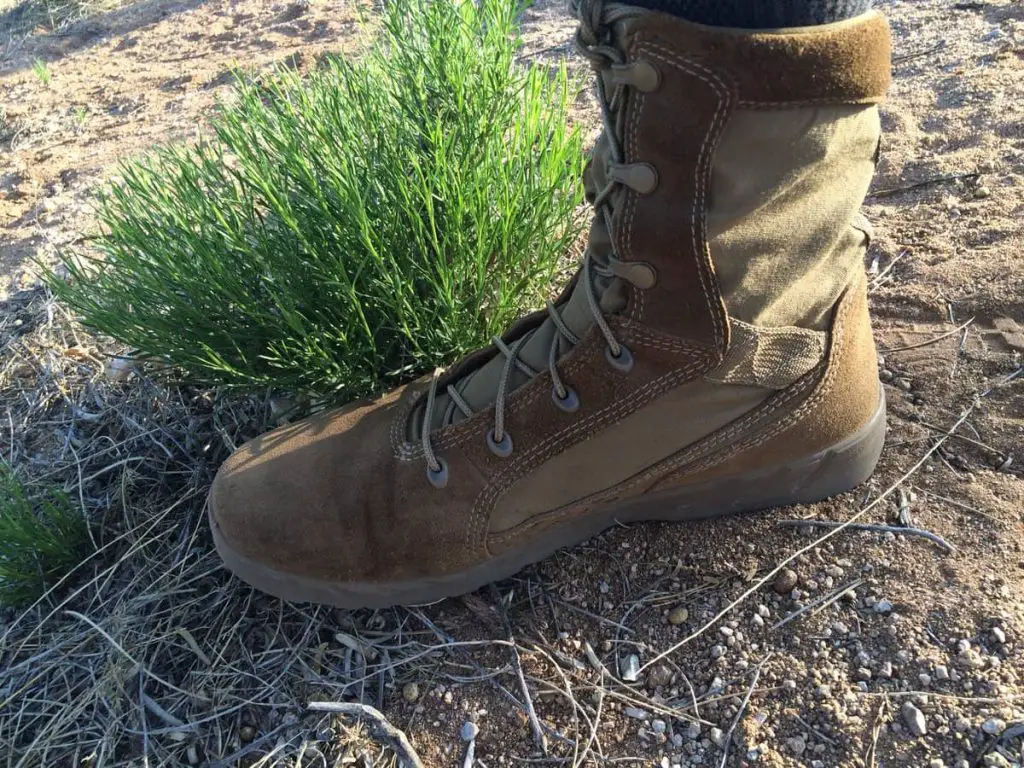 The open cell of the Ortholite memory footbed also affords it an active moisture management system. By removing moisture and keeping it away from the foot, the Rocky C7 provides a healthier and drier environment where you can say goodbye to wet and smelly shoes.
This is super helpful when trying to avoid ruck march blisters and helps you toughen your feet for ruck marching.
Adequate ventilation means your feet are protected from infections associated with damp conditions, but there is also more…
The Rocky C7 ortholite footbed has a salt-based anti-microbial formula that eliminates fungus and other micro-organisms. Hence, whether you are rucking through a hot Sandy Beach or a tropical wetland, you can be assured of complete protection all day long.
AR 670-1 and GSA/TAA compliant
The Rocky C7 meets the US military's standard requirements, such as having a flesh hide cattle hide leather, a height of 8 inches, and conforming to uniform compliance.
It also adheres to the trade agreement act requiring that the US Government acquire only "US-made or designated country" end products. Rocky C7 boots are built in the US and are approved to be used by the US government.
Check out our post on AR670-1 boots for a full list of AR670-1 compliant boots. While you're at it, learn more about AR 670-1 regulations.
Ultra-lightweight
Easy maneuverability and a fast-paced performance during missions are some of the critical advantages of the Rocky C7. With an overall weight of less than 15 oz. per boot, you can efficiently execute lighting-fast missions or patrols without having to worry about your boots dragging you down. 
It also means the strain on the legs is reduced, and you can ruck for a much longer time without feeling an irresistible urge to yank off your boots. Less weight during rucking or missions means you can move faster while also conserving enough energy and momentum.
The boots' speed lace eyelets mean you can get on your Rocky C7 as fast as possible, making your boots a reliable asset in times of military emergencies. The shoes also come with accompanying NATO hooks to ensure your laces stay on even when passing through the most challenging terrains.
 The ultra-lightweight and fast-use mechanism of the Rocky C7 effectively highlights it as a boot designed for soldiers by soldiers. 
If the weight of the boots is of utmost importance for you, check out our best boots for rucking post for a list of alternative rucking boots.
Comfortable
The Rocky C7 boots come with a light-weight Vibram rubber that allows for high performance without throwing away your comfort. The lugged tread pattern of the soles affords a solid grip that gives you stability.
Also, since Vibram is an EVA (ethylene vinyl acetate) based rubber shoe, it retains the blend of foam and rubber, thus giving you the spring of an athletic shoe while maintaining enough stamina needed for rucking and patrols.
The Rocky C7 has a padded collar that allows for a snug fit, keeping your boots easy on your feet without feeling loose and wobbly.
Durability
While other boots may break apart under intense and continuous use, not the Rocky 7. A triple-stitched construction makes sure your shoes are not going to be ripped apart when rucking on rugged landscapes.
The boots are also constructed with flesh-out cattle hide leather. This military-grade leather's high resilience allows it to survive the wear and tear of everyday use without a reduction in quality.
For most shoes, traction and durability work against each other. The harder the rubber, the poorer the traction. However, with the Rocky C7, EVA effectively balances this difference, ensuring your boots last for a more extended period while retaining peak performance.
Nylon shank
Shanks keep your boots in shape, stiffening the outsoles and allowing you to maintain stability. Unlike traditional steel shanks, which are sensitive to cold weather and can set off metal detectors, the Rocky C7 is fitted with nylon shanks. 
This provision makes your boots light-weight and flexible, giving you enough bend for natural movements while providing the needed support to help you ease stress while rucking.
Final Thoughts
The features packed in the Rocky C7 lightweight boots are beneficial for both everyday rucking and military rucking and missions. People who are in other occupations such as police officers and floor workers can benefit tremendously from the features that are in these boots
When looking for the right boots the following features are a must:
comfort
padding
proper midsole
breathability
lightweight
The Rocky C7 checks the list for these essential features.
One area of improvement that we noticed with the Rocky C7 boots is that the sizing accuracy is not the best compared to other rucking boots out there. Therefore, we highly recommend going half a size up.
Looking For similar options? check out other Rocky boots such as the Rocky S2V Rkc050 boots that we've reviewed so far.