The Belleville 790 Boots are certainly a unique pair of boots. Our first impression of these boots were that they looked rather bulky compared to the Belleville 330 DES ST, the Belleville 340 DES, and the Belleville 390 DES. The Cattlehid leather was no surprise, very typical from Belleville. Not to say that theres anything wrong with their selection of leather. In fact, Belleville is know for their boots having a long shelf life and are durable and this is partly due to the cattlehide leather.
In this post, we'll discuss the key features in these boots and whether they're right for you.
Build & Material
The Belleville 790 boots have a gore-tex bootie.
What does that even mean? and why should you care?
"Gore-Tex is a micro porous film. After the film has been laminated to a textile liner, it is sewn into a sock (often referred to as a bootie") (source). This is the piece that is put next to your feet in a boot. This material allows the passing of moisture yet somehow keeps out water drops.
The Gore-Tex technology, that Belleville has embraced in the Belleville 790 boots, allows it to be waterproof yet breathable.
Furthermore, as previously mentioned, these boots are made from cattlehide leather. While the vegan community may find this outrageous (so did we at first to be honest), it turns out that the cattle are not killed for their skin, rather they are already killed for their meat and instead of throwing away the skin, they are used for leather.
Cattlehide leather is known for being durable and very impervious (source).
Outsole & Midsole
The outsole is similar to other Belleville boots, its the 100% rubber vibram outsole. This is important because it keeps you well ground. These outsoles are waterproof, have good grip, and are slip resistant.
As for the the midsole, it is highly cushioned which is necessary. This ensures that the shocks generated with every step you take are absorbed. This protects your joints in the long run and prevents pain.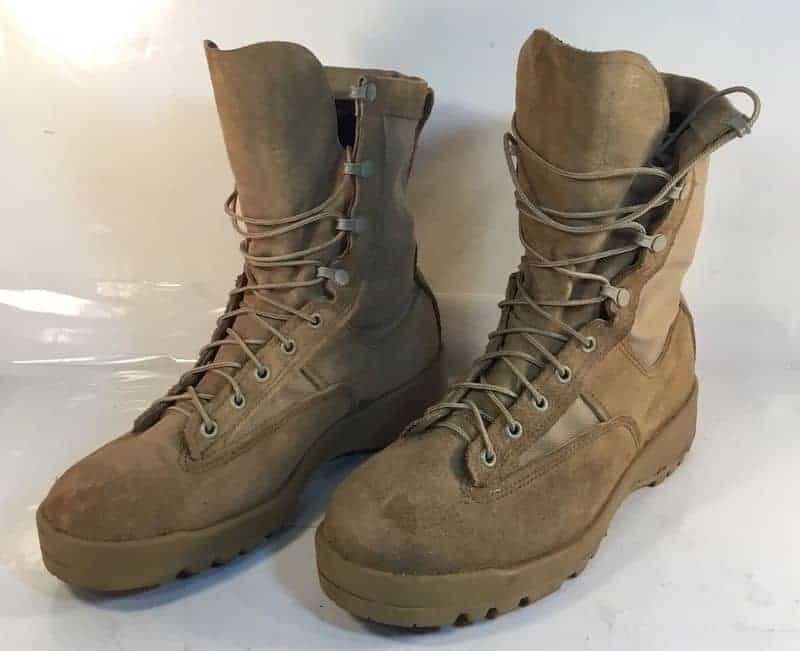 AR670-1 Compliant
This may not be compliant to most people, but it certainly is with military folks. Getting your own boots in the military is optional as you will be issued a boot from the military. However, many people choose their own boots.
If you're in the military and in a hot weather climate, the gussted tongues in the Belleville 790 DES boots help keep sand, debris, and dirt out of your boots.
One of the things that make these boots AR670-1 compliant is the eyelets. Boots require 3 eyelets to be conforming to the army regulations and the bellevile 790 DES have got you covered there. Having eyelets are great to ensure the boots can easily be put on and taken off.
Check out other AR670-1 compliant boots.
Weight
This is the feature that really makes it stand out compared to the other boots in their line up. These boots are not lightweight and may not be the best boots to train in or jog in.
They are a good option to wear as a police officer perhaps, or on a worksite, or any other activity that doesnt require constant movement.
If we had to ruck in these boots, we would get the job done. If decreasing your weight load in your rucks is of priority then you may want to consider other options like the Belleville One Xero C320 Ultra-light Assault Boot.
With all that said though, these make for great winter boots. A great boot to weat should you decide to ruck in the winter or even just to walk around in.
Final Thoughts
The Belleville 790 DES boots are certainly a game changer. They have all the features you can really ask for in a rucking boot or for the military. They are waterproof, made from a strong leather, include the unique Gore-Tex technology, slip resistant, and are built to last.
The only real drawback is the weight, it is heavier than the other boots in their line-up. Which we can definitely understand why they designed it that way. These boots are great for the winter. You want something bulky protecting your feet should you find yourself rucking in the winter or entrenched in the snow.
Do we recommend it?
Yes, 100% we do. It's rare to find all these features packed in a boot for the price range its in.