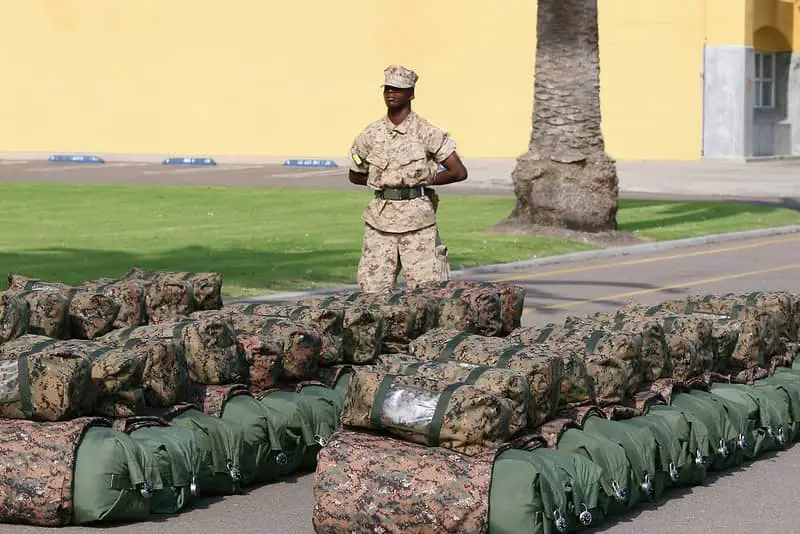 You're planning a ruck march on soft sand with a couple of buddies or army partners. Although you've rucked before, you've never done a ruck march, so you want to pack smartly. What do you need to take with you?
The following items should go on your ruck march packing list:
Keep reading for more details on what to bring. By packing these items, you should meet the weight requirements necessary for a ruck march. You'll also have everything you need to stay comfortable and hydrated.
Planning Your First Ruck March? These Are 13 Must-Have Items
Gloves
Some ruck marches are challenge events rolled into one. In that case, besides rucking, you may also have to do push-ups on the ground or perform bear crawls. Having gloves will spare your hands from the biting hot sand.
Army standards call for leather gloves, but those can get clammy in hot weather. Better pack some lightweight gloves too.
Check out the Mechanix Tactical if you're looking for gloves to take with you on a ruck march. It's got knuckle guard padding which phelps when you're oon the ground doing those punch style push-ups.
They're made from durable synthetic leather which ensures it will last a long time with you, washing machine friendly, and you can even text with these gloves.
Check out the Mechanix Tactical Gloves (link to Amazon) if you're interested.
Eye Protection
Basic eye protection can safeguard your peepers from the sometimes-harsh rays of the sun. If you do have to drop to the ground during your ruck, you can also keep sand and dirt away from your face so you can ruck longer.
First Aid Kit
What should go into your first aid kit during a ruck march? Here's what we'd suggest:
Electrolyte salt tablets for maintaining your electrolytes when sweating
Over-the-counter painkillers
Medical-grade tape
Gauze
Bandages or Band-Aids in a variety of sizes
Rubber latex adhesive
Rubber examination gloves for safely and hygienically treating wounds
Antiseptic wipes
Blister kit
Alcohol swabs
Waterproof storage bags
Ruck march blisters are a serious concern among ruck marchers, even on soft sand. Few things stop you in your tracks faster than a big, painful blister, so definitely have something ready to reduce the pain.
Here's what a tactical and comprehensive First Aid Kit that we'd recommend. Only thing missing is an over the counter painkiller but you can always pack that with you in addition to this kit.
Check out the AOKIWO First Aid Kit (link to Amazon) if you're interested.
Compass
Ruck marches are usually group activities, but if you're asked to deviate from the group or you have to separate for any other reason, how will you stay on course? A compass can guide you in any direction.
LBE/MOLLE Tactical Vest
Weighted LBE/MOLLE tactical vests are a crucial piece of equipment for your ruck march. The KU Army ROTC Jayhawk Battalion (source) recommends that your vest has one grenade pouch, dual magazine pouches, and two canteen pouches.
Hydration Bladder – CamelBak
Hydrating is one of the most important things to do when rucking. On our blog, we suggest consuming a gallon of water per day in the two to three days ahead of your ruck march. You'll need to bring at least that much water with you when marching if not more.
Your rucking bag must contain 35+ pounds of gear for a ruck march, and a gallon jug of water is about 8.3 pounds. If you brought two or three jugs at a gallon each as well as other gear, you'd easily hit 35 pounds.
Check out the CamelBak (link to Amazon) if you're interested!
Kevlar
On a 12-mile ruck march, Kevlar is a requirement. You can wear a Kevlar helmet or a steel helmet, which is about the equivalent in weight.
Dummy Rifle
Carrying a real rifle during a ruck march is often prohibited, so a dummy rifle suffices. You get the weight of a real rifle without any safety risks.
Boots (Plus an Extra Pair)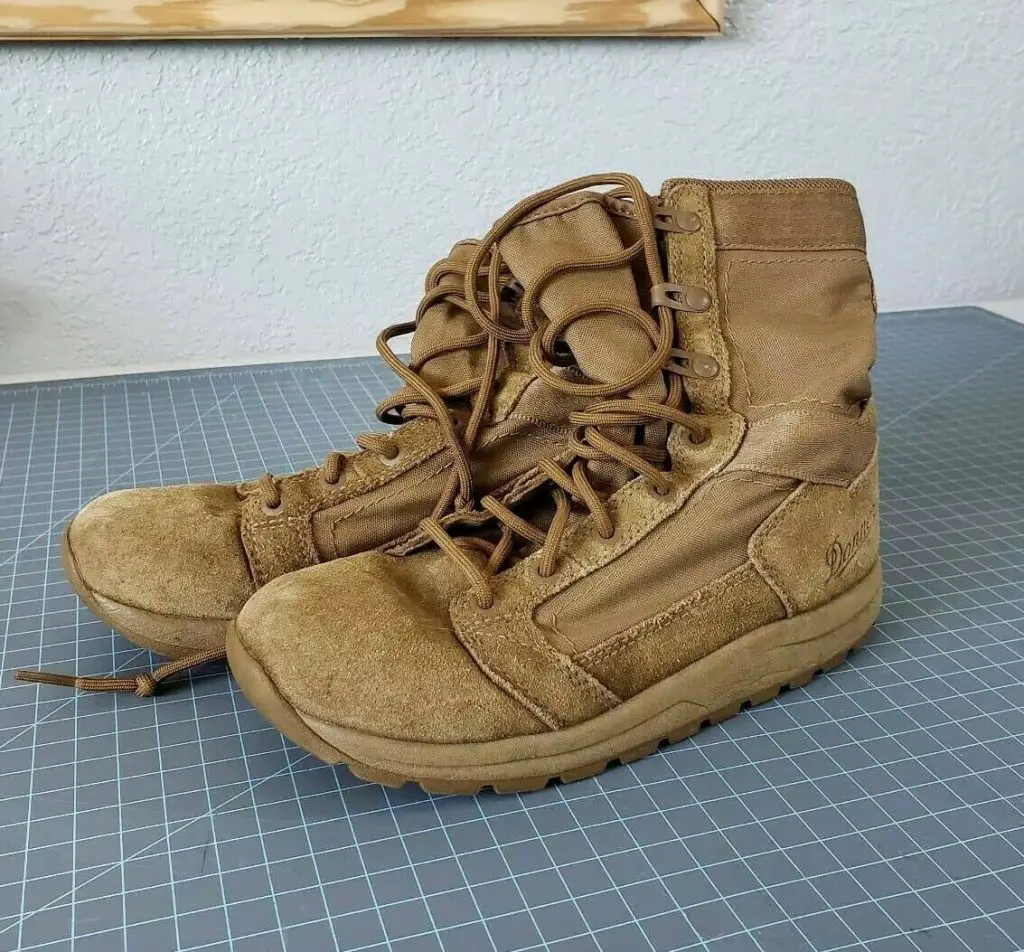 Arguably the most significant item on your ruck march packing list is the right footwear. On military ruck marches, you'll need marching boots that comply with AR 670-1 regulations.
What do the regulations say about your footwear? Here are the boxes your boots must check:
100-percent cattlehide leather exterior or a combination of non-mesh and leather
Polyether and rubber polyurethane outsoles
Plain toes rather than steel toes
Average height of 8 to 10 inches
Coyote or tan color
There's no one pair of boots that meet the criteria established by those regulations, which gives you plenty of options. We recommended some of our picks for the best AR 670-1 compliant boots on the blog, and they all follow AR 670-1 regulations.
KU Army ROTC Jayhawk Battalion recommends bringing an extra pair of boots in case something happens to your first pair.
If you need to toughen up your feet before you embark on your ruck march, we just wrote an article about that. Check it out here!
You might also want to consider some comfortable insoles to keep your feet blister-free.
Socks (Plus an Extra Pair)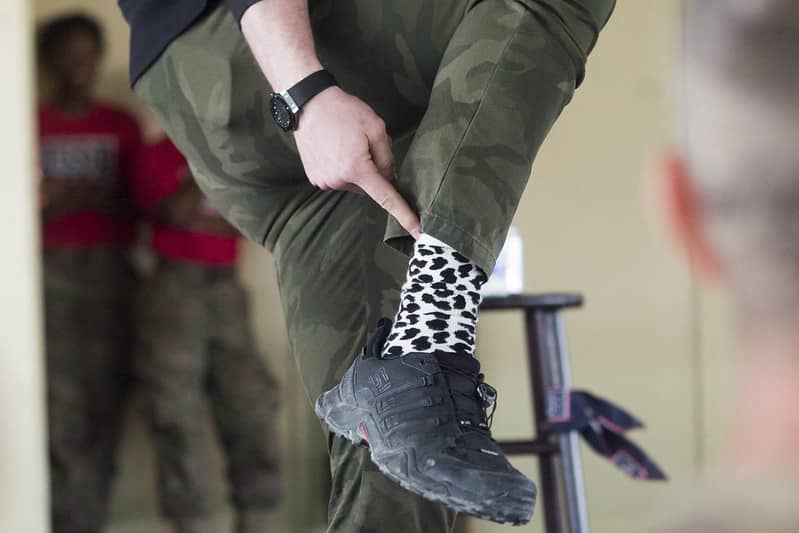 You don't have to follow such stringent measures when choosing your socks, although KU Army ROTC Jayhawk Battalion does mandate green socks. You should also have a second pair of socks at the ready just as you do your rucking boots. 
The best rucking socks are made from Merino wool. That's because during colder climates, the fiber bends inwards which traps the air and warms your feet. During hotter climates, its does the opposite and helps move the sweat outwards and away from your feet.
Check out our top picks for the best socks for rucking
PT Belt
A reflective belt, referred to officially in the army as a PT belt, is another can't-miss accessory when preparing for your ruck march. Although some troops think these belts look kind of goofy, they help you stand out in low-visibility conditions, so don't forget yours!
Headlamp
Speaking of low-visibility conditions, ruck marches don't stop for a bit of fog, clouds, or rain. You'll need to keep on keepin' on, and that means having a headlamp to guide you through dark hours.
Check out our post on rucking on a budget if you're looking for a nicely priced headlamp.
Ruck Plates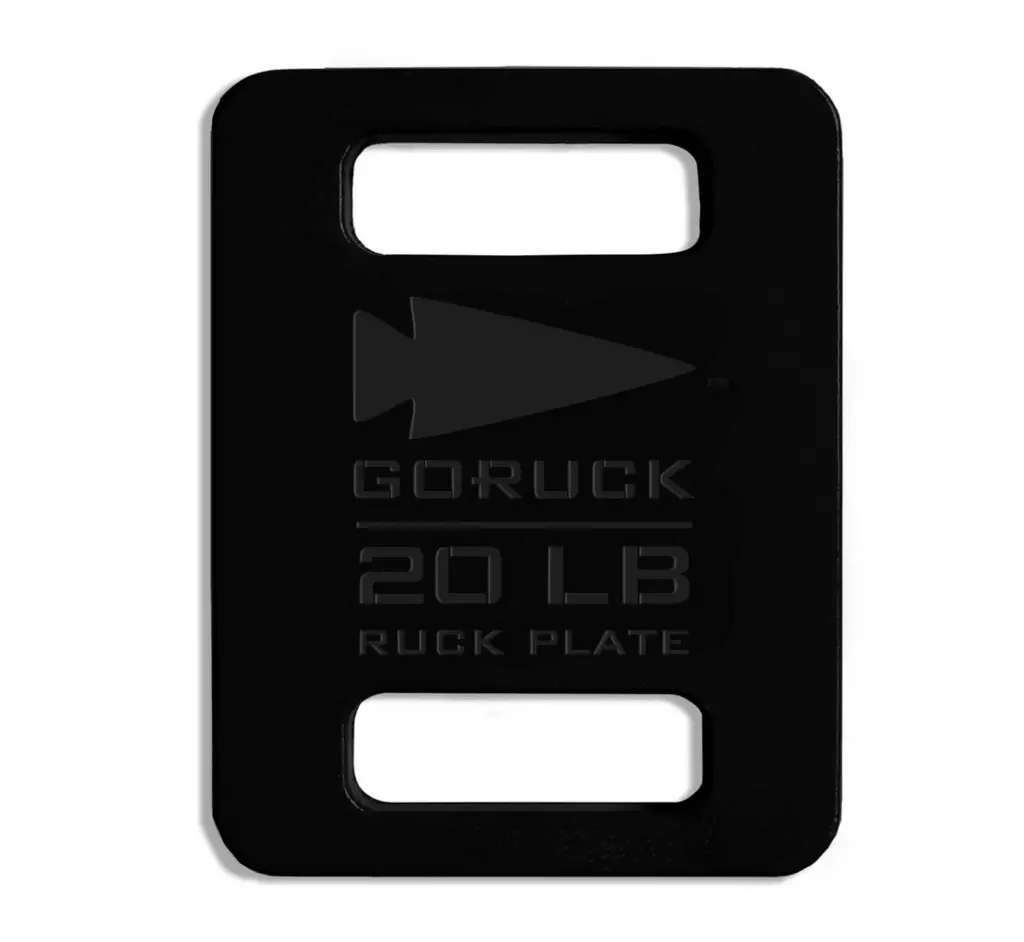 More than likely, if you've packed all the above items for your ruck march, you will have easily added the 35 required pounds to your bag. In case you still need more weight, use some weight plates. A single 10-pound plate plus another 25-pound plate is a manageable load.
Learn more about GORUCK plates, (link to GORUCK),
Don't have access to ruck plates? Check out our post, What To Put In A Rucksack For Weight for ruck plate alternatives.
Check out our full guide on rucking plates to better understand what they are and what to consider before choosing a ruck plate.
Final Thoughts
If you're looking for a ruck march packing list in order to train like how they train in the military, we highly recommend learning more about other army ruck march standards.
This will give you an idea of what type of weaponry you can expect to carry and all the different weight loads depending on the severity of the situation a soldier is in.
When training for a ruck march, it is important to be mindful of how much weight you're carrying. If you're just practicing, we recommend that you don't go too heavy to ensure longevity.