The Belleville 390 DES Boots are very similar to other belleville boots in that they are designed for the military folks but can also be used by people with physically demanding jobs such as police officer.
If you've read a few of our posts on RUCKFORMILES, you'll know we're big fans of Belleville. While they are not currently our sponsors, we reviewed many of their boots due to their high quality, the company's long history, and the features of their boots that make them a great choice for rucking and other outdoor activities. If you're looking for other options, check out our Belleville One Xero C320 Ultra-light boots review, Belleville 330 DES ST review, or Belleville 340 DES review for more options.
In the meantime, here are the main reasons why we recommend checking out the Belleville 390 DES Boots (link to amazon).
High Quality Material & Build
The Belleville 390 DES boots are made from a mixture of cattlehide leather and nylon fabric. Cattlehide leather is durable, especially for its weight and thickness. It has a tighter and more even grain because its fibres are close together, this means that it is strong and durable (source).
Comfort
The Belleville 390 DES may look uncomfortable due to its size and look, but dont judge a book by its cover. The 390 DES boots are comfortable and best paired with proper rucking socks of course.
What makes the Belleville 390 DES Tan Desert Combat Boot comfortable?
First, the midsole is highly cushioned which makes it very comfortable to walk in. More importantly, the cushioned midsole means that the midsole is shock absorbent. This is important because it dissipates the huge amount of kinetic energy that enters your body with each step (source). This energy typically works its way up to your joints and without it, it can cause massive discomfort when walking for long periods of time.
Vibram Outsole
Vibram Outsoles live long and have features that, in our opinion, our absolutely essential for any rucking boot. The Vibram outsole, made from 100% rubber, makes the Belleville 390 DES slip resistant, waterproof, and highly durable.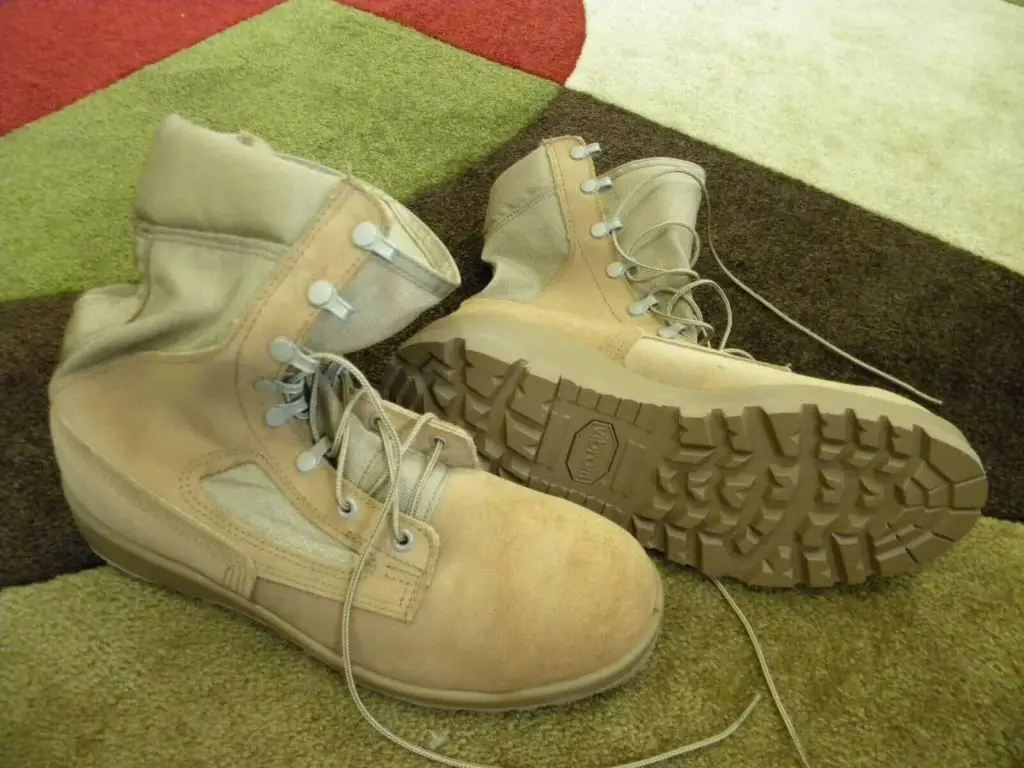 AR 670-1 Compliant
Yes, these boots can be worn in the military and do meet the army uniform regulations and standards. This is because Belleville exclusively focuses on making boots for the US army. Moreover, its characteristics and specs meets the criteria set by the Army's regulation, this includes:
Having more than 3 eyelets
Minimum height of 8 inches
Plain Boot (No special designs)
Learn more about AR670-1 regulations and check out other AR670-1 boots.
Removable Boot Insole
Having a removable boot insole means that should you have any foot condition that requires you to wear a custom insole, these boots can definitely accommodate that.
Another big advantage of having a removable boot insole is that you're able to clean the insoles, this is good for keeping your feet odor-free.
Check out the best boot insoles for rucking.
Final Thoughts
Similar to most of Belleville's line up of boots, the Belleville 390 DES boots are a great pick for someone who is in the military but is also looking for a pair of boots to engage in outdoor activities.
Alternatively these boots can be worn by anyone due to its features. The vibram outsole surely stands out as the best type of outsole, made from 100% rubber and is responsible for slip resistance and durability.