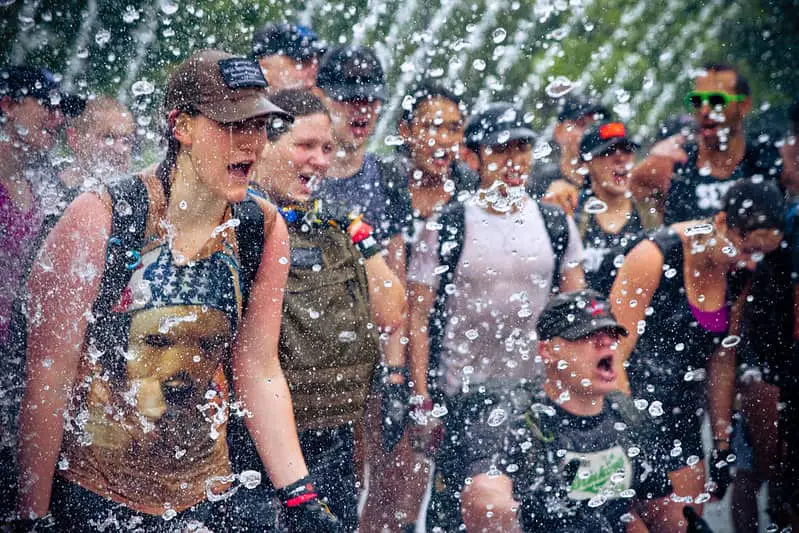 Rucking in the rain is inevitable, whether you've already signed up for a rucking event, or it's just a rainy week, you're bound to ruck in the rain.
Searching the internet for the best tips and tricks for what we can do to best prepare for a good ruck in the rain wasn't as good as we expected.
We decided to accumulate all of our findings in one post to make this post a one stop post for everything you need to know and how to prepare to ruck in the rain.
When looking to prepare for a ruck, we encourage you to keep the following rucking gear in mind prior to making a decision.
1. Ruck Rain Cover To Keep Your Rucksack Dry
Ruck rain covers are a great addition to your rucking gear for the following reasons:
It waterproofs your backpack
Less exposure to water and debris extends the life of your rucksack/backpack
Keeps your rucksack clean if you're using it for other activities like travelling or hiking.
Winomo Backpack Waterproof Cover
Winomo designs great covers which can protect your backpack in the rain. It is a nylon cover finished with a varnish that helps resist rainwater. The rucksack cover is suitable for all those who often have to ruck in the rain.
Here are the main features of the Winomo Backpack/Rucksack Waterproof Cover:
It is compatible with a 25 to 40 L backpack.
It's a durable cover and easy to fold and carry while traveling. You can keep it in the bag when it's not raining.
The elastic binding makes it flexible and easy to cover your backpack.
Check out the Winomo Backpack/Rucksack Waterproof Cover on Amazon (link to Amazon)
2- Rain Jacket To Keep You Dry
This one speaks for itself, but the dryer you are the more bearable the ruck is. One main thing we look into when choosing the right rain jacket for the rainy ruck is whether the rain jacket it waterproof vs being water repellant.
In a nutshell, water repellant rain jackets are coated with DWR (source). Water will slide of the water-repellant jacket on a day where the rain is light. However, if its pouring outside, the water will start to leak inside the jacket.
This is not the case with waterproof jackets because they have DWR as the first line of defence but then the technology is all inside the jacket and that prevents the leaking inside.
Columbia Men's Watertight II Jacket
A durable jacket by Columbia will help you deal with light to heavy rain. 
Here are some features Columbia Men's Watertight II Jacket:
It's purely nylon with a polyester lining that resists water and is waterproof
You can keep it in the backpack as the jacket is light and does not take much space.
The jacket includes two side pockets with a zipped chin guard, elastic hem, and cuffs. You can easily wash it in a washing machine.
It will keep you warm and help ruck in the rain with ease compared to heavy jackets.
Check out the Columbia Men's Watertight II Jacket on Amazon (link to Amazon)
Check out our top picks for the best rucking jackets
3. Rucking Socks For Dry Feet
If its raining outside, its most likely cold as well. The best material when it comes to rucking outside and in the cold (its also good for rucking in the heat) are socks that are made from Merino wool.
The fabric adjusts accordingly to the weather so if its cold out, the fibers bend inwards to keep you warm. It does the opposite during hotter months.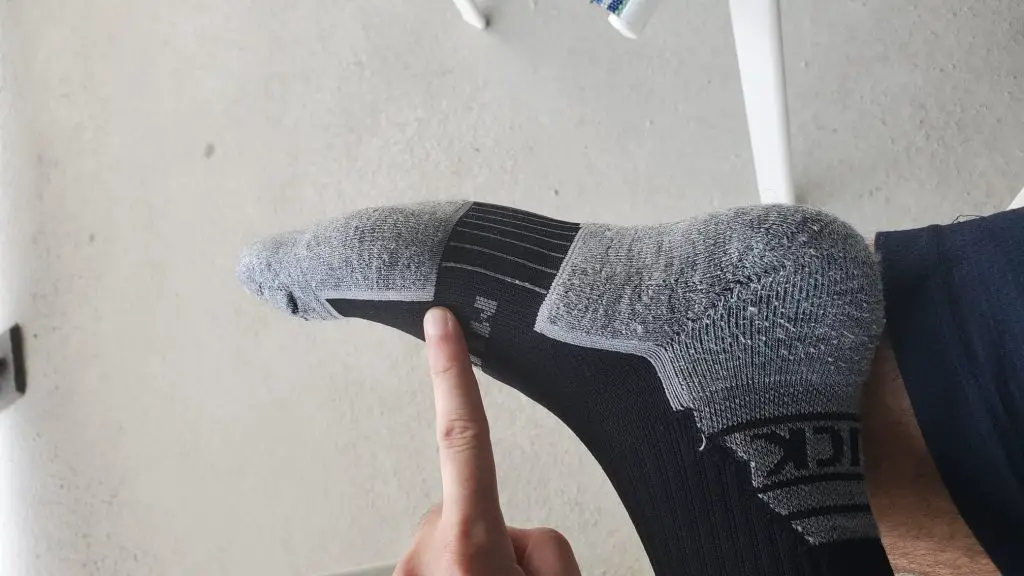 Features
The sock is a combination of nylon, merino wool, spandex, and polypropylene that makes it durable. The company ensures a lifetime warranty.
The socks have a crew length and ideal for military, hiking, OCR, hunting, and GoRuck events.
They are snug-fit socks and feel soft yet less vulnerable to damage. MudGear socks prevent blisters. You don't need to use a sock liner with these ruck socks.
The socks have a mesh top that enhances ventilation and prevents them from trapping moisture or sweat. Besides, you won't have to bear any odor.
If you're interested, use the promo code RUCK FOR MILES and get a 15% discount! Alternatively you can buy it on Amazon (link to Amazon) but without the promo code.
4. Waterproof Rucking Boots For Dry Feet
Waterproof boots will help you avoid and prevent rucking with wet feet. Technologies such as GORE-TEX focus on waterproofing the boots.
This is key not only to ensure comfort when you ruck, but if you ruck for long periods of time in wet feet, you do risk common rucking injuries and ruck march blisters.
Belleville 790 G GI Combat Waterproof Boots
You can ruck in the rain with Belleville waterproof boots. The rubber sole will prevent slipping during rain, so the boots are ideal for hikers, and military personnel.
Features
The shoe has a Gore-Tex lining, which is not only waterproof but breathable and stays dry in summer.
Genuine leather boots with a nylon fabric will keep you safe while rucking. Whereas the 4-inch heels are also comfortable for walking on bumpy roads.
Durable and made from Cattlehide leather (which is part of AR 670-1 boot regulation)
These are military issued boots, meaning they are AR 670-1 Compliant.
Other important features include Vanguard soles and Vibram Sierra outsole.
Boot Fitting
Having the right sized boots is key to keeping your feet dry during a wet ruck. There is no point of getting waterproof boots if they're too lose and let water in. So make sure they fit nicely. Here are some tips on choosing the right rucking boots.
Tip: Make sue the boots are well fitting. What we do is order 2 of the same boots, as soon as we decide on the right option we simply return the other boot. Check out the Belleville 790 G GI Combat Waterproof Boots on Amazon (link to Amazon).
5 – Dry Your Clothes and Gear
Those who experienced the wet ruck know how annoying it is. If you are rucking and it starts raining, you won't be able to keep your gear dry. To keep all your ruck gears dry, put them in a ziplock bag for emergency use. 
Whenever, the rain strikes, you can take out essential gear to protect yourself and continue with the ruck.
A ziplock bag is an affordable and easily readily available solution. But, once all your gear is wet, you will have to wait for the sun to dry them or use other ways.