The Garmont T8 Bifida Tactical Boots have certainly been popular in the rucking community and are talked about in many forums online.  It's rightfully popular due to its practicality in different climates and multi purpose use. Garmont Footwear is a North Italian company that opened up in the 60's by the Dolomite Mountains. They've been heavily focused on research on Boot technologies and have incorporated a lot of their findings into all of their boots today. They've made a ton of partnerships in the past to make it happen. For example, when looking at the outsoles of the Garmont T8 boots, you'll see Vibrums' logo. Vibrum specializes in making top performing rubber outsoles.
In this review, we're going to focus on:
Pros and Cons
Qualities and Features
What Stood Out
Frequently Asked Questions
Pros and Cons
| | |
| --- | --- |
| Pros | Cons |
| Durability | No Side Zipper |
| Breathability | May need to Change Insole (if you have flat feet) |
| Ruber Outsole (lug sole) |   |
| Water Resistant |   |
| Lightweight |   |
Qualities and Features
1. Durability
Similar to the First Tactical 7" Operator Boots, The Garmont T8 Bifida Tactical boots are made from  Suede. These boots are made from 600D Nylon. What is that and why should you care? Denier Polyester fabrics are made in different thickness sizes (210D, 300D, 400D, 500D, 600D) The higher the Denier unit, the more thicker, durable, and stronger the fiber is.
Another important feature we noticed with the exterior of these boots is the thick heels. A very thoughtful addition from Garmont. Thick heels help to ensure your heels are well supported and absorb the pressure on your heels when walking. This is useful when walking for long distances. When I first started rucking,
2. Rubber outsole
Soft rubber outsole (vibrum) is the go to for such boots because its adaptable to different climates. If you're walking or rucking on rainy or snowy terrains the outsoles will give you the traction you need to prevent you from slipping. In a more general scenario though, should you be walking over water or oily floors, the rubber outsoles will provide the much needed traction and do it quietly (no more awkward squeaky noises).
When looking for boots that are slip resistant, it is important to thoroughly look at the tread patterns of the boot. The outsole of the shoe should have an interlocked tread pattern that doesn't close the water in. This allows the water to move freely when you step on it and does not trap it between the outsole of the boot and the watery surface.
Looking at the outsole of the Garmont T8 Bifida Coyote Boots, its clear that the outsole of the boot is thick and the tread patterns are designed so that water can move freely when stepped on and the gap between the bottom of the boot and the surface is large enough to channel the water away from your foot. Wearing these boots will give you more sense of control and feeling of your feet when walking on any type of terrain. 
The outsole of the shoe should always be a priority list when looking for rucking boots as you can never be certain if it is going to rain or not and the effects that may have on the grounds you're walking on.
Learn more about rucking in the rain.
3. Foot Security
The T8 Coyote's are 8 inches high, which will provide you with the support needed to keep your foot in the boots tight and secure while also providing ankle support and flexibility.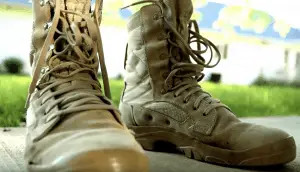 The laces are fat and thick, ensuring that they wont loosen up (assuming you know how to tie your shoes properly). The laces are flat, which we found to be pretty cool as we have worn boots with flat laces and I can guarantee you that once you go with flat laces, you cant go back. This is because when you tie your boots tightly, flat laces wont add unwanted pressure and tension to your foot compared to the traditional rounded laces.  
The eyelets are made from metal with closed hooks, this feature is a true blessing as we've torn many eyelets in the past that were made from punch holes or poor fabric.
Fun Fact: Garmont has not changed these original  laces for more than 40 years now, which speaks for its quality.
4. Breathability and Foot Protection
We constantly preach the importance of breathability of boots as being on of the most important factors to consider when buying boots, especially for rucking. Reason being is that when you're walking for extended periods of time, having sweaty feet could lead horrible foot odor, athletes foot, and many more problems. The combination of suede and nylon mesh ensure that your feet are breathing and keeps you going or rucking for longer.
Another important feature is the circular outlets on the side of the boots. The purpose of the outlets is to pump out water. This is one cool addition that is not common among rucking boots. This helps to keep your feet and socks dry while also letting air come in, this is necessary to ensure good foot health.
5. No Side Zipper
One thing I wish they did include is a side zipper. I've tried boots like the Smith & Wesson Men's Breach Zip Boots and found them very accessible and comfortable. The side zipper added much more convenience. If you're rucking as part of a training session in the army, the ability to put them on and off quickly comes in handy during breaks. Personally, I do tend to take breaks when rucking as I do go on for hours at times and being able to take them off easily is convenient and does not sacrifice the security or integrity of the boot.
What Stood out?
Two features stood out to me. The outlets on the side of the boots as well as the design. The addition of the outlets really show that these shoes were designed and tailored for users who intend to use these boots for extended periods of time. Air circulation and foot health are vital for rucking, the last thing you want to worry about is sweaty feat and discomfort when you're on your 5th mile and are in the zone.
The design and construction of the shoe are built to last. It's double stitched and has a mixture of different materials making it breathable, and durable.
Check out our recent post directly comparing the Garmont T8 Bifidia against the Garmont T8 NFS.
Frequently Asked Questions
What is the sizing like? Do I order them based on my regular shoe size?
Yes. Order them based on your regular shoe size. The table below summarizes the width and sizing information. Keep in mind that these shoes are unisex, so keep that in m ind when finding your size.
| | |
| --- | --- |
| Manufacturer Width | Amazon US Width |
| 3A, 4A, AAA, AAAA | XXN (Extra-Extra Narrow) |
| 2A/B, 2A, AA | XN (Extra Narrow) |
| A, B, C, Slim | N (Narrow) |
| D, R, Regular | M (Medium) |
| E, 2E, EE | W (Wide) |
| 3E, 4E, EEE, EEEEE, WW | XW (Extra Wide) |
| 5E, 6E, EEEEE, EEEEEE, 2XW | XXW (Extra-Extra Wide) |
| | | |
| --- | --- | --- |
| US  | UK | Europe |
| 7 | 6 | 39.5 |
| 7.5 | 6.5 | 40 |
| 8 | 7 | 41 |
| 8.5 | 7.5 | 41.5 |
| 9 | 8 | 42 |
| 9.5 | 8.5 | 42.5 |
| 10 | 9 | 43 |
| 10.5 | 9.5 | 44 |
| 11 | 10 | 44.5 |
| 11.5 | 10.5 | 45 |
| 12 | 11 | 46 |
| 12.5 | 11.5 | 46.5 |
| 13 | 12 | 47 |
| 13.5 | 12.5 | 47.5 |
| 14 | 13 | 48 |
 2. What is the best way to break these boots in?
As with any other boot, you'll break into them with time. Wear it for a short ruck or hike, do that once or twice and you should be fine. From my experience, it does not take long.
 3. Can you wear these for everyday use?
Yes. The heel support and the insole are meant to make these boots comfortable.  Check out our latest review on the best insoles for rucking.