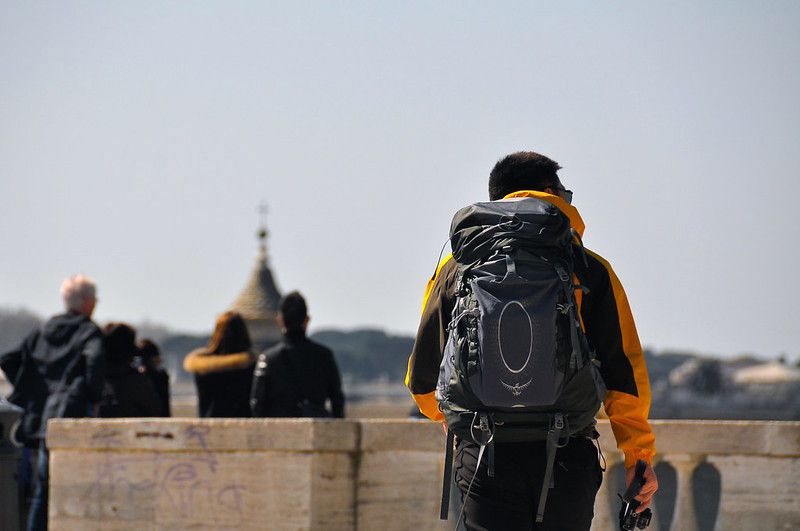 65 litre backpacks are big enough for overnight camping, hiking, and rucking events. It is too large for daily commuting. We've put together a simple guide to help you decide which backpack size you should get depending on the activity.
| Backpack Size | Storage Capacity | Uses | Trip Duration | Example |
| --- | --- | --- | --- | --- |
| Small | under 10 Litres | Running backpacks, sports & kids backpack. | Few Hours | |
| Medium | 11 – 35 litres | School bag and everyday uses | Full work day | |
| Large | 36 – 55 litres | Camping, Hiking, Rucking | Day or two | |
| Extra Large | 56 – 65 litres+ | Could be used as a military rucksack, or a 3 – 5 camping trip | 3 – 5 days | |
Who is a 65 litre backpack great for?
There are many reasons to get yourself a 65 litre rucksack. On Ruck For Miles, we typically recommend them for long distance rucking. However you should consider getting this extra large rucksack if you're into:
Trekking: You can use it store all your gear, hydration and meals in a 65 litre rucksack easily.
Hiking: 65 Litre rucksacks are great for hiking. You can use it to pack the larger items such as your cooking equipment, plates, clothes, food and water comfortably. Be sure to choose a rucksack that allows you to strap your trekking poles to your backpack without having to put it in your backpack to save you space.
Camping: A lot of these extra large backpacks are great for camping. Especially if they've got features allowing you to carry the backpack comfortably, and features allowing you to strap equipment such as your sleeping bag, tent, larger sized gear, clothes and more.
Just make sure the features of the backpack you're getting supports you depending on the activity you're buying it for. The great thing about these backpacks is that they're typically designed to be used for multiple occasions and activities.
Important Features For A 65 Litre+ Sized Backpack
Its important to keep in mind that with such big backpacks come important features you need to look out for.
Durability – You need to make sure that your backpack is durable enough to withstand all the weight you'll be carrying.
Water resistance – There's nothing worse than going on a hike or camping trip with a non water proof or water repellant bag. Carrying such a big backpack on your back probably means you have a lot to pack.
Be sure to look for for a water resistant backpack to avoid damaging your things. While some backpacks may not be water resistant, a lot of the come with rain covers which will help!
Learn more about rucking in the rain.
Back Ventilation – Regardless of whether your backpack has an internal frame or not, be sure to look into getting a backpack that helps your back breathe to avoid major back sweats.
What are the 65 litre backpacks we'd recommend?
1- Carrion 65 Litre
Quick Features Rundown
| Feature | Feature Explained |
| --- | --- |
| Padded-Airmesh Back | The back of the backpack is designed to leave some space between you and the backpack to aid in breathability and prevent back sweats. |
| Adjustable ladder lock Back System | This helps the back of the backpack to be lifted up and down to ensure that that the backpack fits you. Great for maintaining proper posture. |
| Rain Cover | This helps protect your belongings & bag from the rain. |
| Hip Belt | This helps transfer the weight of the backpack so that the weight is distributed evenly. This helps to put less strain on your shoulders. |
| Accessory Loops | Additional straps to allow you to attach things like yoga mats or sleeping bag on the exterior of the backpack. |
If you're interested, check out carrion 65 Litre rucksack on Amazon (link to Amazon). If you're still wanting to read more about it, check out our full Carrion 65 Litre Rucksack review.
2- Tor 65 Litre Rucksack
The Tor 65 Litre backpack is a unisex backpack that is spacious with similar specs as the carrion 65 Litre backpack.
Looking for a full review? No worries, we got you covered, check out our full review on the Tor 65 Litre backpack.
Still not satisfied? Check out our full list of the best backpack for rucking for more ideas.