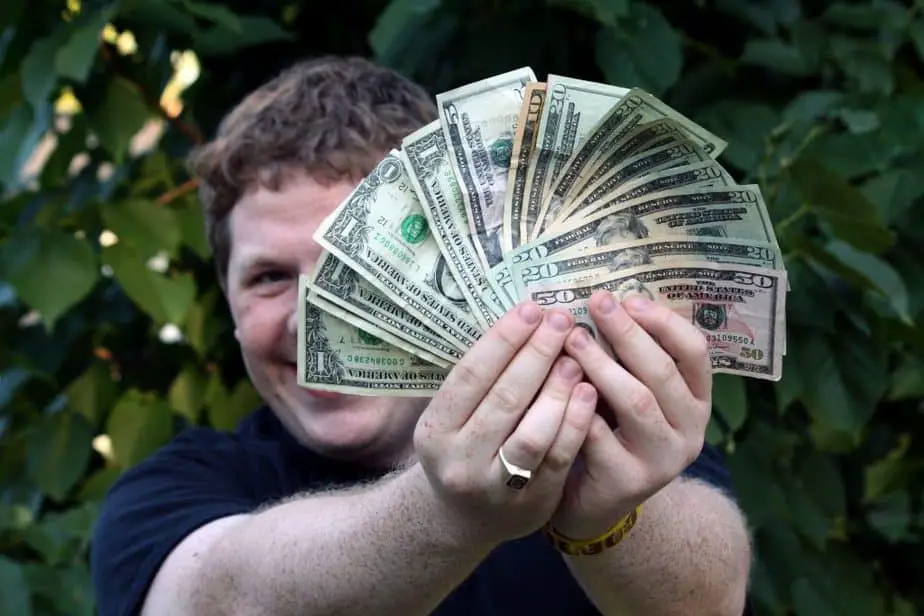 If you're rucking on a budget, here's a list of rucking gear to get you started:
Rucking can get relatively expensive, which can sometimes defeat the purpose of it since it's meant to be an accessible sport. However, it doesn't always have to be expensive. You can start by buying what you consider to be the most essential depending on the rucking gear you already have.
In this article, we're going to cover all the rucking gear options available to you from head to toe.
The Foxelli Headlamp Flashlight (link to Amazon) is helpful if you ruck at night, or if your ruck event is going to last till night time. You want to see whats in front and around you when rucking at night. On top of that, it can be used as a safety measure if you're rucking alone at night. We recommend this particular headlamp because
| | |
| --- | --- |
| 1. | Up to 45 hours of battery life (AAA Batteries are already included with the headlamp) |
| 2. | Waterproof |
| 3. | Lightweight |
| 4. | Multi-use – Can be used for other nightly activities |
| 5. | Cheap and durable |
We recommend the Body Glide Balm because the ingredients are natural (vegan friendly), unlike creams you can apply this easily under your clothes, it's long lasting, and cheap.
A common complaint among ruckers is chafing. It occurs in so many parts of the body. Typically its caused by heat and constant rubbing of certain bodies parts. An example of this is in the inner thighs. Countless people complain from their inner thighs rubbing against each other. This pain is uncomfortable, annoying, and can hinder your endurance while rucking. You can use the this balm on many body parts.
| | |
| --- | --- |
| Neck | Some people get rashes on their neck from heat or shirts made from synthetic and woolen materials |
| Shoulders | Constant rubbing between your shoulder and the shoulder straps of the rucksack |
| Chest – (Nipples/pecs) | The type of clothing you wear can cause Nipple and pec chafing and discomfort |
| Under Arm | With the heat, your arm is constantly rubbing against you. This may lead to discomfort hindering your performance. |
| Groin/Buttocks/Inner-Thighs | These areas can constantly rub against each other or nearby body parts causing serious discomfort. Especially when exposed to heat. |
| Feet | Constant rubbing of your feet and toes can cause chafing, which eventually may lead to blisters. |
The TSLA compression shirt is an inexpensive solution to protect you against chafing, regulates your body temperature, and promotes endurance.
Compression shirts can be over another shirt or by itself. The purpose of it is to keep you cool when its warm out (release heat and moisture to prevent chafing and keep you cooler). At the same time, when it's cold out, it traps moisture to keep you warm. Check out the TSLA compression shirt (Link to Amazon) shirt if you're interested.
We recommend this deal since you can get 5 pairs for a low price. It's extremely important that the groin area and inner thighs are well supported and are able to breath. It helps regulate your body temperature and promotes endurance when rucking. Check out the Fruit of the Loom Men's Coolzone Boxer Briefs (Link to Amazon) if you're interested.
Darn Tough Socks are a go-to for ruckers. This is because they're comfortable, durable, and made from merino wool. Socks made from merino wool help your feet stay cool when its hot out and keep your feet warm when it's cold out. Darn tough are not too expensive and we'll include some alternatives if the price tag is too high for you.
Alternatives: CloudLine Merino Wool Socks, SmartWool Merino Wool Socks
Check out our post about the importance of socks when rucking and the different options that are out there.
Not all of us have the perfect feet. Rucking certainly doesnt help. When we ruck for long hours, we're constantly putting pressure on our feet, boot insoles help to absorb the shock of every step. Moreover, these insoles are made from cork so they're able to do the following:
These boot insoles are made from from natural cork. A unique but truly functional material. While it's not the cheapest boot insoles out there, they are the cheapest CUSTOM insoles. These insoles are designed specifically for your feet, all you have to do is simply wear them for 2 or 3 days and they're good to go. If you're interested, check it out on Amazon (Link to Amazon).
Easily customizable
Absorbs shocks – the material helps the insole to return to its original shape
Supportive – Prevents your feet and ankles from fatiguing
Absorbs odor
Eco-friendly
For alternative options, check out our post on the best boot insoles for rucking.
While rucking boots are typically one of the most expensive rucking gear, it's totally worth the investment. While you could technically ruck with your sneakers, they wont hold up or last as long as rucking boots. A lot of them, including the Altama Foxhound SR 8′ boots, are designed for soldiers. Soldiers typically ruck march for long and need boots that will survive the harshest conditions.
The Altama Foxhound SR 8′ boots are:
Cheaper than most rucking boots
Slip Resistant
Breathable
Water Resistant
If you're interested in learning more about these boots, here's a full review. If you're interested in these boots, here's a link to Amazon.
Finally, on the note so cheaper side of the sport, the rucksack is the main part of the sport. The Rush 72 is the on the cheaper end of rucksack but still does the very well. The quality is great, the main compartment is spacious, and has a lot of pockets for quick and easy access to smaller items.
If you're looking for more rucksacks, check out our recent post on the best rucksacks for rucking.
If you're looking for a rucksack similar to a GORUCK GR1, GR1, or GR3 then check out our full review of 12 great GORUCK alternative backpacks that are typically a fraction of the prices of GORUCKS' rucksacks.
9. Pants
The prAna Zion pants are a popular choice for rucking pants. This is because its focused on temperature regulation because of its material (made from 97% Nylon). It's water repellant which dries moisture or water quickly keeping you warm. It keeps you cool when you need it since it dries out sweat quickly. The material is also abrasion resistant which will ensure that they will live longer and you wont have to spend more money on pants.
You can also roll them up if you feel like wearing shorts that day. Check out our post on the best pants for rucking if you're looking for other alternatives or want more information about these pants.
Check out these rucking gift ideas!
10 – Blister Kit
We all know that one person who is prone to blisters. It can be a real pain to deal with. The discomfort will negatively impact your ruck session and slow you down. Wearing a wet and sweaty pair of socks along with constant friction (typically caused by "manning up" and ignoring the pain) only makes the blister worse.
The Blister kit comes with:
Gel Toe Sleeves
Adhesive Felt Sheet for Donut Pads
Sterile Scalpel Blades (Size 15)
Povidone Iodine (Betadine) Antiseptic Swabs
Gloves
Fixomull Stretch (CoverRoll) Tape
Engo Patches
Hydrocolloid Blister Plasters
Cutiplast Island Dressings
Skin Prep Adhesive-Enhancer Swabs
The blisterkit comes with an instruction guide thats really straight-forward to follow. When the blister cushions, plasters and gel blister pad are applied on the well known infected areas like the toes, foot, or heels. It helps accelerate the pain relief by preventing any friction between your shoes or boots from rubbing against anything.
Here's a guide on how to avoid ruck march blisters.