When comparing 5.11 to GORUCK backpacks, we chose to select the most common backpacks from both brands and see how they differ.
Made from 1050 denier nylon, the 5.11 Rush24 backpack is known for its outstanding performance, storage setup, durability, and much-needed functionality. The denier nylon is well-coated and reinforced by a water-repellent coating that enables it to withstand wet climates and the harshest weather. 
Its external MOLLE webbing, numerous compartments, and tool pouches are built to meet every of your storage needs, and this makes it a perfect choice for long trips. It features Velcro patch spots, a hydration pocket, and two drainage holes underneath. 
Check out the 5.11 RUSH24 Backpack on Amazon (link to Amazon)
The GORUCK GR2, made from 500D Cordura nylon, comes in a perfect size and with the right features needed for daily rucking, hiking, and other activities. Its "open flat design" allows for easy packing and unpacking, while its thick shoulder straps help reduce straining and improve comfort while rucking. Ruckers love its simplicity, durability, minimalism, and diversity in color options.
When it comes to rucking backpacks, the GORUCK backpack brand has made quite a name for itself. Having been tested and trusted by hundreds of ruckers, it is unarguably one of the most preferred backpack brands, but it is pretty pricey.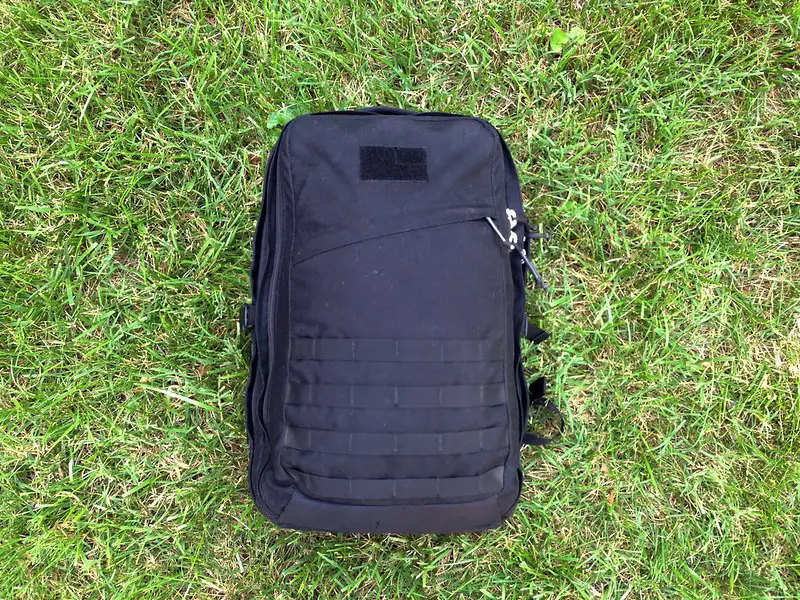 Check out the GORUCK GR2 backpack on GORUCK (link to GORUCK)
However, there are a few other cost-effective alternative backpacks that ruckers, military personnel, and others may consider purchasing and using. An outstanding example is the 5.11 tactical backpack, and as its name suggests, it is "tactical." Check out the top 13 GORUCK alternative backpacks.
These backpacks go head-to-head and are unique in their own ways. They possess some similarities and differences that are worthy of note. Here are a few that might interest you.
Unsure which 5.11 backpack to buy? Check out our full breakdown and difference between the 5.11 Rush 12 vs. 24 vs. 72.
Differences in Comfort and Weight Distribution between 5.11 vs. GORUCK GR2
The mission-oriented 5.11 tactical backpack offers superior comfort due to its nicely padded adjustable shoulder and external compression straps. It has chest/sternum straps that help distribute the backpack's weight evenly, thereby reducing straining and enhancing comfort.
This outstanding backpack also comes with buckles that serve as belt attachment points and allow for attachment of external waist strap for better comfort. It features a top grab handle for carrying heavier loads. The back panel contains the carefully placed grip pads located at the pack base to prevent the pack from rubbing while in motion.
In comparison, the GORUCK GR2, like the 5.11, also has padded shoulder straps that help to improve comfort, but they lack the chest/sternum straps. This makes it a less comfortable option when rucking for long periods with a loaded backpack.
However, it has a top grab-and-go handle, densely padded back panel, and false bottom that helps you carry more weight comfortably. It also has a detachable sturdy plastic frame that serves as a support for the laptop compartment and you as well.
In sum, the 5.11 tactical backpack offers impressive comfort, and its features reduce the incidence of back or shoulder pains after long periods of rucking. They fit perfectly to the back and distribute weight in the right amount to ensure balance and comfort all the way. For this reason, the 5.11 can pass for an everyday carry backpack or other uses.
Compared to the GR2, which weighs about 4.75Ib (2.15kg), the 5.11 is a lighter choice of backpack. If you want excellent comfort and stability, the 5.11 is a better option. However, if you are more concerned about comfort alone and a firm build, then the GR2 may pass as a good option.
Differences in Capacity and Zipper Durability Between 5.11 vs. GORUCK GR2
Surprisingly, the capacity of backpacks is estimated through their volume and measured in liter. Featuring a large main compartment with a 2,275 cubic inch capacity and numerous storage pockets and compartments, the 5.11 has an estimated volume of 37 litres.
In addition to this, it has extensive MOLLE webbing (more than ten straps) that gives room for the attachment of pouches if you still need more storage space. Its numerous and thoughtful compartments provide a fulfilling sense of organization while enjoying the storage benefits it offers. 
If you're unclear on the difference between an ALICE pack vs a MOLLE pack, check out our recent post: ALICE vs MOLLE packs to find out which options is best for you.
On the other hand, the GR2 comes in two-volume capacities of 24L and 40L. It features two compartments, three inner and outer compartments, respectively, and several in-built zippered pockets. It also comes with a MOLLE webbing system consisting of four horizontal external straps. 
The 5.11 and GORUCK GR2 both feature the YKK zippers, but there's a catch.
The 5.11 tactical Rush24 pack has self-repairing zippers accompanied by heavy-duty stitching, and loop-style zipper pulls that enable you to close your stuffed backpack easily. In contrast, the GORUCK GR2  has a firmer, silent, glove-friendly zipper pull made from parachute cord 550. 
In a nutshell, the GORUCK GR2 offers excellent storage space, and its zipper durability is impressive.
However, if you want a pack that will meet all your storage needs effectively, then 5.11 is your better option. Its numerous compartments, pockets and MOLLE webbing enhance organization and allow for personal customization. 
They both have solid and durable YKK zippers. But, the zipper pulls of the 5.11 tactical Rush24 allow you to close brimful packs with ease, while that of the GR2 gives a firmer grip compared to the 5.11.
Similarities Between the 5.11 and GORUCK 
These exceptional backpacks have their peculiarities but also share some unique features that make them the pack of choice for most ruckers. Both backpacks are built from denier nylon and reinforced with a water-resistant coating, making both packs highly durable and water-resistant.
They have densely padded shoulder straps that help improve comfort while rucking. Both feature the YKK zippers, which are self-repairing and undoubtedly stand the test of time.
The 5.11 Rush24 and GORUCK GR2 possess the "open flat design," which makes packing, unpacking, and organization convenient and straightforward.
The backpacks are almost the same size. Check out our picks for the best rucking backpacks if you're looking for different specs.
Final Thoughts
The 5.11 tactical Rush24 and GORUCK GR2 are superb choices for a backpack. They can both serve as EDC backpacks and are the go-to backpacks for tons of ruckers. They are comfortable, durable, organization-friendly, and provide optimal storage space. 
However, they have some unique features and advantages. As regards comfort, storage, breathability, and weight distribution, 5.11 is the pack of choice. But GR2, on the other hand, is a bit more durable, simple, and has a unique bombproof laptop compartment. 
The GORUCK GR2 also has a better warranty, allowing you to make repairs to and replace your packs with little or no added cost for a lifetime. In contrast, the 5.11 has no warranty.