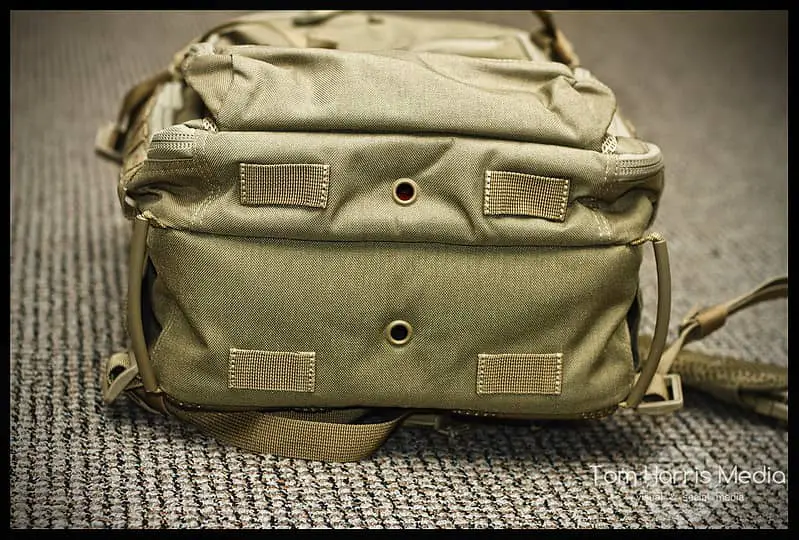 As you start shopping around for military packs, two acronyms are going to come up, ALICE and MOLLE. No, this doesn't refer to Alice in Wonderland or moles, but rather, they're different pack carrying options. Which is the better pick?
MOLLE packs, which are like new and improved ALICE packs, do have the design advantage, but then again, it's hard to beat the classic. If you need a camping or hiking bag, choose the MOLLE, whereas survivalists usually flock to the ALICE pack.
We're sure you're still looking for more information on these two pack types. Make sure you keep reading, as we'll talk about the differences between ALICE and MOLLE packs, the pros and cons of each pack, and how to choose the right one for you!
Table of Contents:

1. What is an ALICE Pack
2. Best ALICE Packs for Military and Rucking
3. What Is a MOLLE Pack?
4. Best MOLLE Packs for Military and Rucking
5. Difference Between ALICE and MOLLE Packs
6. Advantages of ALICE Packs – Why it May The Best Option For You
7. Advantages of MOLLE packs – Why it May The Best Option For You
8. The Disadvantages of ALICE Packs
9. The Disadvantages of MOLLE Packs
10. How Do I Choose Between an ALICE or MOLLE Pack?
What Is an ALICE Pack?
As we said before, ALICE packs have nothing to do with the female name Alice. Rather, the acronym stands for All-Purpose Lightweight Individual Carrying Equipment.
Before ALICE, the United States Army had used the M-1967 Modernized Load-Carrying Equipment or MLCE and the M-1956 Individual Load-Carrying Equipment or ILCE.
ALICE took the best features of both types of packs and was introduced as the standard in the Army 1973. It's not the standard anymore (that's MOLLE), but Air Force and Navy ground units still might use ALICE packs, as might National Guard and Army training units.
Let's check out two ALICE packs now so you can get an idea of their style.
Best ALICE Packs for Military and Rucking
1- USGI Military ALICE Pack
This ALICE pack from USGI Military is for multi-day trips. You can bring enough clothes for up to five days of camping in the 35 liters.
With adjustable and padded shoulder straps, carrying your ALICE pack for hours won't be uncomfortable.
The 420-denier military nylon duck fabric is water-repellant. You can use external attachment points for connecting pouches or gear (not included). You can also shorten the pack if you don't need quite as much room.
The USGI Military ALICE pack is 20 inches by 5.5 inches by 13 inches.
Check out the price of the USGI Military ALICE Pack on Amazon (Link to Amazon)
2- MT Store Military ALICE Pack
MT Store's ALICE pack is loaded with handy features, including:
Inside compartment,
Radio pocket,
Kidney pad strap,
Anti-skid T buckles.
This waterproof bag has quick-release straps as well.
Check out the price of the MT Store Military ALICE Pack on Amazon (Link to Amazon)
The 1,000-denier oxford fabric features PU coating and has molded metal and UTX buckles. You can transport 50 pounds of gear, which is more than 3,000 cubic inches and more than 50 liters.
Not sure if that's enough space? check out our full backpack and rucksack size guide
The main compartment measures 10 inches wide, 14.5 inches long, and 22.5 inches tall.  The dual side pockets are each 3.5 inches long by 12 inches tall while the three front pockets are 5 inches long by 9 inches tall.
What Is a MOLLE Pack?
Let's switch gears and discuss MOLLE packs. You pronounce this acronym like Molly, not mole. The acronym stands for Modular Lightweight Load-carrying Equipment.
Although it was created and put into use around 1997, it wouldn't be until after the events of the September 11th, 2001 terrorist attacks that MOLLE backpacks became the new Army standard.
Today, MOLLE packs are favored by the United States Army and the British Army alike as well as NATO armed forces.
Let's take a look at two MOLLE packs so you can get a feel for them.
Best MOLLE Packs for Military and Rucking
1- 5.11 Rush 72 Tactical MOLLE Pack
The Rush 72 MOLLE pack from 5.11 features a zippered pocket at the top with its own internal pocket as well as 6×1 name tape.
A laptop sleeve with padding lets you stash slim items while three pockets across the main compartment all zip. The lower pocket near the front has zippered pockets and an internal slip. There's even a hydration compartment in the rear.
This MOLLE bag can carry 55 liters or 3,342 cubic inches. It weighs 5.5 pounds.
The hydration pocket measures 21 inches by 13.5 inches, the front admin pocket is 15.5 inches by 11.5 inches by 2 inches, and the main compartment is 23 inches by 13.5 inches by 8.5 inches.
The wrap-around style and 1,050-denier nylon construction make this one durable MOLLE pack, as does the aluminum stay bar.
Check out the price of the 5.11 Rush 72 MOLLE Pack on Amazon (Link to Amazon)
2- Direct Action Ghost Tactical MOLLE Backpack
This MOLLE pack from Direct Action is another good example.  The Ghost Tactical pack includes 500-denier Cordura fabric complete with a non-moisture-absorbing system.
You also get a detachable organizer pocket, a main compartment with an internal pocket, a suspended waistbelt (that's detachable), and a front pocket with organizers.
The Ghost Tactical pack's combat vent system promotes more airflow so you don't feel bogged down by your MOLLE bag. You can use this pack for three-day adventures.
Check out the price of the Direct Action Ghost MOLLE Pack on Amazon (Link to Amazon)
Difference Between ALICE and MOLLE Packs
Now that you're clearer on ALICE and MOLLE packs, we can delve further into the differences between these two military backpacks.
The main difference is stylistic. MOLLE packs might contain 30 or more pockets and compartments because that's where your gear is distributed. You can still pack enough gear for several days, such as clothing and food, but everything won't go in the main compartment.
If you'd rather store your gear in your pack's main compartment, that's what an ALICE bag is for.
These bags still have pockets and side compartments, but not nearly as many as MOLLE bags because you just don't need them. The main compartment suffices.
The other difference between ALICE and MOLLE packs is their usage as of this writing.
To reiterate what we talked about before, ALICE backpacks are used in some military applications today, but MOLLE packs are the standard and thus much more common.
Advantages of ALICE Packs – Why it May The Best Option For You
What's so great about ALICE packs, you ask? Here are some advantages of these military backpacks.
1- Great Storage Capacity
The storage capacity in ALICE packs is undisputedly fantastic. There's a reason why hunters and adventurers love ALICE packs so much and why some military members still favor these bags to this day.
You can bring up to five days' worth of gear in many ALICE packs!
2- Fewer Zippers
Zippers? Not here! Most ALICE packs use strap systems to secure the bag and any side compartments. You might see a few zippers here and there, but not nearly as many as in MOLLE packs.
3- Durability
"Rugged" is one of the adjectives you always see when talking about ALICE packs, and there's a reason for that. These are military-grade bags, of course, so they're built tough to handle activities like hiking and rucking.
4- Moisture-Resistant
If you want to store snacks or drinks in your ALICE pack, go ahead! Many bags have moisture-resistant bottoms and sides so even if your drink begins condensing (or your food does), you won't ruin your bag.
Advantages of MOLLE Packs – Why it May The Best Option For You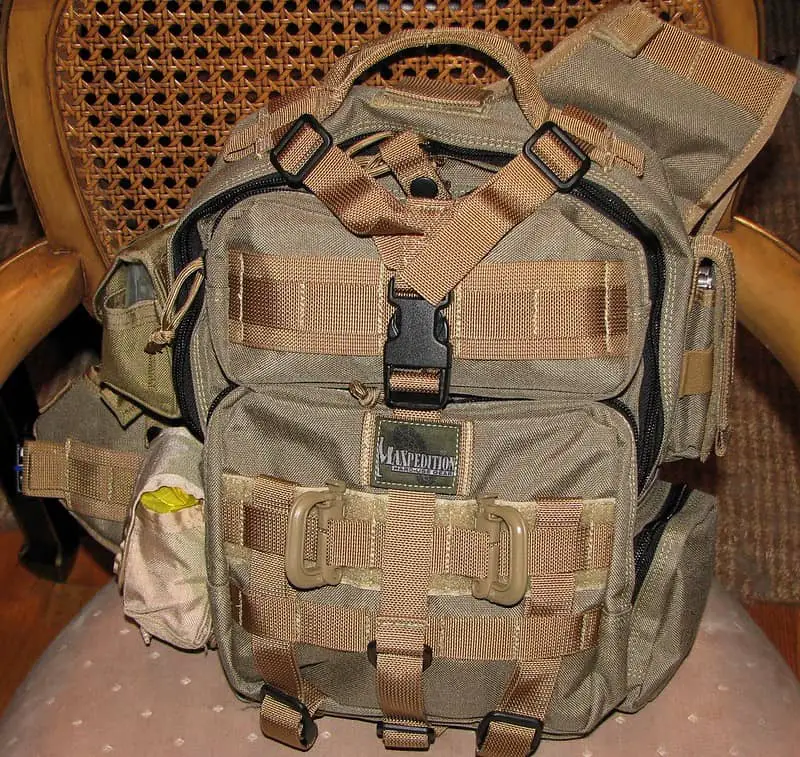 Next, let's talk more about the benefits of MOLLE packs.
1- Storage of Small Items
We're not saying that you can't put small items in an ALICE pack, but with fewer side pockets and compartments, stashing those small items in the main compartment is a risk. You could lose them.  
MOLLE packs have pockets, zippers, and pouches for every small item you wish to keep on your person.
2- Securer Pockets
Not only do MOLLE packs feature main zippered compartments or pockets, but many packs have internal sleeves as well.
If you want to keep private documents or even spare cash well hidden, it's easy to do so thanks to these secret sleeves.
3- Easy to Grab What You Need
You won't fumble around for your water bottle or your snacks when carrying a MOLLE pack. Everything is close by and easily accessible with zippers.
4- Customizable
If you find that your MOLLE pack somehow doesn't have enough pockets, you can always add more. Attachments allow you to customize your pack so it fits your needs. ALICE packs aren't nearly as customizable.
The Disadvantages of ALICE Packs
As much as we like ALICE packs, they're not completely perfect. Here are some issues among ruckers for you to be aware of.
1- Heavy Loads Are Hard to Carry
Although ALICE bags have a huge carrying capacity, once you fill them up all the way, toting around your load becomes very difficult to do. The bag is heavy, and you'll be eager to put it down.
2- Metal Buckles Are Unwieldy
Zippers might be hard to grasp sometimes, but they're more convenient than metal buckles that you have to open and close each time you want to get into your ALICE bag.
3- Accessing Some Essentials Quickly Is Hard
Do you want to grab your water bottle from your ALICE pack without stopping and taking the pack off? Good luck. These bags are not exactly conducive to reaching easy-access items.
The Disadvantages of MOLLE Packs
Although MOLLE packs are like the upgraded version of ALICE packs, that doesn't mean they're flawless. Here are a few issues you too might experience with one of these bags.
You Can Forget What's Where
The sheer number of pockets and compartments in a MOLLE pack can be confusing at times.
Did you store your earbuds in the left side pocket or the right one? Is your debit card in the front internal sleeve or the one near the back?
As you try to remember, you'll have to go through every pocket and compartment until you find what you need, which is time-consuming.
Pockets Can Get Caught on Brush
The added pockets and attachments are not friendly in narrow spaces. Your MOLLE bag could get caught on the brush. You'll also bump into almost everyone in a crowded airport or train station.
How Do I Choose Between an ALICE or MOLLE Pack?
The time has come for you to select between an ALICE or MOLLE pack. How do you do that?
We recommend considering what you need a pack for. If you're a survivalist, an ALICE pack has the storage capacity you demand. These packs are also built tough for handling all sorts of conditions.
For ruckers, campers, and hikers, the MOLLE bag won't weigh you down as much so your adventures can take you further!
Conclusion
ALICE and MOLLE packs are soldierly backpacks that were the military standard at different times (MOLLE packs are the standard today). The two bag styles come in handy for various activities, so why not have one of both?