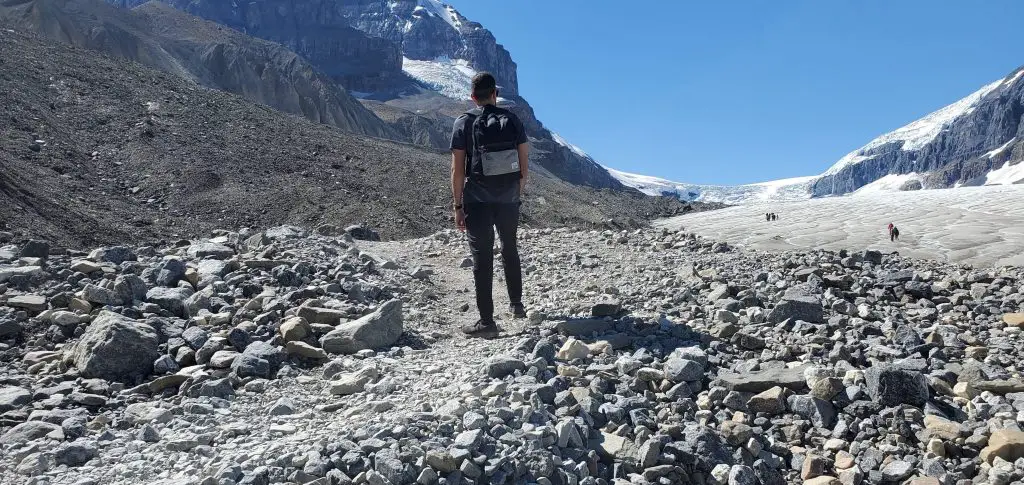 Simply put, rucking simply involves carrying a weighted backpack and going out for a walk. However, when I got more experience and started following a program, I noticed that what you wear on your rucks makes a huge difference in performance.
I remember when it came to laundry day, and I had nothing to wear but a random cotton (and thick) t-shirt along with formal socks (that had no business being used in a ruck), my ruck pace and time were pretty bad as I was uncomfortable throughout the entire trail and seriously wanted it to just end.
As funny as I looked that day, it did get me thinking about the importance of what you wear to a ruck and how it can significantly change the game.
When it comes to rucking, your choice of attire can significantly impact your performance. Investing in the right gear will not only enhance your comfort but also optimize your overall experience (and it doesn't have to be expensive!).
Here are some key considerations for what to wear during your rucks:
1. Rucksack
2. Rucking Boots or Shoes
3. Pants
4. Socks
5. Shirt
What Should You Consider when Choosing What to Wear While Ruck?
Before rushing to do some shopping, you may want to consider a few things before choosing your attire.
Are you choosing the clothes to ruck around your neighborhood?
Are you gearing up for a rucking event?
What clothes or gear do you have at home that you can use to save you money?
If you're rucking around your neighborhood, then chances are you already know how much weight you're carrying and most likely have a rucksack that fits your rucking plate or weight.
If you're dressing up for a ruck event, then chances are you may have to gear up as you don't want to fall behind simply because the shirt you got is not suitable for the distance set and is causing too much friction on your shoulders as they cause you friction throughout the entire ruck.
Ill break down what you should consider wearing to a ruck, regardless of whether you're going to an event or if you're simply rucking for recreational purposes.
1. Rucksack
Starting with the most obvious one, but a good rucksack is definitely a game changer. It's the one thing you shouldn't overlook. If you're a beginner and unsure if you're going to stick with rucking, then maybe just try rucking with any backpack that you've got at home. That's what I did at least.
However, if you're looking to commit to it (and getting a good rucksack that cost you some money will definitely motivate you to get up when you're feeling lazy), then you may want to upgrade your rucksack. Here's why.
Think about it: You're rucking for 30 minutes to an hour or two. The constant tension becomes extremely challenging, you don't want to be feeling out of balance or uncomfortable throughout the entire ruck.
You want a pack that distributes the weight evenly, saving your back from unnecessary strain and discomfort.
A good rucksack is all about organization and functionality. Look for one with a couple of compartments and pockets, allowing you to attach gear onto it, neatly store your belongings, and separate your gear.
You don't want to be rummaging through a jumbled mess to find what you need.
Plus, a well-designed rucksack will have features like compression straps to keep everything snug and stable, preventing any annoying bouncing or shifting while you're on the move.
Personally, I'd recommend the GORUCK GR1 (link to GORUCK). without getting into the nitty gritty, it's got all the qualities of a good rucksack. It's not too bulky as if you were rucking in the military, but its sturdy and built to last.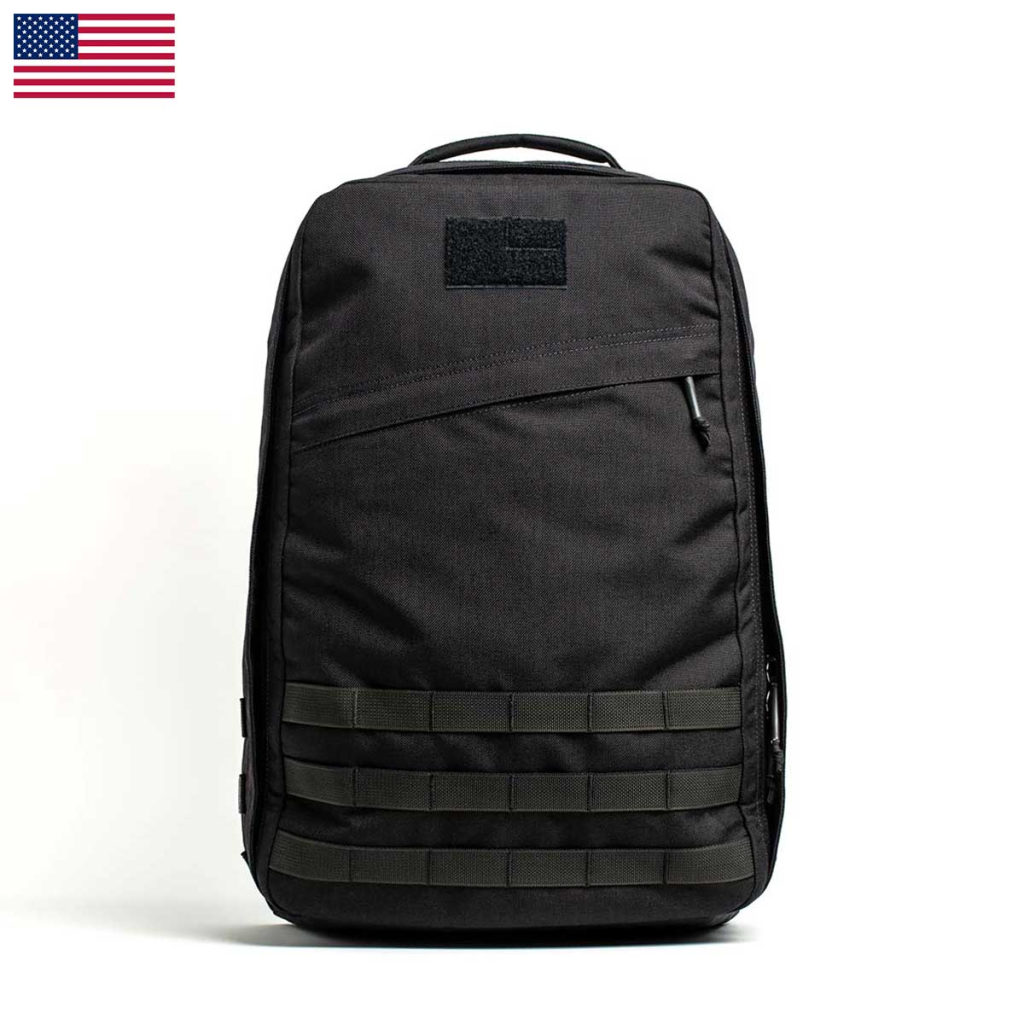 It also comes with the Scars Lifetime Guarantee, so if you notice that it's breaking down on you (which it shouldn't), then you can always just replace it. You don't even need a receipt.
If you're looking for other options, I curated an entire list of GORUCK alternatives which also lists out a lot of different rucksack options.
2. Rucking Boots or Shoes That are Right For your Feet
The right boots or shoes are like clouds on your feet when you're an hour and a half into your ruck. They are typically built to withstand whatever terrain you're walking on.
For me, the right boots or shoes are really important when choosing what to wear to a ruck. If you're feet are full of blisters and keep on giving you a hard time, it becomes really difficult to stay consistent with whatever rucking program you're following and can hinder your performance.
Also, rucking can be hard enough as it is, so why make it even harder on yourself with the wrong pair of shoes or boots?
If you're looking for a versatile shoe for your ruck, I personally would recommend (and am currently using) the GORUCK Ballistic trainers.
The reason why I recommend them is because they've been tested and tried. Personally, when choosing the right shoes for rucking, I prefer to get a versatile shoe.
I wore these for a while now and put them to the test and continue using them when I go out rucking, hiking, CrossFit, and to the gym.
Check out my full review on the GORUCK Ballistic Trainers or check out my full list of recommended rucking boots.
Tip of the day: Avoid wearing your brand new shoes or boots to a long ruck. Its a common rucking injury that folks complain about as you're more prone to blisters during the "breaking-into-the-shoe" phase which usually last anywhere from a day to a week depending on how often you wear them.
Remember to consider the following before buying your shoes/boots to your next right:
Terrain – is your trail muddy? might want to consider a long tail boot, something like the MACV-1 or MACV-2. Sunny? might want to consider a versatile shoe like the GORUCK Ballistic Trainers
Weather – Is it constantly raining in the city you're in? might want to consider a boot instead of a rucking shoe
Longevity
Aesthetics
Versatility
Comfort
3- Rucking Pants (Not too loose, Not too tight – Just right)
You may want to invest in good pants to save you a lot of trouble. Personally, I do opt for a good pair of pants if the weather is not too hot.
There's a couple of reasons why you may want to consider wearing pants to your next ruck.
First, they protect your legs from scratches, insect bites, and other minor injuries that can occur when you're out on the trail.
Plus, pants can offer an extra layer of insulation during colder weather or protect your skin from harmful UV rays during hot and sunny days (some people have sensitive skin, some more than others).
They also provide added pockets to keep hold off your essentials like energy bars or even your smartphone, keeping them easily accessible.
How to Choose the Right Pants To Wear To Your Next Ruck
I typically look out for a pair of pants that have a balance between durability and comfort.
Look for pants made from sturdy fabrics like nylon or polyester blends, as they can withstand the rigors of rucking and resist abrasions from rough terrain.
Reinforced knees and seat areas are also worth considering, as they offer extra durability in high-stress areas.
As for comfort and fit, go for pants that have a relaxed or athletic fit to allow for freedom of movement and flexibility while maintaining a comfortable, snug fit. Elastic waistbands can help ensure a secure and customizable fit.
oh and don't forget to get a pair that are moisture-wicking and breathable. Look for pants with these features, as they can help keep you cool and dry by wicking away sweat and allowing air circulation.
This is really important during the summer months when its a thousand degrees outside and you're an hour into your ruck!
In terms of what I recommend, there's a couple of options:
1- GORUCKs Indestructible Challenge Pants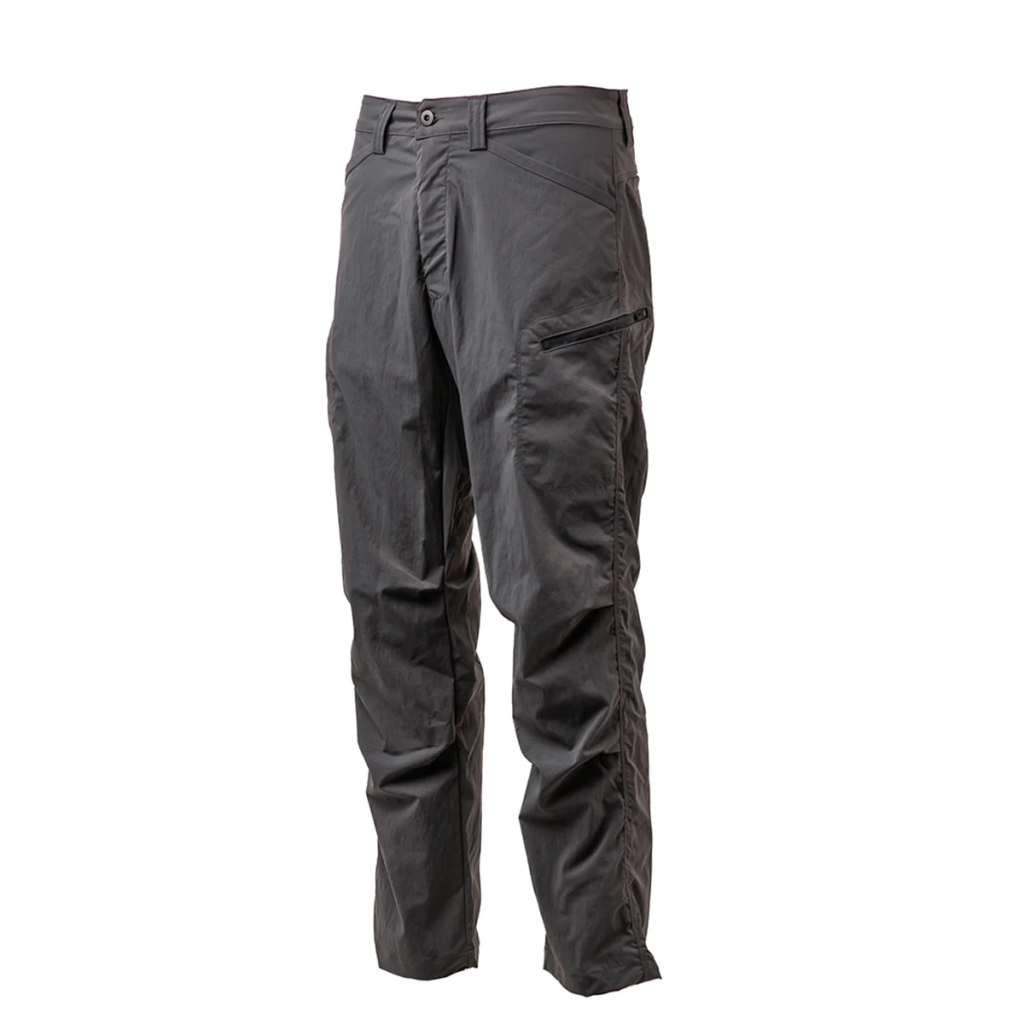 The Indestructible challenge pants are built for durability. They come with two back pockets that flip inside out, making them easy to clean.
The Super fast-drying and abrasion-resistant fabric ensures that you stay comfortable even during intense rucking sessions. The pants also have 2-way stretch, allowing for unrestricted movement.
Plus, they do come with a Scars Lifetime Guarantee, meaning that if there's a defect or if you wear them out – you can get it replaced without even showing a receipt.
Check out the GORUCK Indestructible Pants here (link to GORUCK)
1- Adidas Tiro 21 Track Pants
If you'd like a more budget friendly alternative, check out the Adidas Tiro 21 Track Pants. They're 100% Polyester and focused on moisture absorption which is very much needed when rucking.
Also, they're made from Primegreen, a high-performance recycled material. So it's definitely the environmentally friendly option!
Check out the Adidas Tiro 21 Mens Track Pants on Amazon (link to Amazon)
Looking for other options? Check out my full guide on the best pants for rucking.
4- Socks
When it comes to picking the perfect socks for rucking, you can't go wrong with those made from merino wool. Seriously, these socks have got your back (or rather, your feet!) during your rucks.
I can guarantee you that rucking for an hour or two does lead to sweaty feet, it's the sad reality we live in. Which if left unaddressed, it does lead to blisters and just makes the smell worse. This is where merino wool comes to the rescue with it's moisture-absorbing abilities.
It absorbs all that sweat and whisks it away, leaving your feet dry and happy. No more squishy discomfort or painful blisters! Whether you're going the distance or rucking under the scorching sun, merino wool socks keep your feet feeling fresh and blister-free.
They're great at regulating temperature. When it's cold outside, they provide cozy insulation, trapping the heat and keeping your tootsies warm and snug. But when the temperature rises, these socks let your feet breathe, whisking away moisture and preventing any unpleasant odors.
How do I know this? Well not only am I speaking from experience, but I've tried out a lot of different socks in the market.
If you're on the lookout for a good pair, i'd recommend you check out Mudgears ruck socks collection (link to Mudgear). Not only are they made from merino wool (which honestly did a good job at keeping the sweat away during my summer rucks), but the come with decent padding which just made my feet really comfortable.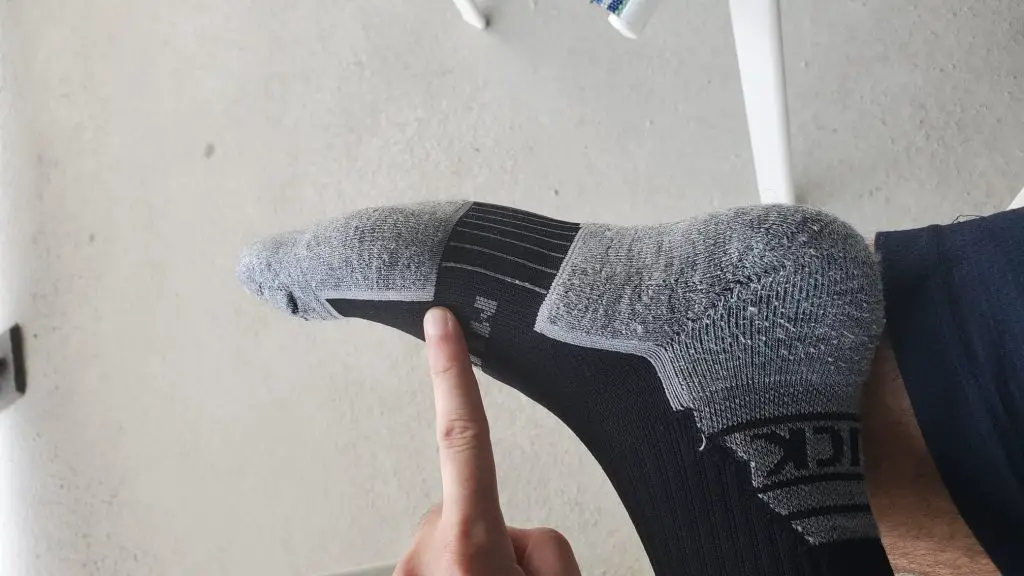 However, if you're not a fan of the aesthetically, check out my roster of the best socks for rucking for more options!
5- A Good Shirt will do the trick
A good shirt to wear while rucking should be moisture absorbing. Similar to any workout shirt.
When you're working up a sweat, a good shirt will whisk that moisture away from your body, leaving you feeling dry and fresh. There's nothing more annoying than a clammy feeling or annoying sweat stains to worry about.
A good shirt will also keep the airflow going. You know that feeling when you're heating up, and it feels like you're wearing a sauna suit? yea, you're really want to avoid that.
Personally, I'd go for any workout shirt. No need for anything fancy. Especially if you're rucking multiple times a week. I personally go through too many shirt to invest in anything too expensive.
I'd also be mindful of thickness though. Don't go for a shirt that is too thick (because you want it to be breathable), but not too thin because the constant tension from the shoulder straps will cause some friction and too many times I've come back home with marks on my shoulders.
Trust me, these marks are pretty uncomfortable!
2nd Tip of the day: Be mindful of the climate you're in. If it's cold or raining constantly, you may want to consider a weather proof shirt or even a jacket if it's raining.