Many people have been searching for the best tactical boots are. Whereas there are 100+ outstanding boots to choose from, one incredible yet underrated boot is the Under Armour Tac Zip 2.0 Boots.
Sure, these boots aren't as popular as the Under Armour Men's Valsetz Tactical Boots, but they are definitely special.
In its 25th year of existence, Under Armour has gained one or two things about making tactical boots. Once again, they showcase their expertise in the industry with their creation – Under Armour Tac Zip 2.0 Boots.
Anti-Odor Technology
We all hate smelly feet, especially after an entire day of wearing boots and long rucks. Under Armour tried to tackle this menace with these boots. They applied anti-bacterial and anti-fungal treatment (anti-odor tech) in the interior of the boots to ensure your feet are odor-free at all times.
Its insole also has sweat absorption properties to keep your feet dry and fresh at all times.
Keeping your feet dry is key to prevent ruck march blisters!
Tip: If you're priority is to keep your feet dry, you may want to consider pairing these boots with socks that are made from merino wool as they are designed to keep your feet breathing and regulates temperature during warm and cold climates.
Check out our favorite selection of the best socks for rucking to really see what we're talking about.
They Are Comfortable
If there's one area that this boot thrives most in, then it is its comfort. One look at the boot and you can easily tell that the manufacturers put in a lot of work into its comfort.
A few features ensure that this is the case.
The upper part of the boot is molded anatomically and made flexible for protection and added support. It has a side zip construction for easy entry and exit. The boot also comes with a removable foot-bed that is well cushioned for arch-support. You can stand on the boots for long periods without getting tired.
The removable boot insert is an important feature that stood out to us. Many people have their own boot insole that are already shaped to their foot and are needed for any boots they wear. While these boots provide the comfort with the boot insole provided, its cool that its removable.
Check out our top picks for the best boot insoles for rucking if boot insets are important to you.
Waterproof
This boot means business when it comes to waterproofing. Its upper is designed using 100% full-grain waterproof leather that ensures no moisture penetration.
It doesn't matter where you'll walk through, once you take these boots off, your feet will be as dry as when you put them on (as long as you properly lace your boots).
Learn more about rucking in the rain!
Lightweight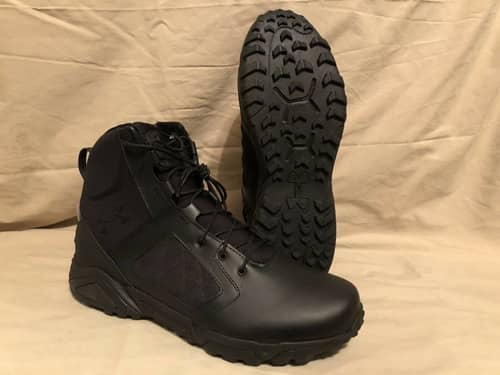 You'll have your tactical boots on for most of the day or night. Therefore, you want something lightweight that will be easy to maneuver with; something that you can wear the entire day without experiencing fatigue.
This is the case with this boot.
Under Armour has mastered the subtle art of designing lightweight yet functional boots. The secret lies in the material used to construct the boot. The blend of synthetic leather and rubber soles makes the boot very lightweight and able to dry out quickly.
Final Thoughts
Tactical boots ought to handle all the rigors of military duty and rucking. Theses boots are formal, supportive, safe and reliable. The Under Armour Tac Zip 2.0 Boots doesn't fall any short of this description.
These boots are tough, solid, comfortable and lightweight. They are everything you could ask for in a boot. Their sizes may run a little short, but this is a minor and solvable issue.
You may be asking, who are these boots made for? well we would use it for rucking, but it can be used for other jobs that require you to be on your feet all day or other occupations where you're in the outdoors for a long time. Here are some examples:
Police officer
Military personal (that are not required to wear AR 670-1 compliant boots)
Construction worker
Outdoor recreation
So what's the verdict? If comfort is your top priority in tactical and rucking boots, then you have found a new favorite.