The Garmont T8 Bifida is a conventional military tactical boot made from suede leather and soft 600d nylon fibers. They possess fast drying ability, which is a product of the drain holes intricately designed in the boot's outer lining. The outer sole comprises quality rubber with a unique deep lugging design for that extra traction and stability. The T8 Bifida's insole is shaped for impact reduction, which provides additional comfort.
The Nike SFB offers superior enhanced comfort and comes as a lightweight boot. Its upper layers are made of leather and synthetic fibers, and they possess thinner soles for added slip resistance.
These two boots have their unique qualities, and in this review, we would be comparing both, examining their differences and similarities.
| Feature | Garmont T8 Bifida | Nike SFB |
| --- | --- | --- |
| AR 670-1 Compliant | Yes | Yes |
| Exterior Material | Suede Leather + 600D nylon | Synthetic leather |
| Breathability | Great | Great |
| Weight | 660g | 481g |
| Durability | 600D Nylon | N/A |
| Price | $123 – $155 | $155 – $255 |
| Where to Buy | Amazon (Link to Amazon) | Amazon (Link to Amazon) |
Differences in Comfort and Breathability Between the Garmont T8 vs Nike SFB
The Garmont T8 Bifida is exceptional because of its efficiency on terrains, unique comfort, and breathability. As referred to earlier, one of the sterling qualities of the Garmont T8 Bifida is its superior fast-drying ability. The embedded drain holes act in unison to remove moisture from the leg and foot through breathability, therefore providing a healthier and drier environment within your boots.
In comparison, the Nike SFB is made from leather and synthetic fabric. This feature makes the boot more flexible and comfortable for your feet. The Nike SFB is very lightweight, which adds to its overall performance. It also takes little or no time to break in compared to the Garmont T8 Bifida boots.
In a nutshell, the Garmont T8 Bifida's have faster drying features with exceptional breathability and are no slouches in comfort. They fit very well and give a sturdy, comfortable feeling. However, the Nike SFB does better than the Garmont T8 Bifida in terms of comfort due to its lighter weight and flexible leather fitting. So, for excellent breathability, the T8 Bifida is the better option, while the Nike SFB surpasses it in comfort.
Check out our full review of the Nike SFB
Differences in Grip and Traction Between the Garmont T8 vs Nike SFB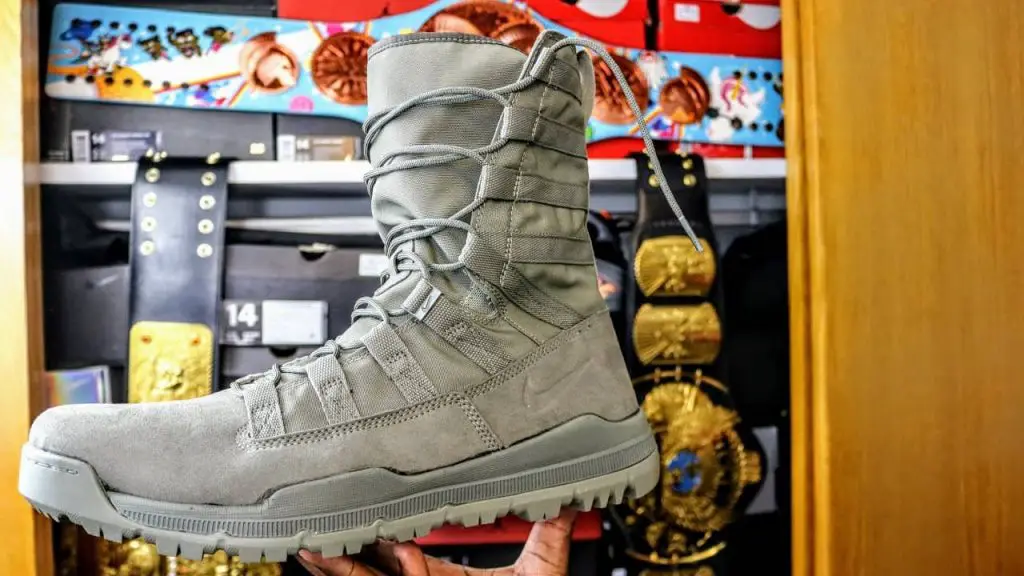 The Bifida is one of, if not the best, of the Garmont T8 series. It is a powerful and flexible all-rounder boot. It is known for it its thick outsoles with large, deep lugs for enhanced grip and traction on various surfaces, and that's what makes it an excellent option for rucking.
In contrast, the outsole of Nike SFB has a thinner outlook. To compensate for this, the tread design is very aggressive, and there are various horizontal teeth beneath its heel and front-end to provide a better grip on slippery surfaces.
The Vibram sole of Garmont T8 gives it superb traction on surfaces. The thick, aggressive lugs enable the boot to perform well even on slippery surfaces and muddy terrain.
Overall, significant differences between both boots regarding grip and traction are their lug design and size. Both perform well in terms of grip and traction, but the Garmont T8 Bifida boot gives that extra stability and grip due to its sturdy nature and unique threading pattern.
Check out our other direct comparison, between the Garmont T8 Bifidia vs NFS
Differences in Durability
As for this feature, the Garmont T8 is highly rugged and durable. It is resistant to impact, forces, and abrasion. The durability of the Garmont T8 Bifida is not just fine; it is terrific. It comfortably lasts for long periods.
In comparison, Nike SFB is not nearly as durable. It is best for training sessions, and garrison activities as the boots don't have that longevity under strenuous conditions. The upper layers aren't as strong as that of the T8 Bifida.
Similarities Between the Garmont T8 vs Nike SFB
As regards similarities, both boots provide excellent comfort quality. They both fit well and possess rubber outsoles that are crafted from suede leather with nylon fabric. These two boots also have fast drying capabilities and do well in hot climates.
Final Thoughts
The Garmont T8 Bifida and Nike SFB boots are excellent choices for different needs. They are comfortable, lightweight, and provide good ventilation. But in terms of comparison, the Garmont T8 Bifida boot is quite comfortable and can last for a long time, while the Nike SFB is not very durable but provides much in terms of overall comfort.