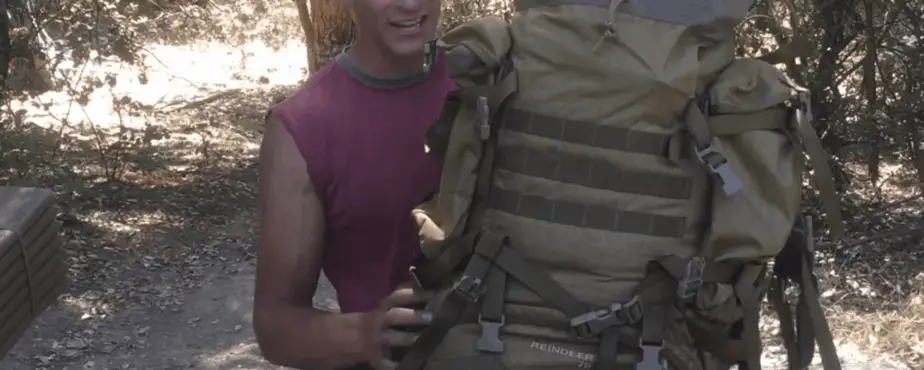 The Wisport Reindeer 75L Rucksack is a versatile military unisex style rucksack packed with tons of features. As you know, the right rucksack ought to be lightweight and simple for everyday use yet durable if necessary. Made for the outdoors, its packed with many features that make this rucksack unique. But everyone is looking for specific features when looking for their next rucksack. So, we put together a summary for you to see if it's the right fit for you.
| | |
| --- | --- |
| Who is the Rucksack for? | Military, Survival, Campers, Hikers, Ruckers, Backpackers, and Trekkers |
| Features | Internal compartment division, FAS Plus Ergonomic carrying system, 2 side pouches, 6 pockets, Expandable sleeves, padded hip belt, and padded shoulder straps. |
| Water Resistant | Yes |
| Ventilation | Back system is designed with a slight dent to allow for air circulation. |
| Durability | Made from 1,000D Cordura. |
Durability
The reindeer is made from 1,000D Cordura. What is that and why should you care? Cordura is a popular fabric mainly used for both rucksacks and shoes. Typically, the quality of the fabric ranges from 330D, 500D, 700D and 1,000D. Since the wisport reindeer 75L is a massive backpack, the quality has to be on par. Therefore, its made from highly durable fabric strength. Here are some of the characteristics of the 1,000D Cordura material according to Cordura.com
Water Repellant
Rugged – Excellent Abrasion Resistance
Strong – Excellent Tear Strength
Remember that you need a rucksack that can be used for many years to come and not something that will wear down in a few months.
Compartments
The main compartment is 75 Litres, that is definitely in the larger scale in terms of size. But other than size, the features packed in this rucksack make it truly unique. The main compartment has 2 access points, one from the top and one from the bottom. Why should you care though?
Well given that it is a 75L rucksack, accessibility is key. You can pack a lot in reindeer rucksack, so should you need access to your belongings that are closer to the bottom of the rucksack or halfway in there, you can easily unzip the lower end of the rucksack and access your things. You can access the main compartment from either the bottom or top of the rucksack through the durable zipper.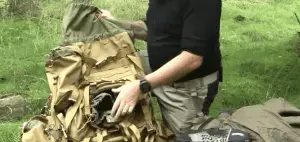 Other than the main compartment, should you need extra space for your gear, the top compartment of Reindeer can be extended for an additional storage of about 10L – 12L. It comes with 2 attached side pouches (which can be easily removed if you don't need that much space). The side pouches are perfect to place your MRE's if your in the military. If you're not in the army though, its a great spot to keep your water canteens or any other gear you need quick access to.
Learn more about how many calories are in an MRE.
External Straps
The external straps are used to attached larger items that may not fit or may take too much space in the main compartment. the long straps along with buckels can be used to strap a smaller backpack on to the back of Reindeer for more storage.
Adjustable Back System
The FAS Plus Ergonomic back system allows you to adjust the rucksack even when on the move. This rucksack is backed by 2 metal rods for proper support, and allows you to manually adjust the back of the rucksack (also attached to the shoulder straps). This is really important because if you're filling up the rucksack, it's bound to get heavy. Adjusting the back to your height is important to ensure that you're maintaining proper posture. Also, with quick-release fastex buckles, the rucksack can be dropped to the ground as quickly as possible. Here are some tips on posture when rucking or backpacking.
Breathability is key when choosing a rucksack, and the Reindeer 75L rucksack has you covered. The back system is designed to leave a small gap between your back and the back of the rucksack. The idea here is to keep the rucksack close to your body, but not too close that it prevents air circulation and ventilation, If you're hiking or rucking for extended periods of time, this is key to help you go on for much longer.
Padded Hip Belts & Shoulder Straps
The shoulder and hip belts are padded for comfort. Remember the hip belt is an essential feature when backpacking as it allows for proper distribution of weight. While the shoulder straps are well-padded, not using the the hip belt will put great stress on your shoulder and wont necessarily keep the rucksack close to your body if you move quickly.
Cons
While the Reindeer is certainly built for durability, comfort and longevity, there are areas of improvement. First, there is no dedicated slot for direct access to the hydration bladder. Carrying a 75L rucksack can be tiring and direct access to hydration would be nice as it wont have you stopping to reach for water.
The plastic clamps, which are used to attach or remove the 2 side pouches from the rucksack are relatively thin given the size of the rucksack. Not a deal breaker since you can easily replace it with a cheap grim lock, its still a feature that can be upgraded easily.
Final Thoughts
Other than the areas of improvement, this is a well built rucksack that can take on a lot of weight and its features make it a multi use rucksack. If you're buying this for the military, you can still use it for backpacking, hiking, or any other outdoor activity later on. The material is tough and its built to last, and you can modify this rucksack to accommodate for whatever activity you're into.
Here's a review by Creating Alpha