The Vanquest Ibex 35 is your best option if you're into rucksacks that give you fast access to your gear while making you look classy and confident.
This 35-litre rucksack is popularly acclaimed for its vast customization and efficient versatility.
Water Repellant For Water Resistance
Built for diverse terrains and weather conditions, The IBEX-35 comes with expertly customized fabrics that make it impenetrable to water. IBEX-35 is made with the 1000-D and 500-D military Grade Cordura fabric coated with durable water repellent.
Durable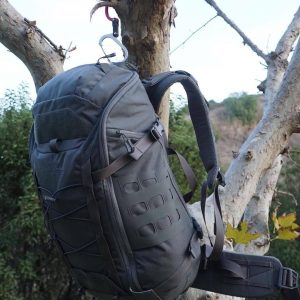 The Cordura textured fabric yarn filaments are made of high-quality air-jet textured nylons.  Strong, rugged, and resistant to water. With a 100% high tenacity nylon 6'6 filament fiber, the Cordura fabrics are designed to safeguard and protect.
The 1000-D and 500-D variants, which are made explicitly for water-proof purposes, make your IBEX-35 stand resilient against the toughest of wet weathers, guarding your gear and items on the go.
Duraflex Military-Grade Acetal Buckles
Duraflex Military-grade Acetal buckles are used at buckling points in the IBEX-35.
The Duraflex buckles, which can be side-releasing or fast-tightening, offer a buckling system that is quick, safe, and easy to use. IBEX-35 comes with the Acetal Duraflex buckle, which is much stronger than the nylon type.
The buckles also serve as a hoist to tighten the waist belt, increasing control and comfort. This ensures that you can maintain proper rucking form.
As in the name, these buckles are military-grade and are perfect for rucking and all other activities that come with it.
Breathable Mesh Back
A significant upside to the Vanquest IBEX-35 is that it has a well-aerated and breathable mesh back.
Strapping on a backpack during a rigorous escapade on a hot day can make your back wet, leaving you uncomfortable, but a well-breathable mesh back helps prevent this. The IBEX-35 is built to allow free air movement in and out on the back keeping you dry, fresh, and free of sweat.
And unlike most bags with breathable mesh backs, the IBEX-35's mesh back is carefully designed to prevent backward pulls and loss of balance.
It accomplishes this by having relatively moderate-sized air cavities spanned out on a good area surface.
Breathability is key when choosing your rucksack, and the IBEX-35 achieves this in style.
Hip Belt Included
According to Outdoor Gear Lab (source), a hip belt is capable of carrying 60-80% of the total weight of a rucksack.
This transfers the sack's weight from the shoulders to the hips making the stronger leg muscles bear the load. This alone scores any backpack with a hip belt high.
Also, a hip belt promotes a firm grip of the bag by the body, allowing sharper and faster body movements.
The IBEX-35's hip belt has a sensational load distribution that increases comfort, better posture, and balance when in use.
Brilliantly padded, the IBEX-35's hip belt helps prevent waist and hip discomfort while distributing the bag's weight over a wider area of the body.
Clamshell design
The Vanquest Ibex-35's clamshell compartmental design, which adds simplicity and speed to gear organization, is also a nice specialization of these superb boots.
Final Thoughts
The IBEX-35 is a remarkable innovation, and its array of functional features makes it an excellent choice for rucking and multi-tasking.