When Salomon introduced their first set tactical set of boots, traction, marching comfort, and durability were ideal. The Salomon Guardian reflects all three.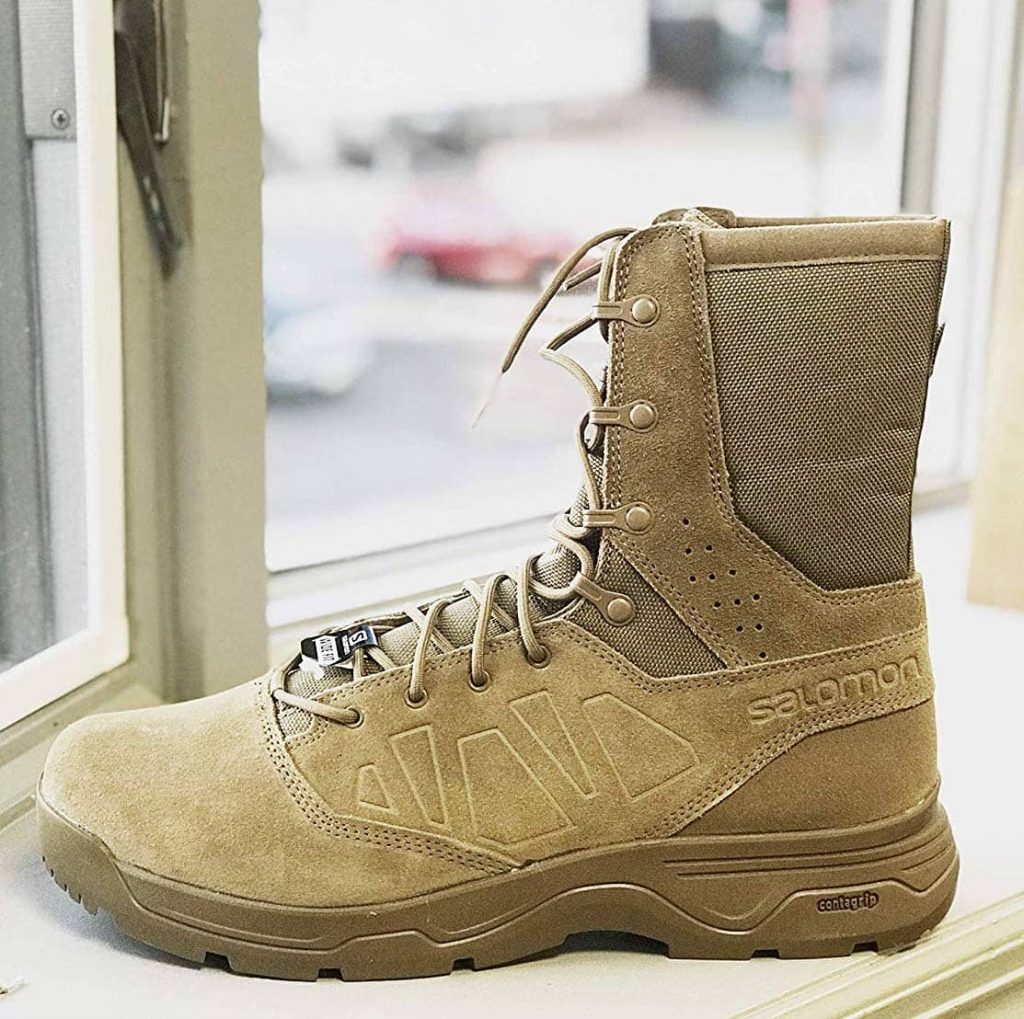 U.S. Army and Air Force Compliant (AR 670-1, AFI 36-2903)
The Salomon Guardian boot was built to be used for military purposes as well as outdoor sports. As a result, it complies with the U.S. Army and Airforce specifications concerning uniforms. This makes it the perfect footwear for use by military personnel and other law enforcement agents.
The design of the Salomon Guardian makes it suited for stable and durable performance in high-intensity situations. It comes with a shaft circumference of ten, a height of eight inches, a gusseted tongue, and the outer material is made of full-grain Nubuck Leather.
Whether you are rucking or performing marching drills, this boot's lightweight nature enables it to provide the necessary support and traction, delivering confidence with every step.
Abrasion Resistant
Salomon guardian boot is made from Nubuck leather. This type of leather is made from the outer side of animal skin and is known for its durability and high abrasion resistance. 
Thus, the boots are well-suited to handle the everyday demands of outdoor life.
Regardless of harsh weather or rough topography, your boots will still retain their original look and feel even after months of use. Wear, tear, and abrasion effects are minimized, extending your boots' useful life while keeping them in perfect condition.
Comfortable
Comfort is as important as durability when it comes to choosing reliable footwear, especially one you will be going around with frequently. Thus, the Salomon guardian makes enough provision for the comfort of your feet while in use. 
It is fitted with a rocky airport cushioned footbed, providing a sturdy yet comfortable layer for your feet.This helps ease the strain in your lower legs while rucking or marching, thus preventing your feet from developing blisters.
The boot's lightweight and luxurious feel are accompanied by a SensiFit™ 360º Support system that allows for easy flexion of your feet. This system affords you adequate balance and overall stability on the ground surface.
The anti-debris mesh lining makes sure dirt does not stick to the inside of your boots. On the other hand, the outer Nubuck leather itself can also be easily cleaned with a few strokes.
Slip-Resistant
With the Contagrip® MA Rubber outsole of the Salomon Guardian, you can be assured of good traction. The boot also comes with Chevron lugs that keep your steps firmly placed even while on slippery surfaces.
So, whether you are rucking in a wetland or patrolling on the city streets, the boots will allow you to make quick movements without losing your balance.
EVA foam Midsole and OrthoLite® Footbed
The Ethylene vinyl acetate midsole and OrthoLite® footbed further provide the boots with a solid layer for your feet. This helps to cushion the effects of shock movements, challenging terrains, and irregular surfaces.