The Oakley Light Assault Leather Boot stands-out in so many ways. This tactical boot is a great choice, according to many, and a worth-the-price product.

Lightweight

A prominent projected feature in the heart of the Oakley light assault Boot designers was the lightness of its weight, and they achieved this astonishingly. The Oakley Light Assault Boot weighs about 397 grams. They're so light you'd almost forget you have them on.

The Oakley light assault boot is made with Cordura, a soft nylon (sometimes blended with cotton) material. Great for weight shedding, this material makes the Light Assault Boot achieve lightweight in style.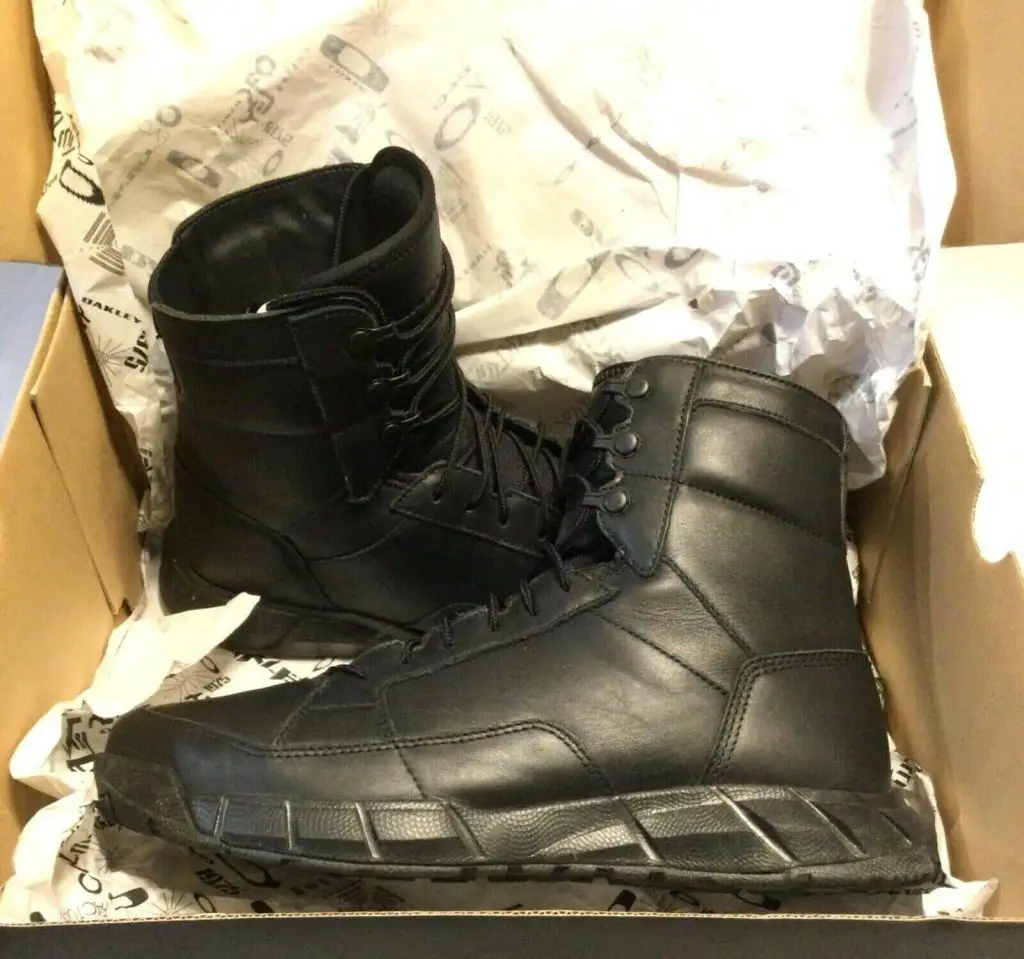 This incredible feature of the Oakley Light Assault Boot adds comfort, smartness, and swiftness to rucking. A shoe this light makes it possible to be more focused on rucking your way through the highs and lows of diverse terrains. The last thing you want to worry about when going on a long ruck with a heavy rucksack is how heavy and uncomfortable your boots are.
General rule of thumb: The lighter and comfortable your boots are, the easier your ruck will be.

Eva Midsole
Another high-point feature of the Oakley Light Assault Boot is its highly comfortable and lightweight Midsole.
Yes, that layer between the upper and the outsole is directly in contact with the foot's sole.
Why should you care about an Eva Midsole in your boots?
Eva(Ethyl Vinyl Acetate) midsole is a quality foam-like material built for proper foot cushioning, stability, right weight balance, and toughness. Highly resilient, this midsole-material-type also provides adequate foot protection against accidental and uncontrollable road striking or hitting during rucking.
It also helps absorb the shock generated with every step you take.
The Eva midsole in these boots makes it a good fit for rucking in different terrains.
AR670-1 compliant
An answer-seeking question that often comes to many, mostly militants, is if shoes like these are licensed for use by the military.
The Oakley Light Assault Leather Boots meet the requirements of the wear guide of the U.S military according to the AR670-1 compliant code. This policy was made for those who would like to retain the freedom to choose the kind of boots they are to use in the army.
The selected shoes must, however, meet specific requirements.
A height of 8-10 inches( for wet terrains), cattle hide leather, a plain toe, same-colored upper and sole, rubber composite outsole, etc., are some of the AR670-1 compliant requirements which the Oakley Light Assault Leather Boots also meet.
If AR670-1 compliant boots is your priority, check out our full list of the best AR670-1 compliant boots.
Made From Cordura and Breathable Synthetic
Cordura, which is one of the most widely used textiles in apparel, footwear, and accessories today, makes its way in as one of the fabric materials of the remarkable Light Assault Boot.
Its high abrasion resistance and low weight make it an excellent footwear fabric. The Cordura fabric's great qualities make it a top choice for the upper of the light assault leather boot design.
The upper part of these boots are also breathable. This means it is built to allow the free flow of air in and out of the boots, creating a cooling system for the legs.
Sweat, heat, blisters are all taken care of as you ruck on in the Light Assault Boots.
Areas of Improvement
While this may not be important for people who use their rucking boots in hot and dry climates, but these boots are not water proof. Adding this feature would be pretty cool as it would prevent water from infiltrating the boot.
If this is an area of concern for you well here are two options that can help you overcome this hurdle.
1- Waterproof Your Boots
Here's a full step by step on how you can waterproof your boots.
2- Check Out Similar Boots
Here's our full list of the best boots for rucking.
Final Thoughts
The Oakley Light Assault Leather Boots offer versatile mobility and protection, making them a top-flight choice for rucking. It really stands out being so lightweight and comfortable. While they are not waterproof, they can be 'waterproofed'. Nevertheless, great choice of boots for rucking, hiking, military, and other outdoor activities.