The Berghaus Women's Trailhead 60 Rucksack is made for practicality and functionality. With the team having been through tons of rucksacks, we've seen our fair share of low quality ones. The Trailhead 60 was certainly not on that list. One of our team members, Olivia, came across it as she was looking for a rucksack that she could use not only for her workouts, but to carry her essentials when travelling around the city and for work. She's always out and about and on occasions, she'd need to carry 2 or 3 days worth of things.
In this post, we're going to cover:
The Trailhead 60 Rucksack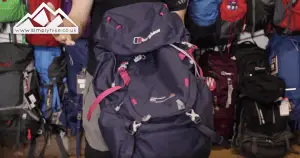 Pros and Cons of the Trailhead 60 Rucksack
| | |
| --- | --- |
| Pros | Cons |
| | Too many compartments for Olivia's liking |
| | |
| | |
| | |
| | |
| | |
What do the Product Details Mean & Why Should I Care?
100% Polyester – Polyester is hydrophobic, meaning that it absorbs a low amount of water. This came in handy for Olivia when she was out with 2 or 3 days worth of belongings constantly on her.
Rain cover – This Rucksack includes a rain cover to further protect your belongings from the rain.
Biofit Back System Support – This adjustable back support system feature is super helpful. This allows the rucker or backpacker to simply raise or lower the padded back plate. The Biofit makes the trailhead 60 very accessible and ensures that you wont have a problem having this rucksack fit you! This is extremely important as the adjustable back support ensures that the bottom of the rucksack is high enough to be carried above the waist and hips, which is the right way to carry a rucksack. To learn more about what to consider before buying a rucksack, read our recent post about the features you need to consider before buying a rucksack.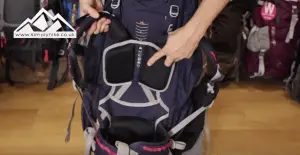 Separate bivi compartment – The separate compartment comes in handy for when you're out and don't have an extra bag to carry your dirty clothes, shoes, socks and the list goes on.
60 liters of storage – This is self explanatory. In comparison to other rucksacks in the market, this size is definitely on the larger side. Some of the items Olivia carried and still didn't fully utilize the entirety of this rucksack are:

Shoes
Socks
Laptop
Clothes (and she always packed extras)
Towel
Snacks
Water – 2 – 3 liters (She took advantage of the compatible hydration system to save space)
Walking pole
Pre-curved Hip Belt – The Hip Belt is key to maintaining proper posture while spreading the weight of the rucksack evenly across your back as opposed to relying on solely your shoulders to do the hard work. It typically can carry 60% – 80% of the weight of the rucksack, according to Outdoor Gear Lab.  The built in hip belts removes the need from having to buy it separately, which is not a commonly added feature.

Photo Credit to Simply Hike
What Stood Out to Us?
The built in hip belt and rain cover, hands down. Here at Ruck For Miles, we review everything Rucksack related, and its not that common to have both of these features included. These features are pretty cool to include since the hip belt will make sure that you can keep carrying this rucksack for a long time since the weight will be distributed equally. As for the rain cover, we just felt like it was a thoughtful of Berghaus to include, on top of the already polyester material of the rucksack that makes it water-resistant. We highly recommend you buy this rucksack if you're looking for a multi-purpose and fully inclusive rucksack.
Here's a review of the Berghaus Women's Trailhead 60 Rucksack by Simply Hike!