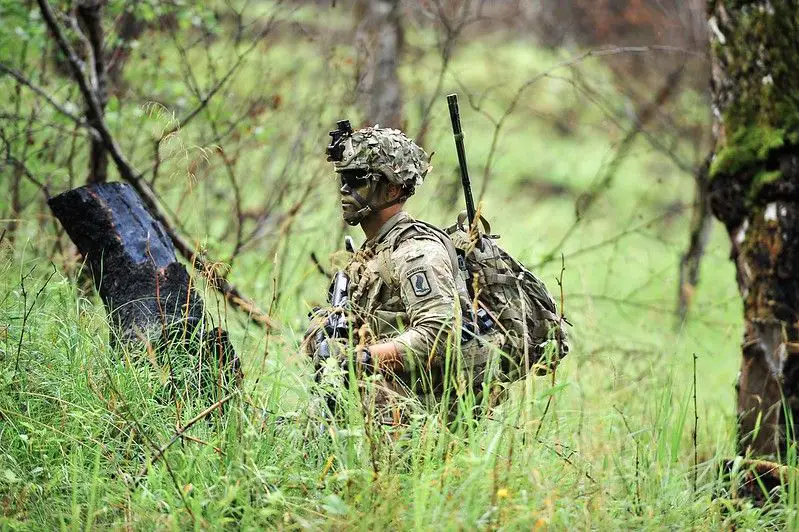 Soldiers carry the following items in their backpacks:
Soldiers carry a lot of weight when they're ruck marching or in the fighting battle. Soldiers carry different items at different times depending on whether they're training or in the battle field.
There 2 most noteworthy weight loads soldiers have to carry in their backpack (or rucksack)
Fighting Load
Approach March Load
The fighting load is when the soldier is deep in the battle ground and is in the most fight-ready position. They can carry up to 68.9 pounds at this stage, here's a full list of the specific items they carry at this stage.
The Approach March Load is where the weight load becomes heavier. This is where when the soldier is in direct contact with the enemy. The priority here is for the soldier to have enough supplies to last them until the next delivery of supplies comes through. At this point, soldiers can carry up to 96.8 pounds, here's a full list of items carried during the approach march load.
All of the weight carried in a soldiers back is set by the army commanders and their subordinate leaders based on what they deem most appropriate based on their circumstances (source).
With that said, lets jump into the main items soldiers have to carry in their backpacks.
1- Army Combat Uniform
The Army Combat Uniform (ACU) was first announced in 2004 that had some upgrades with shoulder pockets affixed with hook-and-loop "Velcro" fasteners, chest-worn rank insignia, and a new collar (source).
The ACU consists of
Blouse
The blouse, another name for jacket, is used for more than just looks. It has hook-and-loop attachments to strap on things like name tapes, shoulder patches and tabs, and U.S flag patches to help make the soldiers more recognizable.
Trousers
The ACU trousers are designed with lots of features to keep the soldier well equipped. They're worn with two-inch nylon web belt. They also include:
Velcro pouches for knee pad inserts
2 forward-tilted thigh storage pockets
2 calf storage pockets
For soldiers issued to be deployed in Iraq or Afghanistan, their pants are flame resistant as well.
Helmet
Soldiers must wear helmets to protect their heads during combat. They also help to camouflage a soldier.
T-shirt
Soldiers wear moisture wicking shirts to keep them as cool as possible during marches or combat.
Footwear
Soldiers are issued military boots that are ar 670-1 compliant, but they are allowed to wear commercial army boots as long as they are ar 670-1 compliant (must be 8 to 10 inches in height, made of tan rough side out cattle hide leather with a plain toe and tan rubber outsoles, and be without zippers, metal cleats, or side tabs (source).
Here's a full list of the best boots for rucking if you're interested!
Learn more about AR670-1 regulations and check out other AR670-1 boots.
2- Field Load Carrier
Soldiers wear Field Load Carriers to to carry magazines and ease the carrying of smaller sized equipment.
3- Knee Pads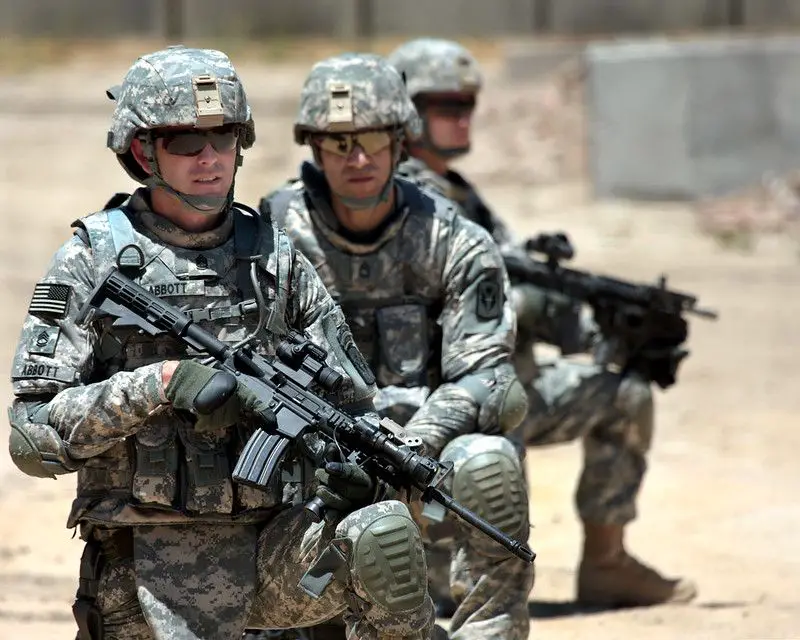 Soldiers' knees take a beating when they are in the firing position for extended periods of time.
4- Magazine (Ammunition)
This is an obvious one, but soldiers carry ammunition for the fight. Soldiers carry at least seven 30-round magazines for an M4 rifle (source). Sometimes, they'll carry a Unit Basic Load which consists of 210 rounds and 7 magazines (source).
5- Advanced Target Pointer Illuminator Aiming Light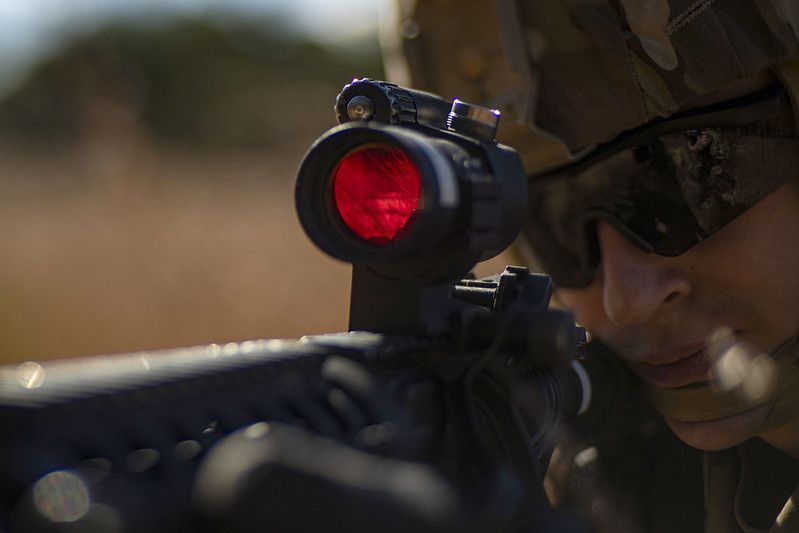 The Advanced Target Pointer Illuminator Aiming Light is attached to the guns like tactical rifles. It shoots out a lazer to help with a soldiers aim when shooting. It's useful for aiming during day and night.
6- AN/PAS-13(V)1 (LWTS)
The LWTS is a weapon mounted thermal sight device. It allows soldiers to observe their target through longwave infrared. It's purpose is to allow soldiers to identify and aim at their target through tough conditiond like rain, smoke, light snow and dark lighting conditions (source).
7- Night Vision Goggles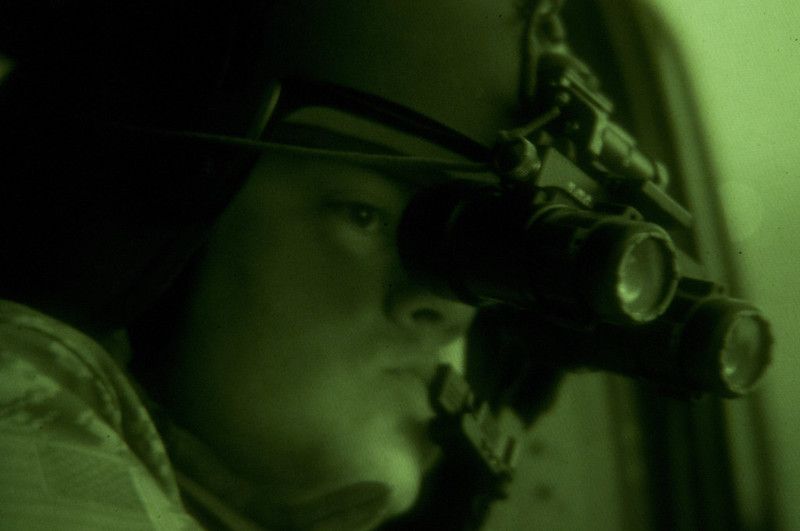 As the name suggests, night vision goggles aid the soldiers ability to see better at night or in dark conditions. They're typically mounted on their helmets.
8- Bullet Proof Vests
While you would assume they're wearing this all the time, in non serious circumstances where there is no need for it, they've got to keep it with them. Therefore putting them in their rucksacks.
9- Quart Canteens
Quart Canteens is what soldiers use as their main source of hydration.
10- Meals ready to eat (MREs)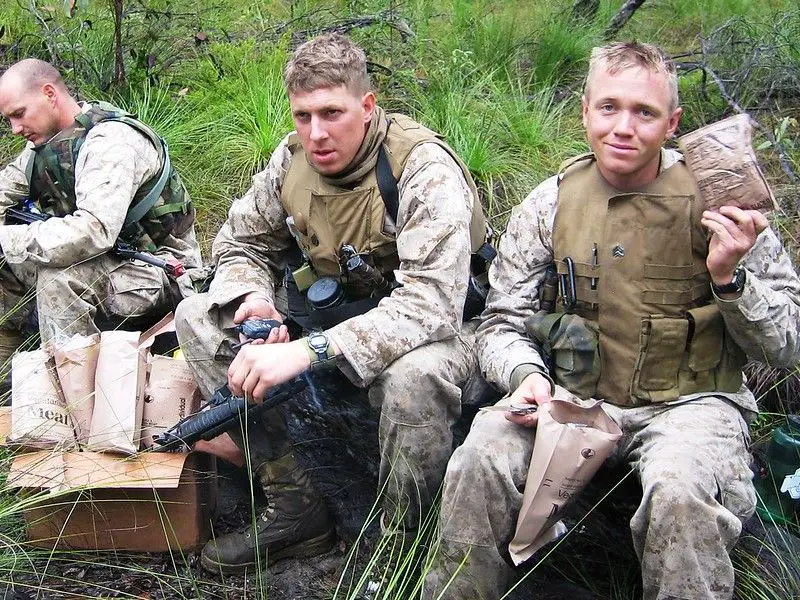 MREs are lightweight packages meals that are easy to make or are already ready to eat. Their purpose is to feed the soldiers for when organized food facilities are not available.
Learn more about how many calories are in an MRE.
11- Compass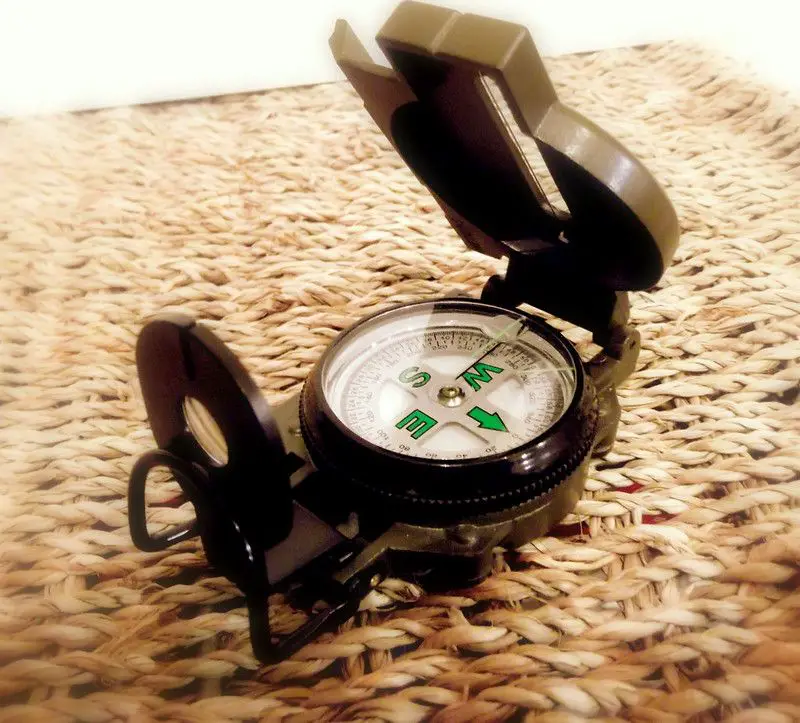 Soldiers use a compass to follow a plan set by their commanders that typically involves moving in different locations. A map and a compass is all they need to navigate.
12 – Bayonet (Knife)
Bayonets are designed to fit on the end of weapons allowing it to be used as a spear. It's a multipurpose knife that can be used to cut different things from MRE's to cutting ropes.
13- First Aid Kits
Each soldier is given first aid kits that soldiers typically carry in their backpacks. Their purpose is clear but in case you haven't guessed it yet, they're used to treat wounds immediately for when a soldier is hurt or sustains an injury.