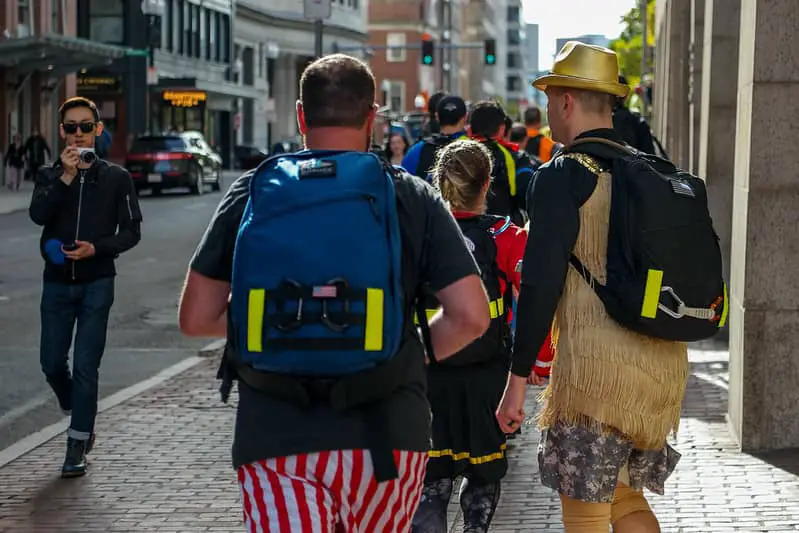 Table of Contents:

What is a Ruck Club?
Why I chose to Join a Ruck Club
How to Find and Join a Ruck Club Near You
My Advice on Finding the Right Ruck Club
Find a Ruck Club Near You
How You Can Start a Ruck Club in 5 Steps
Tips To Grow Your Ruck Club

What is a Ruck Club?
A ruck club is a group of people in the local community that come together to ruck (walking while carrying a weighted backpack on your back) in a rucking event or challenge that is typically organized by the ruck club owner.
The purpose of a ruck club is to provide a supportive community for individuals who are interested in rucking and to encourage physical fitness and personal growth.
Some ruck clubs simply create a Facebook Group and decide collectively on a spot to go to and decide on the trail, distance, and other details. Some Ruck Clubs take it a step further and "become legit" by formalizing their club with GORUCK (If you're new to rucking, GORUCK is like the official organization for the sport of rucking).
Long story short, every ruck club operates differently.
Ruck clubs come in different sizes. Some ruck clubs are small, have a few members and are organize their rucks locally. While other ruck clubs are big enough to cover an entire city or state.
Every ruck club has their own style in terms of how they organize their events. The bigger ruck clubs typically will have their own site where they sell their own merch, will organize other rucking-related events, have ruck themed events like a charity ruck, or even just participating in an official GORUCK event.
If you're new to rucking, joining a ruck club is seriously worth it. Not only are you meeting new people in your community, but they'll end up sharing a lot of tips and tricks to help you better improve your ruck performance. People who have been actively engaged with their ruck clubs have a lot of experience, so they can definitely help you improve your form or even just recommend the right rucking gear for you to buy.
I didn't join a rucking club till much later and I missed out on a lot. I had to learn a lot from trial and error, but i eventually joined a ruck club and really felt that my rucking performance and pace improved a lot!
8 Reasons why people join ruck clubs
Great way to meet people in your local area
Great way to meet people if you're travelling
Ruck clubs typically organize a lot of social events which are a lot of fun!
Cool way to explore a city (whether you live there or not)
Motivation – personally, im much more motivated to ruck with friends than rucking alone!
Organized way to schedule your rucks – Instead of a group chat where people are constantly changing their minds on whether they'll be coming or not.
Get's you out of the comfort zone!
Accessible to everyone, regardless of experience or physical fitness level.
Why I chose to Join a Ruck Club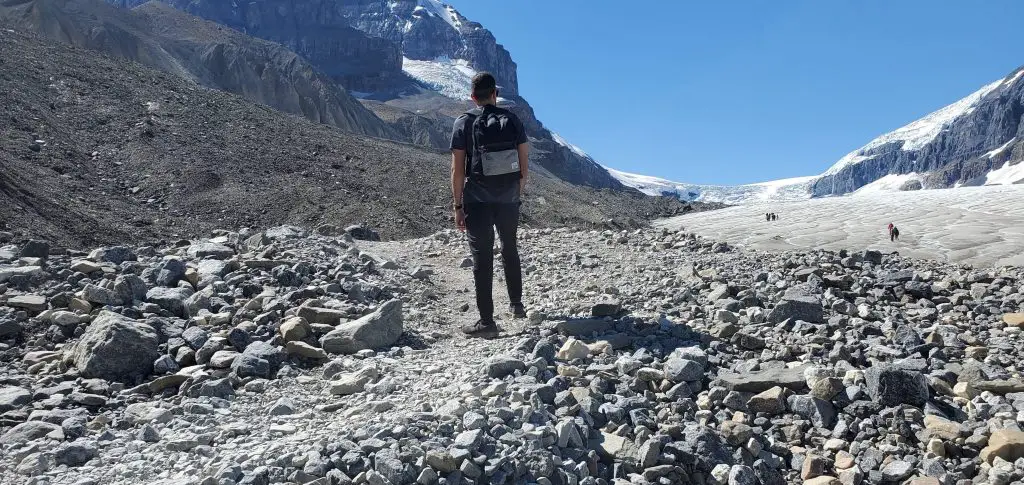 I travel a lot for work (and vacation) so staying active and in shape is a real priority in my life. I started rucking on my own, similar to my picture above, i would just grab any backpack and add whatever weight was around me and just ruck.
However, while my motivation was strong, I really got bored rucking 3 times a week on my own. So I looked up a few rucking clubs in my area and found a pretty cool yet small ruck club.
On our Facebook group, we simply decide collectively on a place to ruck in. The ruck club owner will choose a different location and route every time. Through our local ruck club, I was able to meet a couple of people and they're all similar minded people: active, outdoorsy, and fun!
Ever since joining the ruck club, I've been scheduling 1 or 2 of my rucks a month with the ruck club, the rest i just do on my own. Joining a ruck club has been a pretty cool experience. I've been able to meet people and it just feels like there's a real sense of community. We're constantly sharing tips on the group and asking for advice.
How to Find and Join a Ruck Club Near You
Finding a ruck club is easy, a couple of searches will get you there. I've included a list of some Ruck Clubs per state to make your life easier in case you were looking to join one near you.
Before jumping right to the list of ruck clubs near you, here's a step by step guide on how to find and join a ruck club near you:
Ask family/friends OR search online for a ruck club near you
Contact the club owner either through a Facebook Group or By Creating an account on their site
The ruck club owner will either admit you to the Facebook Group or You'll be able to see the upcoming events on the Ruck Clubs' website.
Follow any rules set by the ruck club owner
Go to their next ruck club event!
Here's an example I found on a Toronto based Ruck Club (Ruck T.O Ruck Club) about "following the rules", most of the time they're very straight forward.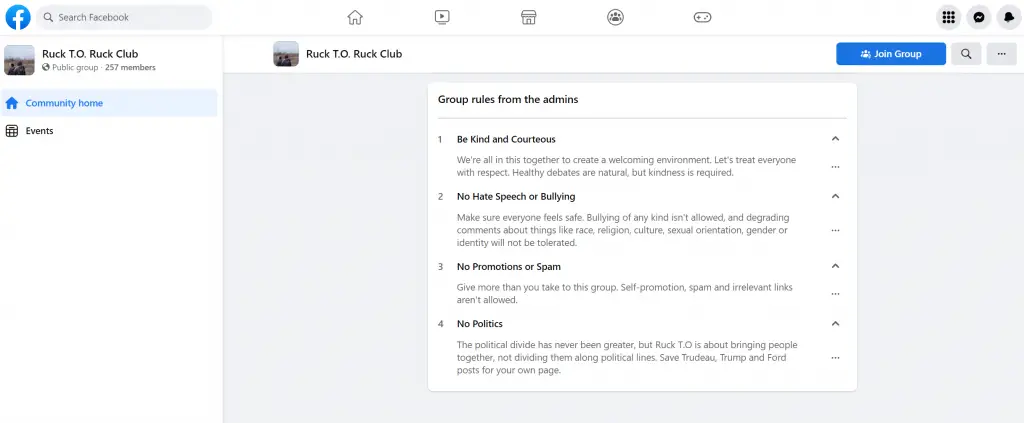 Here's a few things I would be mindful of if were you before selecting the right ruck club.
My Advice on Finding the Right Ruck Club
Distance – Most ruck clubs will change the location of their rucks so this shouldn't be a problem, but browse through their past events to see if they've always done their rucks in locations that are far or close from your house (that may sway your decision)
People – People that join ruck clubs are typically cool folks with the same mindset as you but if you join a ruck club and find that the people don't exactly "match your vibe" i would look for another one. This is really rare to happen though.
Social Events – If you just moved to a new city and are looking to meet people through rucking, check out the ruck clubs' social media pages (mostly Facebook & Instagram) to see if they go out for social events. Some ruck clubs will have donut rucks, holiday themed rucks, and other themed rucks. This may help you form more connections in your local community as some ruck clubs don't organize as much social outings (Although a lot of them end with a beer and a good chat at the end of the ruck)
List out your priorities in a ruck club (what you want out of the ruck clubs) and see if the one you'd like to go to meets your needs
Find a Ruck Club Near You
To help you find a ruck club near you, I curated a list of ruck clubs across the states. I'm aware of some of the ruck clubs mentioned below, but had to research some.
There definitely are more rucking clubs out there, but the list below should get you started on your ruck club journey regardless of where you are in the US.
There are a few other ways to find ruck clubs in your area, those include:
Meetup (an app made for strangers to hang out and go on activities together)
Sandalot App (I never tried this but i hear other people have found a few apps on there)
Looking to list your ruck club? Contact us at [email protected]
How You Can Start a Ruck Club in 5 Steps
If you feel like taking the initiative of starting a ruck club in your area, it can be as easy as just creating a Facebook or Instagram page and promote it.
Alternatively you can simply go to GORUCK and create an officially recognized ruck club.
Here's a step by step guide on how to start an official club:
Go to GORUCK
Fill out the ruck club form
If you don't have a Facebook group, you'll most likely have to create one
Follow the instructions sent to your email
Reach out to family, friends and other ruckers by promoting your ruck club as soon as you're approved
Tips To Grow Your Ruck Club
So you took the initiative and started your own ruck club? Nice. Now let's look at some ways you can grow your ruck club. Here are 10 ways that I would go about growing and promoting my ruck club:
Expand your social media use: This is an obvious one and you're most likely doing it anyways but use all the platforms at your disposal. Don't rely solely on a Facebook group, go on Instagram, Tiktok, YouTube. The reliance on Facebook to get more people is not reliable as less people are using it, you can always use other platforms to drive people to your Facebook group.
Strategic Collaborations: Find out what ruckers are interested in and promote it strategically. One way I would go about this is promoting my ruck club at a couple of local CrossFit gyms in my area. A lot of people who CrossFit also ruck (sometimes it's even part of their workout). It's a win-win situation.
Encourage your members to spread the word: There's probably no better way to promote anything than through word of mouth. Take photos of the group having a good time and tag them. If they reshare your photo then that's good promotion right there. Feel free to directly encourage the members to bring their friends.
Recruit Folks in GORUCK events: If you happen to be participating in a local GORUCK event and find some folks that you haven't seen before, it would be a good idea to just approach them and let them know that you have a ruck club and that they're more than welcome to join. Here's a great tip for you, approach them after the workout when all the endorphins are flowing through their system, they're in a good mood and more likely to say yes!
Host Events: As a potentially new member, I would be more inclined to join a ruck club if I see that they get a long and do cool stuff (especially on weekends). So you might want to look into planning themed rucks, dinner parties, any event will do.
Keep up the engagement: You want your current members to also feel like you've got control of the ruck club and are constantly keeping up with the group. If you're quiet and slow down on planning rucks and events, then chances are the members wont.