When you ruck, your calves are one of the muscle groups that get pushed the hardest. While rucking definitely engages several different muscles, few are worked as hard as the calves. Let's out more about how and why regular rucking can accelerate calf muscle building.
Rucking is one of the most effective ways to build muscle, and yes, calves are no exception. Because calves carry such a huge portion of the weight on your back, they end up working harder than nearly any other muscle group on the body.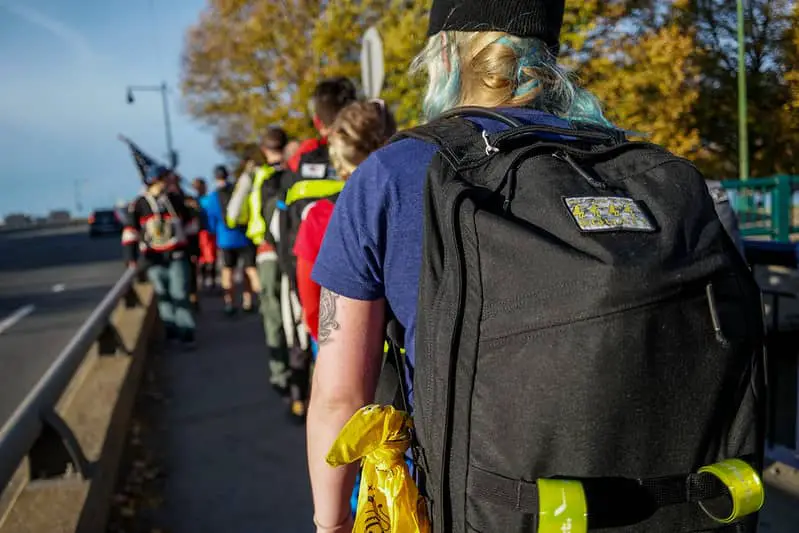 How Does Rucking Build Calves?
Rucking builds calf muscles the same way any exercise builds muscles. When the body is under strain, muscle fibers form, stretch, and tear on a microscale. As the body repairs those tears, the muscles grow back leaner, faster, and stronger.
Each step forward puts the calf muscles under strain, forcing them to become engaged, stretched, and ultimately activated. However, as with any form of intensive exercise, rucking will only be able to spark muscle growth as per each person's physical limits.
Someone who's deconditioned or still relatively new to rucking is more likely to see tangible calf muscle growth than someone who has been rucking extensively for a long period of time.
Rucking clearly gives the calves, core, shoulders and arms a significant workout. But there are more reasons for this than you'd think.
1. Rucking Increases calve muscle resistance
When your body is carrying extra weight, the legs must adapt to support it properly. The more weight you carry, the more resistance the calf muscles meet it with, stimulating a higher level of hypertrophy that builds both stamina and strength within the calves.
2. Amplifies calf engagement
If you want to build muscle in your calves, you need to put them under pressure to perform and become more engaged.
Rucking puts uninterrupted pressure on the calves, causing more engagement to happen on a microscopic muscular level. The more you ruck, the more engaged your calves become.
3. Uphill inclines cause faster growth
The fastest way to build muscle on your calves through rucking is to pick uphill and inclined terrains to train on. Inclines cause even more resistance on the calves, allowing hypertrophy to occur at a more rapid pace. This is one of the most effective methods for calf muscle growth.
Rucking Supplement Exercises And Workouts To Grow Your Calves
Calves tend to be one of the hardest muscles to build, but this is where rucking can show its muscle growth potential. If you are looking to improve the size, strength, and overall development of your calves, here are some workouts to help you achieve your muscle growth goals.
1. Uphill Rucking
Rucking up an incline is one of the most efficient ways to work the calf muscles and stimulate growth. While wearing your ruck, you can cover naturally steep grounds to improve endurance, calf muscle development, and overall body strength.
2. Jump rope
Jumping rope forces the body to move quickly up and down, generating heat in the calves and contributing to muscle growth.
Jumping for 30 seconds on, 30 seconds off is a good place to start, gradually working your way up to 1-2 minutes of active jumping at a time.
3. Sprinting
Sprinting involves explosive leg movements which are highly engaging for the calves.
50-60% maximum effort should be applied in the first 30 seconds of a sprint, before slowing down and then increasing the effort to 70% for another 30 seconds.
4. Push Pull Leg Routines
PPL routines incorporate strength training, bodybuilding, or power building exercises in different formats. The workouts are split into push and pull sections where exercises either focus on pushing or pulling movements, focusing on the same body part. This allows for more intensive training while still providing adequate recovery time.
5. Squat to raised heel
Deep squats are great for targeting the calves, glutes, and inner thighs.
Squat to raised heel, working your way up to 20-25 in between breaks. These will help to tone the entire leg while also providing ample stimulation of the calf.
Ruck Your Way To Stronger Calves
When it comes to calf building, variety is everything. Trying out a few different methods of engaging the calf muscles at a time is likely to give you the best results.
Regularly rucking will not only help your calves to become stronger, bigger, and leaner but can also help with cardio and weight loss too.